Cardiac Prosthetic Devices Market Size
Cardiac Prosthetic Devices Market size was valued at around USD 7.2 billion in 2022 and is projected to reach over USD 16.4 billion by 2032. This incremental growth rate is owing to increasing prevalence of cardiovascular diseases coupled with rising number of minimally invasive surgeries globally.

To understand key trends &nbsp
Download Free Sample

Growing awareness regarding several advantages offered by technologically advanced cardiac prosthetic devices associated with ageing population is anticipated to drive the market growth. The cardiac prosthetic devices industry is witnessing a significant growth in the recent years owing to factors such as ageing population, technological advancements, enhanced patient outcome, among others.

Cardiac Prosthetic Devices Market Report Attributes
Report Attribute
Details
Base Year:
2022
Cardiac Prosthetic Devices Market Size in 2022:
USD 7.2 billion
Forecast Period:
2023 to 2032
Forecast Period 2023 to 2032 CAGR:
8.4%
2032 Value Projection:
USD 16.4 billion
Historical Data for:
2018 to 2022
No. of Pages:
160
Tables, Charts & Figures:
259
Segments covered:
Product, End-use, and Region
Growth Drivers:

Increase in prevalence of cardiovascular diseases across the globe
Technological advancements in cardiac prosthetic devices
Increasing preferences for minimally invasive procedures among ageing population
Rising awareness and diagnosis for cardiac ailments

Pitfalls & Challenges:

High cost of the devices
Dearth of skilled healthcare professionals
To understand market opportunities &nbsp
Download Free Sample

The global increase in heart-related conditions such as valvular heart diseases and coronary artery diseases has significantly contributed to the demand for cardiac prosthetic devices. The demographic shift towards an aging population has led to a higher incidence of heart valve disorders, that in turn has driven the need for cardiac prosthetic interventions. Continuous innovation in device design, materials, and implantation techniques have expanded treatment options and improved patient outcomes. Advancements like transcatheter heart valve replacement have opened avenues for minimally invasive procedures. Minimally invasive procedures, such as transcatheter interventions, are gaining popularity due to reduced recovery times and patient discomfort compared to traditional open-heart surgeries. Improved healthcare infrastructure in developing regions is leading to increased access to cardiac prosthetic interventions, boosting market size.

Cardiac prosthetic devices are medical devices intended to replace and repair malfunctioning or damaged heart valves. These devices are used to restore proper blood flow within the heart and improve its overall function.
However, high cost of cardiac prosthetic devices is anticipated to restrict the cardiac prosthetic devices market progress. The substantial cost of cardiac prosthetic devices, along with the expenses of pre-operative assessments, surgical procedures, hospital stays, and post-operative care, can create financial burdens for patients and their families. For instance, the price of pacemakers can range between USD 10,000 to USD 100,000 and can vary according to the type and technology used in these devices. These high out-of-pocket costs can deter patients from seeking treatment or lead them to consider alternative options, impacting the adoption of these devices.

Healthcare systems in various countries allocate budgets for medical procedures and interventions. The high cost of cardiac prosthetic devices can strain these budgets, potentially limiting the number of patients who can receive these devices. Limited reimbursement from insurance or government healthcare programs can also contribute to budget constraints. In developing regions with limited healthcare infrastructure and resources, the high cost of cardiac prosthetic devices can pose a significant barrier to access.

COVID-19 Impact
The recent outbreak of COVID-19 had a negative impact that influenced the cardiac prosthetic devices revenue, specifically during the initial phase of 2020. The coronavirus outbreak proliferated the disease burden and hampered several global businesses including the healthcare sector, during the pandemic phase. These conditions impacted the cardiac prosthetic devices market expansion. Several hospitals and healthcare facilities globally experienced a significant decline in patient visits for diagnosis and treatment of cardiovascular ailments and surgical procedures.

The COVID-19 pandemic reduced visits to healthcare facilities, causing medical services in several countries to be delayed, including valvular heart diseases and coronary artery diseases among others. Many hospitals and healthcare facilities were forced to postpone or cancel elective procedures to prioritize COVID-19 patients and conserve medical resources. This led to a substantial decline in the demand for cardiac prosthetic devices, resulting in reduced market demand.

Many elective and non-urgent medical procedures, including cardiac interventions, were postponed or canceled during the pandemic to allocate resources to COVID-19 patients and reduce the risk of transmission. Lockdowns, travel restrictions, and quarantine measures disrupted global supply chains, affecting the production, distribution, and availability of medical devices, including cardiac prosthetic devices. Patients were less likely to visit healthcare facilities for routine check-ups and screenings due to fears of infection, contributing to delayed diagnoses of heart conditions. The economic downturn caused by the pandemic led to financial constraints for patients, affecting their ability to afford expensive cardiac prosthetic devices and related procedures.

Cardiac Prosthetic Devices Market Trends
Increasing prevalence of cardiovascular diseases globally is expected to propel the market trends. Cardiovascular diseases encompass a range of conditions that affect the heart and blood vessels, including coronary artery disease, heart failure, arrhythmias, and valvular heart diseases. For instance, according to the WHO data, in 2021, around 17.9 million people globally faced mortality due to cardiovascular diseases and is one of the leading cause of death globally. These conditions contribute to the demand for cardiac prosthetic devices that can replace or repair damaged heart valves.

As the global population ages, the risk of developing cardiovascular diseases increases leading to an increased demand these devices among aging population. Modern lifestyles characterized by poor dietary habits, sedentary behaviour, and stress contribute to the prevalence of cardiovascular risk factors such as obesity, hypertension, and diabetes. These risk factors increase the likelihood of heart conditions and the need for interventions like cardiac prosthetic devices.

Improved awareness about cardiovascular devices and advancements in diagnostic techniques have led to earlier detection and diagnosis of heart conditions, leading to a higher demand for treatment options. Technological advancements have made cardiac prosthetic devices safer, more durable, and effective. This has broadened the treatment options available to patients and increased the adoption of these devices. As the burden of heart conditions rises, the demand for effective treatments like cardiac prosthetic devices is expected to grow, thereby driving the expansion of the market.

Cardiac Prosthetic Devices Market Analysis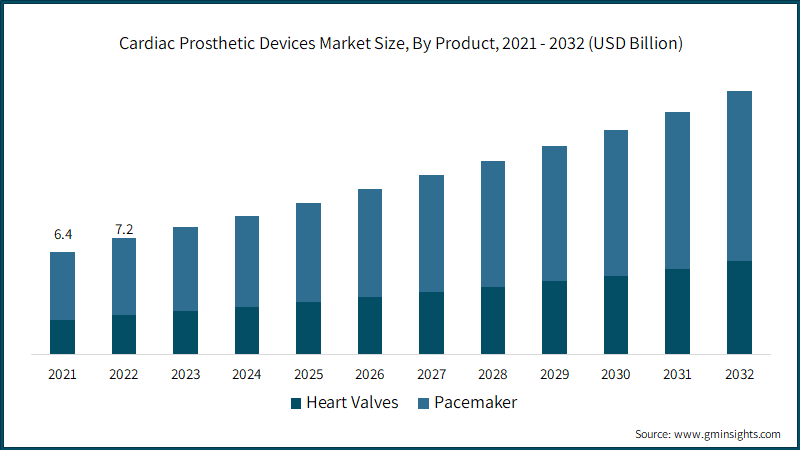 To understand key market trends &nbsp
Download Free Sample

Based on product, the cardiac prosthetic devices market is segmented as heart valves and pacemaker. The pacemaker segment accounting over 66% business share in 2022. Pacemakers are medical devices designed to treat abnormal heart rhythms (arrhythmias) by providing electrical impulses that help regulate the heart's rhythm. These devices offer several benefits that significantly improve the quality of life and overall health of individuals with cardiac conditions. Pacemakers can alleviate symptoms associated with arrhythmias, such as fatigue, dizziness, fainting, shortness of breath, and chest pain. Pacemakers help maintain a consistent heart rate, ensuring that blood is pumped effectively throughout the body. This improves blood circulation, oxygen delivery, and nutrient transport to various tissues and organs.

Pacemakers provide a long-term solution for individuals with chronic arrhythmias. Remote monitoring capabilities allow healthcare professionals to track the device's performance and the patient's heart health remotely, enabling early detection of issues and timely intervention. Advances in pacemaker technology have led to the development of smaller, more efficient, and longer-lasting devices. These technological improvements contribute to patient comfort, safety, and overall effectiveness.
To understand key market trends &nbsp
Download Free Sample

Based on end-use, the cardiac prosthetic devices market is segmented as hospitals, ambulatory surgical centers and others. The hospitals segment held a dominant market share and accounted for around USD 3.5 billion in 2022. Hospitals play a pivotal role in providing medical care, including cardiac interventions and procedures. As the demand for healthcare services including cardiac care, rises, it leads to several implications for the market. The growing demand for hospital services, including cardiac care, leads to a higher volume of patients seeking treatment for heart conditions. Hospitals provide advanced cardiac interventions, including the implantation of cardiac prosthetic devices, to a larger patient population. Hospitals with specialized cardiac units are more likely to offer cutting-edge treatments and interventions.

Hospitals with dedicated cardiac teams, including cardiac surgeons, interventional cardiologists, and cardiac nurses, can provide specialized expertise in implanting and managing cardiac prosthetic devices. The increasing demand for hospital services is often supported by higher healthcare expenditure from governments and private sectors. Adequate funding enables hospitals to invest in medical technologies, infrastructure, and staff, which benefits cardiac care and prosthetic device interventions. Thus, availability and accessibility to advanced diagnosis and treatment incorporating cardiac prosthetic devices coupled with the rising prevalence of cardiovascular ailments will surge patient visits to hospitals, thereby propelling the segment revenue.
To understand regional trends &nbspDownload Free Sample

North America cardiac prosthetic devices market was valued at USD 3.1 billion in 2022. This high market share is ascribed to a variety of factors, including the presence of significant industry players, increasing prevalence of cardiovascular diseases, technological advancements, access to healthcare, and an aging population. North America has a significant burden of cardiovascular diseases (CVDs), which include conditions such as coronary artery disease, heart failure, and valvular heart diseases. The high prevalence of CVDs necessitates a range of interventions, including cardiac prosthetic devices, to manage and treat these conditions effectively.

Technological innovations by several industry players in the region have led to the development of more sophisticated and effective prosthetic devices, improving patient outcomes. North America has a well-developed healthcare systems, providing patients with access to advanced medical treatments, including cardiac interventions. Access to specialized cardiac centers and highly trained medical professionals contributes to the demand for cardiac prosthetic devices. Awareness campaigns and proactive healthcare initiatives have led to better awareness about heart health and the importance of early detection of cardiovascular conditions. Comprehensive healthcare coverage and insurance plans in North America provide financial support for medical procedures, making cardiac prosthetic devices more accessible to patients.

Cardiac Prosthetic Devices Market Share
Some of the major players operating in the cardiac prosthetic devices market are
Abbott Laboratories
Abiomed, Inc.
AtriCure, Inc.
Biotronik
Boston Scientific Corporation
CryoLife, Inc.
Edwards Lifesciences Corporation
Labcor Laboratrios
Lepu Medical Technology Co. Ltd.
Lifetech Scientific
LivaNova
Medtronic plc.
Meril Life Sciences Pvt. Ltd.
MicroPort Scientific
Siemens Healthcare GmbH
These leading market players are implementing advanced technologies to cater to the large unmet needs of the consumers. These players focus on strategic partnerships, new product launch & commercialization for market expansion.

Cardiac Prosthetic Devices Industry Leaders:
In January 2022, Medtronic plc announced that they had received the approval from Japan's Ministry of Health, Labor and Welfare for the launch of Micra AV Transcatheter Pacing System (TPS) in Japan. This pacemaker is incorporated with advanced pacing technology and is intended for the treatment of AV block. This approval and product launch helped the company to expand their geographic presence and increase their customer base.

In September 2021, Abbott Laboratories announced that they had received the U.S. Food and Drug Administration (FDA) approval for their Epic Plus and Epic Plus Supra Stented Tissue Valves for the diagnosis and treatment of aortic valve disease. These devices are equipped with advanced radiopaque markers to deliver long-term performance and durability and help improve the quality of life for patients. This regulatory approval helped the company to enhance their R&D capabilities and increase the customer base.

Cardiac prosthetic devices market research report includes an in-depth coverage of the industry with estimates & forecast in terms of revenue (USD Million) from 2018 to 2032, for the following segments:


Click here to Buy Section of this Report
By Product, 2018 - 2032 (USD Million)
Heart Valves

Mechanical Heart Valve
Tissue Heart Valve
Transcatheter Heart Valve

Pacemaker

Implantable Pacemaker
External pacemakers
By End-use, 2018 - 2032 (USD Million)
Hospitals
Ambulatory Surgical Centers
Others
The above information is provided for the following regions and countries:
North America
Europe

Germany
UK
France
Spain
Italy
Poland

Asia Pacific

China
Japan
India
Australia
South Korea
Indonesia

Latin America
Middle East & Africa

South Africa
Saudi Arabia
UAE