Artificial Intelligence Toolkit Market Size
Artificial Intelligence Toolkit Market size was valued at USD 17.8 billion in 2022 and is estimated to register a CAGR of over 24% between 2023 and 2032. The growing demand for AI-powered applications across various industries, such as healthcare, finance, e-commerce, and manufacturing, is a significant driver of the market. Organizations are leveraging AI toolkits to develop and deploy machine learning and deep learning models for tasks like image recognition, natural language processing, recommendation systems, and more.

To understand key trends &nbsp
Download Free Sample

For instance, in July 2023, the Monetary Authority of Singapore (MAS) introduced an innovative open-source tool designed to promote the ethical use of AI in the financial sector. Known as the Veritas Toolkit 2.0, this cutting-edge AI toolkit was developed collaboratively by a group of 31 industry participants under the guidance of MAS. The Veritas Toolkit 2.0 serves as a valuable resource for financial institutions (FIs) by offering them assessment methodologies to ensure compliance with the principles of Fairness, Ethics, Accountability, and Transparency (FEAT). These principles are crucial for demonstrating responsible AI and data analytics utilization within the financial industry.

Artificial Intelligence (AI) Toolkit Market Report Attributes
Report Attribute
Details
Base Year:
2022
Artificial Intelligence (AI) Toolkit Market Size in 2022:
USD 17.8 Billion
Forecast Period:
2023 to 2032
Forecast Period 2023 to 2032 CAGR:
24%
2032 Value Projection:
USD 149.6 Billion
Historical Data for:
2018 - 2022
No. of Pages:
230
Tables, Charts & Figures:
338
Segments covered:
Type, Component, application, and end-use
Growth Drivers:

Increasing adoption of AI and ML across industries
Growing focus on AI security and privacy
Increasing investment in AI tools
Rise in inclination towards automation and digitalization

Pitfalls & Challenges:
To understand market opportunities &nbsp
Download Free Sample

Advancements in AI research could emerge as a prominent factor strengthening the AI toolkit market outlook. Ongoing technological breakthroughs in AI research, including the development of more powerful algorithms, improved model architectures, and novel techniques, are fueling the need for sophisticated AI toolkits. To that end, in September 2023, IBM Corp. expanded its offerings for mainframe developers by introducing a range of new solutions that streamline the deployment of artificial intelligence (AI) on their existing data center hardware.

These updates to IBM Z are geared towards helping customers achieve improved business outcomes by implementing AI across various industries and use cases. These enhancements empower clients to enhance the accuracy of recommendations in the insurance sector, enhance the reliability and timeliness of anti-money laundering measures, and mitigate risk exposure for financial services providers.

Researchers and developers rely on these toolkits to stay at the cutting edge of AI technology and create innovative solutions. As a result, more such breakthroughs in the field will carve a healthy growth trajectory for the AI toolkit business. However, with the increasing use of AI, there are growing concerns about data privacy and security. Regulations like GDPR and increasing public awareness of data privacy issues require organizations to be cautious when using AI toolkits. This potentially leads to more stringent requirements and restrictions on AI development and deployment, impacting the overall artificial intelligence toolkits market dynamics.

COVID-19 Impact
The COVID-19 pandemic accelerated the sales of AI toolkits as organizations sought to automate processes, analyze data, and develop solutions for remote work and healthcare needs. However, it also disrupted supply chains, leading to delays in hardware production and reduced access to resources. The economic uncertainty caused some businesses to scale back AI investments. Nevertheless, the crisis underscored the importance of AI for resilience, leading to increased interest and investment in AI toolkits for future-proofing operations.

Artificial Intelligence Toolkit Market Trends
The increasing use of AI in autonomous vehicles is poised to drive the demand for AI toolkits. AI plays a pivotal role in enabling self-driving cars to perceive their environment, make decisions, and navigate safely. In a recent turn of events, AI Singapore, in partnership with the Ministry of Defence (Mindef), initiated a groundbreaking USD 20 million grant program aimed at advancing AI technology in self-driving vehicles and materials research for both military and commercial applications in July 2023. This collaboration represents the first of its kind involving local researchers in the AI field.

The USD 20 million fund will be allocated to five research teams, comprising industry players and universities in Singapore and abroad. Three teams will focus on developing AI systems for autonomous vehicles, while the other two will concentrate on generative AI for inventing new materials for military equipment.

As automakers and tech companies intensify their efforts to develop autonomous solutions, the demand for comprehensive AI toolkits to create and fine-tune these complex AI systems will grow. These toolkits provide essential resources for AI development, making them indispensable in the pursuit of autonomous vehicle technology, thus accelerating their adoption rate.

Artificial Intelligence Toolkit Market Analysis
To understand key market trends &nbsp
Download Free Sample

Based on type, the open-source segment held over 60% of the market share in 2022. Open-source AI toolkits are gaining popularity due to several compelling reasons. They offer accessibility, allowing a broader range of developers to leverage AI technologies without prohibitive costs. Collaboration and community support foster innovation, enabling rapid advancements and the sharing of knowledge. Transparency and customization are additional advantages, as users can inspect and modify the source code to suit their specific needs while maintaining transparency in AI models. These factors make open-source AI toolkits an attractive choice for businesses and researchers alike.

To understand key market trends &nbsp
Download Free Sample

Based on application, the machine learning segment accounted for 40% of the AI toolkits market share in 2022. The rapid integration of AI toolkits in machine learning applications is driven by their versatility, accessibility, and efficiency. These toolkits offer a wide range of pre-built algorithms, reducing the need for developers to create models from scratch. They empower both experts and newcomers to leverage machine learning, driving rapid development and deployment. Additionally, open-source AI toolkits like TensorFlow and PyTorch foster a collaborative ecosystem, enabling developers to stay current with the latest advancements while community support and regular updates enhance their usability and reliability.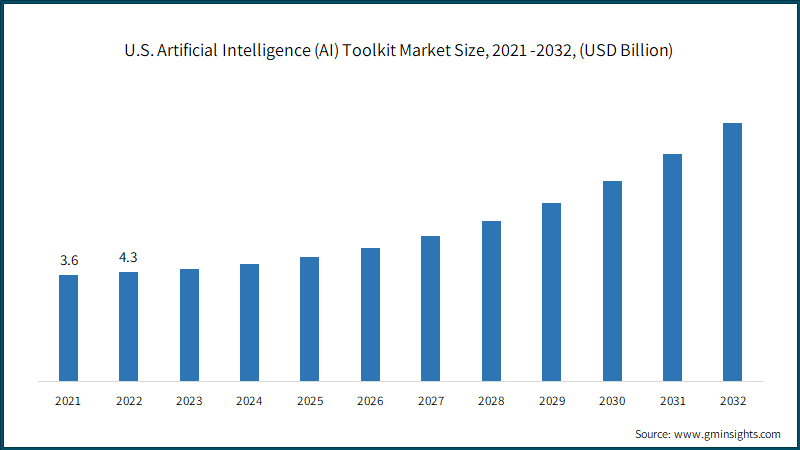 To understand regional trends &nbspDownload Free Sample

North America artificial intelligence toolkits market share of over 30% in 2022, driven by the region's strong ecosystem of technology companies, research institutions, and startups focused on AI development. Additionally, there is substantial investment in AI research and development, with government support and venture capital funding fueling innovation. North America's diverse industries, such as healthcare, finance, and autonomous vehicles, are increasingly integrating AI into their operations, driving demand for AI toolkits to create customized solutions. This combination of factors has contributed to the industry's healthy growth in the region.

Artificial Intelligence Toolkit Market Share
Major companies operating in the AI toolkit industry are:
Google LLC
Microsoft Corporation
Amazon.Com, Inc.
IBM Corporation
Intel Corporation
NVIDIA Corporation
Meta Platform Inc.
Thales group
HPE
SAS
Google LLC and Microsoft Corporation dominate the artificial intelligence (AI) toolkit market. Companies in the market are adopting various strategies to enhance their presence, including partnerships with tech giants, acquisitions of innovative startups, active community engagement to support developers, and the continuous development of user-friendly, feature-rich AI toolkit offerings. These approaches aim to expand market reach and meet the growing demand for AI solutions.

Artificial Intelligence Toolkit Industry News
In September 2023, IBM revealed that its latest offerings, designed to facilitate the adoption of cutting-edge AI frameworks, will be accessible for LinuxOne, IBM Z, Cloud Pak, and z/OS architectures. The initial addition is the AI Toolkit for IBM Z and LinuxONE, which supports the development of mission-critical applications using open-source frameworks such as IBM's Z Accelerated line with SnapML and TensorFlow. Furthermore, a Python Toolkit for the underlying z/OS assures compliance with the company's Security and Privacy by Design principles by providing an open-source Python library for AI and ML workloads.

The artificial intelligence toolkit market research report includes in-depth coverage of the industry with estimates & forecast in terms of revenue (USD billion) from 2018 to 2032 for the following segments:


Click here to Buy Section of this Report
Market, By Type
Market, By Component
Hardware
Software
Services
Market, By Application
Natural Language Processing
Machine Learning
Computer Vision
Others
Market, By End-use
IT & Telecom
Retail and E-commerce
BFSI
Manufacturing
Energy and Utility
Government
Others
The above information has been provided for the following regions and countries:
North America
Europe

UK
Germany
France
Italy
Spain
Russia

Asia Pacific

China
India
Japan
South Korea
Southeast Asia
ANZ

Latin America
MEA

UAE
Saudi Arabia
South Africa