Ammonium Metavanadate Market Size
Ammonium Metavanadate Market size crossed USD 54 million in 2018 and is poised to grow at over 6.5% CAGR from 2019 to 2025.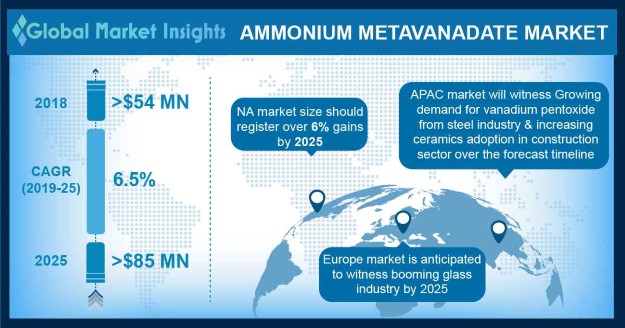 To understand key trends &nbsp
Download Free Sample

The product is a white, yellow or clear crystalline powder which is widely used as a laboratory reagent for the production of various chemicals such as catalysts, vanadium pentoxide and polyoxidovanadates. The product releases ammonia gas on heating and finds extensive usage in paints, varnishes, inks, dyes and photographic developers.

Ammonium Metavanadate Market Report Attributes
Report Attribute
Details
Base Year:
2018
Ammonium Metavanadate Market Size in 2018:
54.7 million (USD)
Forecast Period:
2019 to 2025
Forecast Period 2019 to 2025 CAGR:
6.5%
Historical Data for:
2014 to 2018
No. of Pages:
155
Tables, Charts & Figures:
242
Segments covered:
Form, Purity & Applications
Growth Drivers:

North America: Increasing adoption of rechargeable sodium-ion batteries pertaining to rising preference for energy efficiency
Europe: Booming glass industry
Asia Pacific: Growing demand for vanadium pentoxide from steel industry and increasing ceramics adoption in construction sector

Pitfalls & Challenges:

Potential for adverse health effects
To understand market opportunities &nbsp
Download Free Sample

The product contains the heavy metal vanadium with an oxidation state of +5. It is produced by adding ammonium sulfate or chloride to neutral solutions of alkali metal vanadates to stimulate precipitation. It can alternatively be produced by precipitation of vanadium pentoxide alkali solutions with ammonium chloride.

The ammonium metavanadate market finds application in the commercial synthesis of manganese vanadate, silver vanadate and vanadium oxide as it is routinely used as a reagent, intermediate or substrate. It is widely used to produce Mandelin reagent which finds widespread usage in the detection of dangerous drugs such as PMMA, PMA and psychoactive substances. The product imparts a yellow color to the reagent which changes when the reagent is added to a sample containing an alkaloid, thus serving as a useful kit to detect various substances.

The product is ideal as a reagent in the laboratory and analytical chemistry. It serves as a precursor of various medicinal agents on account of its low cost, mild reaction conditions, high yield and operational simplicity. It is used for production of catalysts for inorganic and organic synthesis.

It is among the most common laboratory reagents along with potassium metavanadate used in biotechnology, cell culture, and biotherapeutics. The product plays the role of an intermediate in the synthesis of sodium carbonate and hydrochloric acid. To ensure the steady availability of raw materials for the reaction to continue, the ammonium metavanadate is heated which regenerates the reagents used in the synthesis of sodium carbonate.

Ammonium Metavanadate Market Analysis
To understand key market trends &nbsp
Download Free Sample

Based on purity levels, ammonium metavanadate market is segmented into 98%-99% and min. 99% purity. Ammonium metavanadate of min. 99% purity is a white crystalline powder with a particle size of less than 1 mm. The product's purity ranges from 99% to 99.99% and it offers the advantages of being odorless & high chemical stability under normal conditions. Its high purity and fine particle size make it an ideal catalyst for the production of organic compounds such as benzimidazoles used in pharmaceutical industry.

Ammonium vanadate of min. 99% purity is moderately soluble in water and highly reactive with alkalis which increases its suitability as a laboratory reagent. The product presents low probability of undergoing hazardous reactions such as polymerization which indicates high stability for storage & usage. The product is ideal for the production of the dioxido-vanadium(V) complex which is a widely used catalyst owing to its desirable biochemical properties and the interconvertible oxidation states of vanadium.

The product is commonly used in the production of the photocatalyst vanadium oxide-titania by the wet impregnation method. This catalyst plays a crucial role in various industrial reactions such as the oxidation of alkanes & aromatics and the catalytic reduction of nitrous oxides. Ammonium metavanadate of min. 99% purity creates an acidic solution with water which is highly reactive and helps neutralize bases without releasing excessive amounts of heat.

This product finds extensive usage in the combustion analysis of hydrogen, nitrogen and carbon pertaining to its non-combustible nature. It is used for producing alloys in the metals industry, printing, chemical reactions, medicines and photography.

Ammonium metavanadate market is segmented based on product forms including powder and granule. The product has slight solubility in water which increases its suitability as a dryer for inks, paints and dyes. It is also used as a catalyst in the dyeing of fur & leather pertaining to rising preference for such products and growing adoption in textile industry. It finds widespread usage in staining wood black, indelible ink, hematoxylin staining in medical diagnosis, photographic developer, developing pottery luster, and printing & dyeing of woolens. The dyes containing ammonium vanadate are majorly used in paints & coatings, printing inks, packaging and textile sectors.

The product is ideal for the printing & dyeing of cotton, production and fixing of aniline black on silk. It improves the performance of various quick-drying inks and imparts enamels & glazing on ceramics. It serves as a catalyst in the production of organic intermediates of polyester, nylon and synthetic inks. Modernization of retail industry and changing lifestyles have led to rising requirement for packaging ink, which, along with technological advancement in water-based ink technology will be the major factor shaping industry dynamics.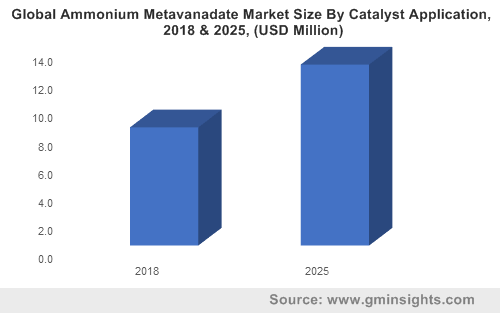 To understand key market trends &nbsp
Download Free Sample

Based on applications, ammonium metavanadate market is segmented into chemical reagents, catalysts, paints, inks & dyes, and ceramics applications. The product is routinely used as a catalyst in inorganic & organic synthesis which includes the production of adipic acid and vanadium pentoxide. The product ensures the conversion of cyclohexanol-cyclohexanone mixture formed during the adipic acid production process into the final product through continuous oxidation with nitric acid at a temperature of 75°C. It also plays a major role in the production of catalysts used in the reduction of harmful nitrogen oxides emitted from boilers.

The product is significantly used in the manufacturing of the vanadium pentoxide catalyst owing to the relative simplicity of the production process. Vanadium pentoxide is extensively used as a catalyst in the commercial production of sulfuric acid by the contact process where it ensures the oxidation of sulfur dioxide to trioxide at 440°C. It also catalyzes chemical reactions in the production process of varnishes, paints and dyes.

The report covers regions including North America, Europe, Asia Pacific, Latin America and Middle East & Africa. North America ammonium metavanadate market size should register over 6% gains by 2025. Lead-acid, nickel-based, lithium-ion, flow batteries and sodium-based batteries accounted for about 0.75 GW of rated in the U.S. in 2018 owing to the presence of several energy storage projects in the country. The product is well-suited for electrodes used in rechargeable sodium-ion batteries owing to their excellent rate, reversible capacity and high electrochemical performance regarding sodium.

The product is well-suited for energy storage & load leveling services in smart grids pertaining to its ability to be synthesized easily, excellent energy density, small charge transfer resistance, superior cycling stability and discharge capacity. U.S. smart grid spending was about USD 2.5 billion in 2019 owing to growing electricity demand and government incentives which should fuel the requirement of rechargeable sodium-ion batteries.

Ammonium metavanadate significantly reduces sodium-ion battery production cost by eliminating the requirement of expensive electrolyte additives, improving reversible capacity and improving stability. Rechargeable sodium ion batteries have undergone substantial technological innovation which has resulted in similar conductivity as that of conventional lithium-ion batteries.

Ammonium Metavanadate Market Share
Global ammonium metavanadate market share is significantly consolidated and includes manufacturers such as:
American Elements
Merck KGaA
Thermo Fisher Scientific
Santa Cruz Biotechnology
Yogi Dye Chem Industries
ACS Chemicals
Avanschem
Motiv Metals
GfE Gesellschaft für Elektrometallurgie
Sisco Research Laboratories
Strem Chemicals
Manufacturers are engaged in strategic initiatives to expand market share and attain competitive edge.

In November 2015, global science & technology firm Merck KGaA completed the acquisition of life science company Sigma-Aldrich which is primarily involved in the manufacture & distribution of chemicals, ceramics, ammonium metavanadate, biopharmaceuticals and labware. The agreement expanded Merck's product portfolio, ensures market expansion in the life science sector and entrusts the company with the complete control of its entire biotechnology production chain.

The ammonium metavanadate market research report includes in-depth coverage of the industry, with estimates & forecast in terms of volume in Tons & revenue in USD from 2014 to 2025, for the following segments:


Click here to Buy Section of this Report
By Form
By Purity
By Application
Chemical reagent
Catalyst
Paints, inks & dyes
Ceramics
Others
The above information has been provided for the following regions and countries:
North America
Europe

Germany
UK
France
Italy
Russia
Spain

Asia Pacific

China
India
Japan
South Korea
Indonesia
Malaysia

Latin America (LATAM)
Middle East & Africa (MEA)

Saudi Arabia
UAE
South Africa
Iran