Home > Pressrelease > GPON Technology Market size worth over $25bn by 2026
GPON Technology Market size worth over $25bn by 2026
Published Date: June 23, 2020
GPON Technology Market size is set to exceed USD 25 billion by 2026, according to a new research report by Global Market Insights Inc.

Gigabit Passive Optical Network (GPON) technology is based on a point-to-multipoint access mechanism, enabling a single fiber from the service provider's office to serve several residents and businesses. GPON provides end-users with an ability to consolidate several services on to a single network, thereby reducing costs while increasing bandwidth. GPON technology is increasingly appearing as key communications technology and supports high-bandwidth transmission to break down the bandwidth bottleneck of network access over twisted-pair cables.

Rising adoption of IoT devices will boost the market revenue
The GPON technology market growth is attributed to growing adoption of IoT devices for applications, such as smart cities and autonomous vehicles. The growing penetration of connected devices is enabling enterprises to make sure that their networks continue to perform seamlessly. Every IoT application has varying requirements, such as data rates, device density, and latency, and each network presents a unique set of operational challenges. GPON technology is increasingly being deployed for the above-mentioned applications as it has the potential to support multiple connections with varying bandwidth needs.

OLT is expected to dominate the market throughout the forecast period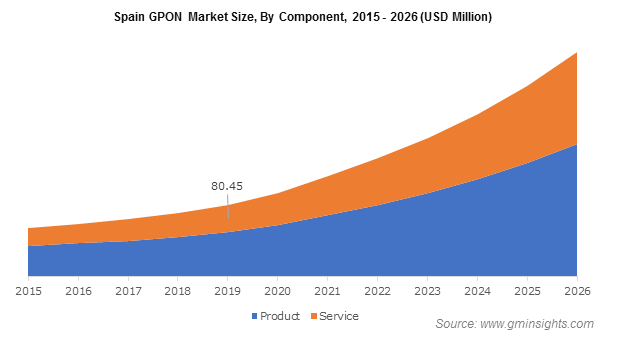 Get more details on this report - Request Free Sample PDF

The Optical Line Terminal (OLT) segment dominated a market share of over 50% in 2019 due to increasing number of broadband connections. The device is one of the essential components of GPON technology that can cater to thousands of customers and is widely used for serving modern voice and data in high-performance enterprise LANs. The market demand for OLTs in GPON architecture is expected to increase as they enable switch vendors to easily address CAPEX & OPEX costs and boost their network simplification objectives, targeting the next-generation architecture.

Increasing market demand for higher bandwidth services to support the rising adoption of XG-PON systems
The XG-PON segment will account for a market share of over 35% by 2026 owing to increasing demand for services that require higher bandwidths, emergence of innovative access technologies on the user's side, and the need for reducing network construction investments by decreasing the split ratio and transmission distance. XG-PON is a PON system supporting nominal transmission rates in the order of 10 Gbit/s in at least one direction and implementing a suite of protocols specified in ITU-T G.987.x series recommendations.

Browse key industry insights spread across 325 pages with 570 market data tables and 27 figures & charts from the report, "GPON Technology Market Size By Component (Product [Optical Line Terminal (OLT), Optical Network Terminal (ONT)], Service [Professional Service, Managed Service]), By Technology (2.5 GPON, XG-PON, XGS-PON, NG-PON2), By Application (Fiber to the Home(FTTH), Other FTTX, Mobile Backhaul), By End-Use (Residential, Business [IT & Telecom, BFSI, Healthcare, Government])" in detail along with the table of contents:
https://www.gminsights.com/industry-analysis/gigabit-passive-optical-network-equipment-market

Demand for FTTC and FTTN will increase exponentially over the coming years
The other FTTX segment is anticipated to witness growth of over 13% till 2026 led by affordable pricing offered by Fiber to The Node (FTTN) and Fiber to the Curb/Cabinet (FTTC) solutions. The deployment of FTTN cost is low compared to FTTH and provides fiber-optic internet to more customers at less expense as the final connection to the home is through copper cables. Fiber to the Curb/Cabinet (FTTC) is like FTTN though the street pole or cabinet is closer to the users' premises, typically within 300m (1,000 feet).

Digital transformation across banks and financial institutions to drive the GPON technology market across the BFSI sector
The BFSI sector in the market is estimated to expand at 15% CAGR from 2020 to 2026 propelled by growing digitalization across the finance sector. Embracing a fully digital strategy demands end-to-end modernization of banks' traditional infrastructure. Due to regulatory and compliance challenges, the banking sector has been moving slowly when it comes to innovations. The market demand in trading and financial networks will increase as they require reliable, secure, and latency private links. As network connectivity demands of banking institutions continue to evolve rapidly, OTN solutions will increase to reflect these changing needs.

Growing investments in modernizing the network infrastructure will fuel the market growth in Europe
The Europe GPON technology market held a revenue share of more than 15% in 2019 due to initiatives taken by countries in-line with the EU's objectives to strengthen broadband coverage and improve connectivity. Also, major operators, such as Telefonica and Nokia, are investing heavily in modernizing their network infrastructures to support the growing market demand for high-bandwidth network capabilities in the region. The growing adoption of cloud services is also leading to a significant increase in the amount of data transmitted over broadband connections.

Major market players are emphasizing on developing innovative GPON solutions
Industry players are emphasizing on the development of 10G-PON solutions to gain a competitive advantage over other market competitors. For instance, in February 2020, Huawei introduced AirPON solution to support the development of 10G PON-ready Gigabit FTTH networks. This new solution helped the company to support mobile operators in improving their efficiencies while building fixed networks.

Some of the key companies operating in the market include ADTRAN, Inc., Allied Telesis, Inc., Alphion Corporation, AT&T Inc., Broadcom Ltd., Calix, Inc., Cisco Systems, Inc., DASAN Zhone Solutions, Inc., Fiberhome Telecommunication Technologies Co., Ltd., Hitachi, Ltd., Huawei Technologies Co., Ltd., ISKRATEL, d.o.o., NEC Corporation, Nokia Corporation, NXP Semiconductors N.V., Tellabs, Inc., Telefonaktiebolaget LM Ericsson, Verizon Communications, Inc., ZTE Corporation, and Zyxel Communications Corporation.

Explore More on Related Topics: