Home > Pressrelease > Methyl Glucose Market size in APAC to exceed $74mn by 2025
Methyl Glucose Market size in APAC to exceed $74mn by 2025
Published Date: December 12, 2019
APAC Methyl Glucose Market size is set to surpass USD 74 mn by 2025; according to a new research report by Global Market Insights Inc.

Methyl glucose chemically comprises glycol, ether and ester groups. It is a polyethylene glycol ether of the mono and diesters of methyl glucose and stearic acid. It is used as a hydrophilic surfactant and an emollient in beauty products and cosmetics. Methyl glucose is synthesized from natural sources and is approved by the FDA as safe on healthy skin. This product does not irritate in the eyes or mucosal layers of the body and has a shelf life of more than five years.


The emergence of products such as two-in-one shampoo and conditioner will promote the growth of the APAC methyl glucose market. Cosmetic formulators are addressing various cosmetic problems of consumers in a shorter time and lower costs by offering multifunctional products. This demand has paved way for expansion in terms of production volume. The development of age and gender-specific products will also augment the Asia Pacific market demand.

A rise in demand for organic and biobased products in the skincare segment will foster market growth
The increasing penetration of surfactants and emulsifiers used in moisturizing creams, lotions, baby care, and other skincare products has created huge opportunities for the ingredient. Formulators are focusing on launching products that suit the sensitive nature of the skin such as babies, dry, oily and combination skin types. Moreover, APAC methyl glucose market is also gaining ground due to the emergence of organic and bio-based products in the skincare category.
All-in-one gels and serums which are multifunctional in nature, hold higher value for consumers. Various benefits such as skin whitening and anti-aging properties which are bestowed from a single product will propel Asia Pacific Methyl Glucose industry demand. In addition, odor-caring skincare products targeted at the middle-aged men have displayed encouraging sales in the Asian men's cosmetic market. The development of gender-specific products will create new avenues for the expansion of methyl glucose market outlook.

Browse key industry insights spread across 823 pages with 1350 market data tables and 37 figures & charts from the report, "Asia Pacific Methyl Glucose Market By Product (PEG 120 Methyl Glucoside Dioleate, Methyl Glucoside Dioleate, PEG-20 Methyl Glucose Sesquistearate, Methyl Glucose Sesquistearate, PPG-20 Methyl Glucose Ether, PPG-20 Methyl Glucose Ether Distearate, PPG-10 Methyl Glucose Ether, Methyl Glucose Isostearate, Methyl Gluceth-10, Methyl Gluceth-20, PEG-20 Methyl Glucose Trioleate, PEG-120 Methyl Glucose Trioleate) By Form (Liquid, Powder), By Application, Industry Analysis Report, Country Outlook (China, India, Japan, South Korea, Australia, Thailand, Malaysia, Indonesia, Philippines, Vietnam, Taiwan), Growth Potential, Competitive Market Share & Forecast, 2019 – 2025" in detail along with the table of contents:
https://www.gminsights.com/industry-analysis/asia-pacific-methyl-glucose-market

Application scope of PEG 120 methyl glucoside dioleate will increase due to its multifunctional benefits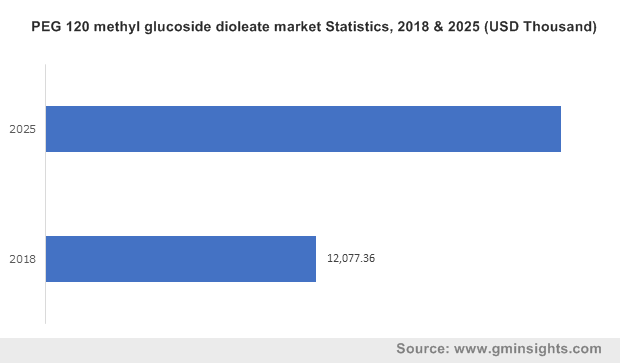 Get more details on this report - Request Free Sample PDF

Due to the rise in processed food consumption, the demand for PEG 120 methyl glucoside dioleate will increase in the forecast timeframe. The use of viscous liquids for clinical nutrition, infant nutrition, and sports nutrition has increased which will drive the growth of this methyl glucose product type. Moreover, with nanotechnology expanding its boundaries in the cosmetics industry, the application scope of PEG 120 methyl glucoside dioleate will also expand. Solid Lipid Nanoparticles (SLN) encompass this product as a carrier in many cosmetic formulations which will increase its market penetration.

The role of PEG 120 methyl glucoside dioleate which acts as a fragrant fixative and humectant for haircare and skincare will also augment market demand for this type. With the increase in the number of specialized products targeted at reducing itchiness, reddening, and inflammation, methyl PEG 120 methyl glucoside dioleate will witness an increased consumption. Moreover, the market demand for PEG 120 methyl glucoside dioleate will grow considerably due to changing sustainability scenarios such as reduction in the carbon footprint in the manufacturing processes of this type of methyl glucose.

Adoption of the liquid form will increase owing to its easy blending properties
Liquid format dominates the market share owing to its versatility to blend with a variety of cosmetic formulations. Provisions of convenient and low-cost transport systems have also paved way for the adoption of the liquid form of methyl glucose. The liquid form has also demonstrated compatibility with botanical ingredients in formulations which will increase its market share. The rise in the consumption of water-proof liquid cosmetics has also expediated the sales of the liquid form segment in the APAC methyl glucose market.
Easier manufacturability and technical advantages such as uniform dispersion and consistency in bulk reactions will encourage formulators' inclination towards this format. It also enables formulators to regulate the temperatures as powder format requires more control operations for temperature. Moreover, the liquid form also possesses lesser threat to the market participants involved in labor, as it is in diluted forms, complying with the sustainability standards.

China will emerge as a powerhouse for Asia Pacific methyl glucose industry
China is engaged in the introduction of formulations with new ingredient derivatives which can be used in combination with methyl glucose to enhance the quality of the final product. Natural and organic emollients have become the most sought-after cosmetic ingredients in the Chinese market. Medical research indicating cancer-risks and other side-effects have encouraged consumers to opt for natural-based products, which will support market growth. China's expanding distribution outlets for personal care products and an increase in the number of beauty care and massage centers will boost the APAC methyl glucose market trends over the forecast period.
In the personal care space, make-up preparations with moisturizing, thickening, or camouflaging features have also gained popularity in the market. Mineral make up products that are promoted with the natural and cruelty-free taglines have created lucrative opportunities for methyl glucose market growth. Being a major export base of cosmetics, China has laid special emphasis on cosmetic ingredients. Hence, ingredients such as methyl glucose have had a direct impact on the cosmetics market size.

Asia Pacific methyl glucose market is consolidated with major players such as Lubrizol, Evonik, Guangzhou Tinci Materials Technology (Tinci), Foshan Hytop New Material, and KCI Limited accounting for over 50% of the market share. The methyl glucose industry players are engaged in collaborating with the cosmetic formulators which will increase the number of product launches and attract a larger consumer base. R&D remains the major focus of the key players