Veterinary Monitoring Equipment Industry Analysis
Veterinary Monitoring Equipment Market size accounted for USD 427.5 million in 2022 and is estimated to grow at 9.4% to reach USD 1 billion by 2032. Increasing prevalence of animal disorders, growing companion animal population, and increasing spending on pets health are some of the drivers fostering the market growth.

To get more details on this report: Request Free Sample PDF

The rising demand for pet insurance and increasing veterinary costs is expected to be a significant factor in driving the market expansion. The costs of treating a pet for a disease or injury are covered by pet insurance policies. Owners frequently choose pet insurance to lessen the financial burden of obtaining veterinary care. Numerous public and private service providers offer these programmes for various animals, including dogs and cats among others. Such factor will positively impact the market revenue.

Veterinary Monitoring Equipment Market Report Coverage
Report Coverage
Details
Base Year:
2022
Market Size in 2022:
USD 427.5 Million
Forecast Period:
2023 to 2032
Forecast Period 2023 to 2032 CAGR:
9.4%
2032 Value Projection:
USD 1 billion
Historical Data for:
2018 to 2022
No. of Pages:
180
Tables, Charts & Figures:
387
Segments covered:
Type, Application, Animal Type, End-use and Region
Growth Drivers:

Increasing prevalence of animal disorders
Rising adoption of pet insurance
Growing companion animal population
Increasing spending on pets health

Pitfalls & Challenges:

High cost of monitoring equipment
To get more details on this report: Request Free Sample PDF

Veterinary monitoring equipment refers to a range of specialized devices and systems used in veterinary clinics, hospitals, and research facilities to monitor and assess the health status of animals. These devices play a crucial role in enabling veterinarians to monitor and diagnose conditions, ensure safe anesthesia administration, track patient recovery, and provide optimal care for animals.

COVID-19 Impact
The COVID-19 pandemic had minimal impact on veterinary monitoring equipment market. The economic uncertainty and reduced spending on non-essential equipment have affected market share. Supply chain disruptions and manufacturing delays have also posed challenges. However, on the positive side, increased focus on animal health and the need for remote healthcare solutions have accelerated the adoption of telemedicine and remote monitoring technologies. This has created new opportunities for connected monitoring devices and remote monitoring solutions. The pandemic has also emphasized the importance of early detection and proactive healthcare management, driving demand for advanced multiparameter monitoring systems. Technological advancements, such as user-friendly interfaces and enhanced connectivity, have been encouraged. Overall, the pandemic has accelerated the adoption and innovation of veterinary monitoring equipment, improved patient care and enabling enhanced veterinary healthcare delivery.

Veterinary Monitoring Equipment Market Trends
The increasing prevalence of animal disorders serves as a strong growth driver for the veterinary monitoring equipment industry. With a rise in diseases and health conditions affecting animals, there is a growing need for effective monitoring and healthcare solutions. Veterinary monitoring equipment plays a vital role in early detection, continuous monitoring, and disease management. The ability to closely monitor animals enables timely interventions, improved disease management, and enhanced animal welfare. This growing awareness of the importance of proactive healthcare in animals drives the demand for advanced monitoring systems.

Veterinary Monitoring Equipment Market Restraint
The high cost of veterinary monitoring equipment may restraint the market progress. The advanced technology and specialized nature of these monitoring systems result in higher production costs, which are eventually passed on to customers. This high cost creates a barrier for smaller veterinary clinics and practices with limited budgets, limiting their ability to adopt advanced monitoring solutions. Additionally, ongoing maintenance and calibration expenses further contribute to the overall cost burden. Thus, the high cost of veterinary monitoring equipment may restrict market accessibility for some players and hampers widespread adoption.

Veterinary Monitoring Equipment Type Segmentation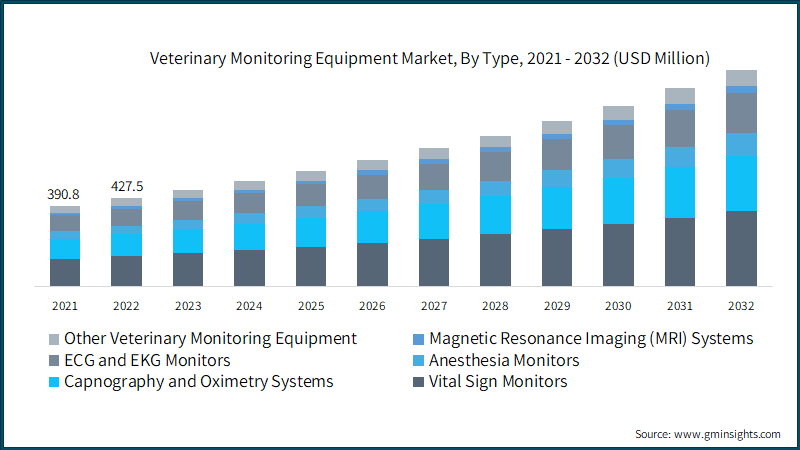 To get more details on this report: Request Free Sample PDF

By type, the veterinary monitoring equipment market is classified into vital sign monitors, capnography and oximetry systems, anesthesia monitors, ECG and EKG monitors, magnetic resonance imaging (MRI) systems, and other veterinary monitoring equipment. The vital sign monitors segment accounted for 34.4% of the market share in 2022 and is projected to witness robust growth over the analysis timeframe. Vital sign monitors play a crucial role in tracking and assessing the essential physiological parameters of animals, including heart rate, respiratory rate, blood pressure, and temperature.

The increasing awareness among veterinary professionals about the importance of continuous monitoring and early detection of abnormalities in animals vital signs will drive the demand for these monitoring systems. Additionally, advancements in technology have led to the development of more accurate, user-friendly, and portable vital sign monitors, further fuelling market demand. The growing emphasis on preventive care, improved patient outcomes, and the need for efficient monitoring solutions in veterinary settings are key factors propelling the market expansion.

Veterinary Monitoring Equipment Application Segmentation
To get more details on this report: Request Free Sample PDF

Based on application, the veterinary monitoring equipment market is segmented into weight and temperature monitoring, cardiology, respiratory, neurology, multi-parameter monitoring, and other applications. The respiratory segment is expected to register around USD 338.2 million by 2032. There is a growing awareness among pet owners and veterinarians about the significance of monitoring respiratory health in animals. As a result, there is an increasing demand for specialized equipment that can accurately assess and monitor respiratory parameters in veterinary care. Moreover, advancements in respiratory monitoring technology, such as portable devices, wireless connectivity, and improved sensors, are driving the adoption of respiratory monitoring equipment in veterinary practices. These technological innovations enhance the accuracy, convenience, and ease of use in monitoring respiratory conditions in animals.

Veterinary Monitoring Equipment Animal Type Segmentation
By animal type, the veterinary monitoring equipment market is segmented into small companion animals, large animals, and other animals. The small companion animals segment accounted for significant market revenue in 2022 and is expected to grow at 9.7% during the forecast period. A notable rise in the adoption of pet animals, including cats and dogs as companion of human has been observed over the past years. For instance, according to the Pet Keen statistics, the number of animals adopted each year in the UK is approximately 1.5 million. Similarly, in 2021, the number of dogs being adopted has increased by 5%, while that of cats being adopted has an increase of 2% in the UK. Thus, increasing population of adopted pets increases the animal healthcare spending, thereby fostering the market development.

Veterinary Monitoring Equipment End-use Segmentation
The end-use in veterinary monitoring equipment market is divided into veterinary clinics and diagnostic centers, veterinary hospitals, and research institutes. Veterinary hospitals accounted for USD 228.6 million market revenue in 2022. Veterinary hospitals have a constant requirement for advanced monitoring equipment to ensure comprehensive care and promote animal well-being. Thus, veterinary hospitals require a variety of monitoring solutions to track vital signs, assess physiological parameters, and facilitate accurate diagnoses. Moreover, increasing product launches and rise in surgeries in animals that require continuous monitoring post-surgery will supplement the market growth.

Additionally, pet owners have been treating their pet as a family member, due to which they are significantly spending more on their pets. For instance, according to the Pets in Australia report, in 2019, the average annual household spending of people to keep their pets healthy was over 13 billion. Thus, increasing spending on animals will escalate the market share.

Veterinary Monitoring Equipment Regional Analysis
North America veterinary monitoring equipment market accounted for 39.2% business share in 2022 and is anticipated to grow at considerable growth rate during the forecast timeframe. Increasing prevalence of diseases among animals is one of the major factors contributing the market growth. For instance, according to the Association for Pet Obesity Prevention (APOP) report, in 2022, 59% of dogs and 61% of cats were classified as overweight or having obesity. Overweight dogs are more likely to suffer from respiratory diseases, joint disease, and other preventable conditions. Such diseases require constant monitoring, thereby fostering the market growth. Moreover, the presence of various market players and their strategic activities will further contribute to the regional market revenue.

Veterinary Monitoring Equipment Industry Leaders
Major market players operating in the veterinary monitoring equipment market include Medtronic plc, Dextronix, ICU Medical (Smiths Medical), Avante Animal Health, Midmark Corporation, and Bionet America, Inc., among others. These industry players majorly adopt various strategies including collaborations, acquisitions, mergers, and partnerships to create a global footprint and sustain market competition.

Veterinary Monitoring Equipment Industry News:
In April 2023, Hallmarq Veterinary Imaging launched a new zero-helium MRI system. Hallmarqs zero-helium small animal 1.5T MRI system has increased access to diagnostic care for small animal patients. This strategy helped the company to enhance its product offering in market and assist in strengthening the market position.

In February 2020, Bionet America, Inc. launched BMVet PRO series of veterinary specific multiparameter monitors. The BMVet PRO series includes the BM3Vet PRO, the BM5Vet PRO, and the BM7Vet PRO. The veterinary-specific modules and algorithms are included in multiparameter monitors. This strategy helped the company to expand their product offering and customer base.

The veterinary monitoring equipment market research report includes an in-depth coverage of the industry with estimates & forecast in terms of revenue in USD from 2018 to 2032, for the following segments:


Click here to Buy Section of this Report
By Type
Vital Sign Monitors
Capnography and Oximetry Systems
Anesthesia Monitors
ECG and EKG Monitors
Magnetic Resonance Imaging (MRI) Systems
Other Veterinary Monitoring Equipment
Application
Weight and Temperature Monitoring
Cardiology
Respiratory
Neurology
Multi-parameter Monitoring
Other Applications
Animal Type
Small Companion Animals
Dogs
Cats
Others Small Companion Animals
Large Animals
Equines
Other Large Animals
Other Animals
End-use
Veterinary Clinics and Diagnostic Centers
Veterinary Hospitals
Research Institutes
The above information is provided for the following regions and countries:
North America
Europe

Germany
UK
France
Spain
Italy
Rest of Europe

Asia Pacific

Japan
China
India
Australia
Rest of Asia Pacific

Latin America

Brazil
Mexico
Argentina
Rest of Latin America

Middle East & Africa

South Africa
Saudi Arabia
Rest of MEA