Vacuum Circuit Breaker Industry Analysis
Vacuum Circuit Breaker Market size was valued at USD 3.3 billion in 2022 and is estimated to register over 9.3% CAGR between 2023 and 2032, driven by the increasing need for efficient transmission and distribution control systems along with upgrading existing electrical infrastructure and investments in grid infrastructure.

To get more details on this report: Request Free Sample PDF

Developing nations' lack of efficient electric networks and developed countries' focus on improving their infrastructure have created favorable conditions for the vacuum circuit breaker market. In 2021, Europe invested more than USD 3 billion in smart grid network research and development, particularly in large-scale smart metering projects. Cost-effectiveness, safe operation, and compact product design boosting the product penetration over other alternatives.

Vacuum Circuit Breaker Market Report Coverage
Report Coverage
Details
Base Year:
2022
Market Size in 2022:
USD 3.3 Billion
Forecast Period:
2023 to 2032
Forecast Period 2023 to 2032 CAGR:
9.3%
2032 Value Projection:
USD 8.3 Billion
Historical Data for:
2019 to 2022
No. of Pages:
590
Tables, Charts & Figures:
821
Segments covered:
Rated current, installation, application, end use
Growth Drivers:

North America & Europe
Expansion of smart grid networks
Refurbishment & retrofit of the existing grid infrastructure

Asia Pacific
Rising peak load demand
Expansion of micro-grid networks
Grid stability & security of supply concerns
Middle East & Africa and Latin America
Increasing electricity demand
Integration of a sustainable energy infrastructure
Pitfalls & Challenges:

Slow paced technological evolution across developing regions
Volatile raw material prices
To get more details on this report: Request Free Sample PDF

COVID-19 Impact
The COVID-19 pandemic has had a significant impact on various industries worldwide, including the vacuum circuit breaker market. The pandemic led to disruptions in global supply chains due to lockdowns, travel restrictions, and temporary closures of manufacturing facilities. This resulted in delays in the production and delivery of VCBs, affecting the market's overall supply.

Many construction projects and infrastructure development plans were delayed or put on hold during the pandemic. This had a direct impact on the demand for VCBs, as installations and upgrades in various sectors, such as power distribution and industrial plants, were postponed. The economic uncertainty caused by the pandemic led to fluctuations in demand for VCBs. Some industries experienced a decrease in demand due to reduced operations and investments, while others saw increased demand for VCBs as they played a crucial role in maintaining reliable power supply for essential services.

The pandemic necessitated remote working and virtual solutions, including remote monitoring and control systems. This increased the importance of digitalization and smart grid technologies, which could impact the adoption and integration of VCBs in the market. Moreover, As the world recovers from the pandemic, governments and industries are investing in economic recovery and resilience. This includes investments in infrastructure, including electrical networks, which could positively influence the demand for VCBs in the long term.

Vacuum Circuit Breaker Market trends
The growing emphasis on clean and sustainable energy sources has led to an increased deployment of renewable energy generation systems such as solar and wind power. VCBs play a crucial role in the protection and control of renewable energy systems, driving the demand for VCBs in this sector. The integration of smart grid technologies, including advanced metering, digital monitoring, and control systems, is gaining momentum. VCBs with enhanced monitoring capabilities and communication features are being developed to support the implementation of smart grid infrastructure.

Furthermore, there is a trend toward compact and modular VCB designs to optimize space utilization and facilitate easier installation and maintenance. Compact VCBs are particularly favored in urban areas and industrial applications where space is limited, thus boosting the technology adoption. Manufacturers are focusing on enhancing the safety features of VCBs, such as arc fault detection and rapid fault clearing mechanisms, to minimize the risk of electrical incidents and thus driving the demand for vacuum circuit breakers across the globe.

Vacuum Circuit Breaker Rated Current Segmentation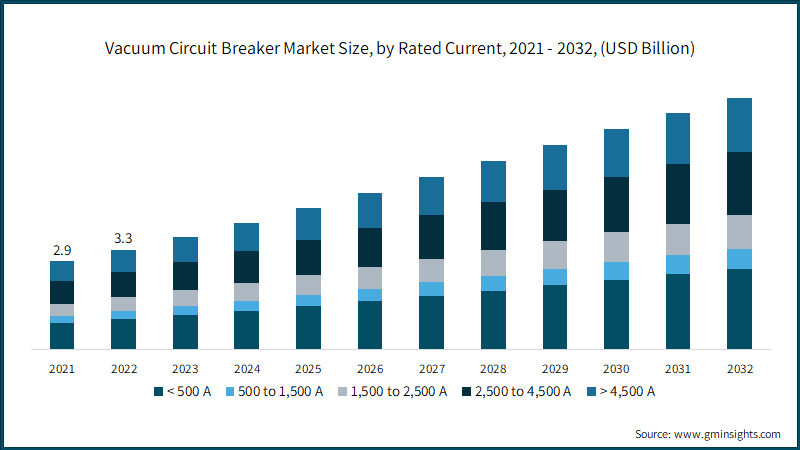 To get more details on this report: Request Free Sample PDF

The vacuum circuit breaker market, based on rated current, is segmented as < 500 A, 500 to 1,500 A, 1,500 to 2,500 A, 2,500 to 4,500 A, and > 4,500 A. Circuit breakers with < 500A current rating are valued at over USD 1 billion in 2022 and is poised to reach over USD 2.6 billion by 2032. The construction of residential and commercial buildings drives the demand for VCBs with current ratings below 500A. These breakers are essential for the distribution and protection of low-voltage circuits in these settings. The need for renovation and upgrades in existing residential and commercial buildings also fuels the market for VCBs with lower current ratings.

As older electrical systems are modernized, there is a demand for reliable circuit breakers that can handle the lower current requirements. VCBs with current ratings below 500A find applications in small-scale industrial setups, such as workshops, small factories, and machinery control panels. These breakers provide effective protection for electrical equipment and circuits in these environments, which complements the product adoption. In addition, emphasis on safety and protection in electrical systems drives the demand for VCBs below 500A, as these units offer fault detection, overload protection, and short-circuit protection, ensuring the safety of personnel and equipment.

Vacuum Circuit Breaker Installation Segmentation
To get more details on this report: Request Free Sample PDF

The vacuum circuit breaker market is segmented in indoor and outdoor based on installation. The outdoor installation holds a market value of over USD 2 billion in 2022 and is anticipated to grow at a CAGR of about 9% through 2032. The outdoor installation of vacuum circuit breakers (VCBs) is currently dominant in the competitive industrial landscape due to the rising adoption of on-site generation technologies and the expansion of utility-based transmission networks. The increasing installation of these systems, along with their associated infrastructure, drives the demand for outdoor VCBs.

Additionally, outdoor installations are favored due to their lower likelihood of fault escalation and comparatively lower upfront capital costs, which further contribute to the growing demand for these products.

Vacuum Circuit Breaker Application Segmentation
The vacuum circuit breaker technology is majorly applicable across power distribution and transmission infrastructure. The vacuum circuit breaker market is set to observe a substantial growth in deployment across power distribution infrastructure at a CAGR of over 9% through 2032. VCBs are known for their high reliability and performance, making them a preferred choice for power distribution networks. Their ability to interrupt fault currents quickly and efficiently ensures the continuity and reliability of electricity supply, which favors its adoption. These units play a crucial role in clearing faults, such as short circuits and overloads, in power distribution systems. By swiftly interrupting faulty circuits, VCBs protect the network from damage and prevent widespread outages.

However, vacuum circuit breaker offer enhanced safety features, including arc fault detection and mitigation. These features reduce the risk of electrical incidents and protect personnel working on the power distribution network, thereby necessitating the use of VCBs across the power distribution networks.

Vacuum Circuit Breaker End Use Segmentation
The vacuum circuit breaker technology is used across several end uses including residential, commercial, industrial and utility. Residential sector plays a major rale in driving the vacuum circuit breaker market growth. The construction of new residential buildings, including houses, apartments, and condominiums, drives the demand for VCBs. As the residential construction sector expands, there is an increased need for reliable circuit protection devices like VCBs to ensure the safe and efficient distribution of electrical power within homes. VCBs are essential for ensuring the safety of residential electrical systems. They provide protection against electrical faults, such as short circuits and overloads, minimizing the risk of electrical hazards, fires, and damage to appliances and equipment.

Moreover, building codes and regulatory standards require the installation of circuit breakers, including VCBs, in residential dwellings to meet safety requirements, which in turn drives the demand for VCBs in the residential market.

Vacuum Circuit Breaker Regional Analysis
Asia Pacific vacuum circuit breaker market is predicted to surpass USD 3.9 billion by 2032, primarily on account of the increasing demand for effective Transmission & Distribution (T&D) systems. There is a growing need to upgrade and restore existing electrical infrastructure, leading to substantial investments in the energy infrastructure sector. The industry is expected to benefit from factors such as cost-effectiveness, reliability, longevity, and operational flexibility, which are critical for the success of circuit breaker solutions.

The industry has also witnessed ongoing research and development activities aimed at developing effective components and manufacturing energy-efficient products. These strategic initiatives have contributed to the overall advancement of the industry, aligning with the increasing focus on sustainable and environmentally friendly solutions. Furthermore, the Asia Pacific region has seen a significant deployment of renewable energy sources and the expansion of smart grid networks, particularly in Gulf states.

Vacuum Circuit Breaker Industry Leaders
Major players in the vacuum circuit breaker market have implemented strategic initiatives, including forming alliances and partnerships, and ramping up investments in research and development (R&D) activities. These industry leaders are dedicated to developing advanced switchgears with competitive pricing and enhanced quality through the establishment of high-volume and high-speed manufacturing capabilities. Timely product delivery is a key focus for these companies as they strive to meet customer demands efficiently.

Notable companies operating in the vacuum circuit breaker business include WEG, Powell Industries, Siemens Energy, HD HYUNDAI ELECTRIC & ENERGY SYSTEM CO., LTD., LS ELECTRIC Co., Ltd, Toshiba International Corporation, Mitsubishi Electric Corporation, Kirloskar Electric Company, Eaton Corporation, Schneider Electric, ABB, General Electric.

Vacuum Circuit Breaker Industry News:
In January 2022, Eaton partnered with Samsung's SmartThings Energy platform to integrate its smart circuit breaker technology with the ecosystem offered by Samsung. This platform enables users to utilize the data from the connected devices & systems for better energy utilization throughout the home. The company's smart circuit breakers can augment the platform's ability to monitor the use of energy from connected technology beyond Samsung devices. This partnership strengthened the company's presence across the circuit breaker industry.


In June 2021, Mitsubishi and Siemens signed a Memorandum of Understanding (MOU) to develop high-voltage switching products & solutions with zero global warming effect, which substitute GHG with clean air for insulation. Both companies adopted research techniques to accelerate the development of clean air technologies for insulation at higher voltages. They upgraded the 245 kV dead-tank circuit breaker, enabling accessibility to high-voltage switching solutions with climate neutrality for global customers. Both partners continue to produce, service, and sell switchgear solutions independently.

This vacuum circuit breaker market research report includes an in-depth coverage of the industry with estimates & forecast in terms of '000 Units & USD Million from 2019 to 2032, for the following segments:


Click here to Buy Section of this Report
By Rated Current
< 500 A
500 to 1,500 A
1,500 to 2,500 A
2,500 to 4,500 A
> 4,500 A
By Installation
By Application
Power Distribution
Power Transmission
By End Use
Residential
Commercial
Industrial
Utility
The above information has been provided for the following regions and countries:
North America
Europe

France
Germany
Italy
UK
Russia

Asia Pacific

China
India
Japan
South Korea
Australia

Middle East & Africa

Saudi Arabia
UAE
Qatar
Kuwait

Latin America