U.S. Distribution Lines Industry Analysis
U.S. Distribution Lines Market size was valued at USD 1.6 billion in 2022 and is set to exhibit over 2.5% from 2023 to 2032. The industry is experiencing a wide array of trends focused on grid modernization, renewable energy integration, electrification of transportation, microgrid adoption, and the digitization of grid management. These trends are essential for meeting the nation's energy needs, reducing environmental impact, and enhancing grid reliability.

To get more details on this report: Request Free Sample PDF

Digitalization coupled with the adoption of rigorous data analytics for load management are transforming the way distribution lines are managed across the country, in turn adding the industry dynamics. Moreover, increasing adoption & deployment of microgrids to smoothen the electrical distribution with minimal losses is anticipated to complement the business outlook. Microgrids are smaller, localized energy systems that can operate independently or in conjunction with the main grid. They enhance grid resilience and can provide backup power during outages, a critical feature in areas prone to severe weather events, thereby fostering the market growth.

U.S. Distribution Lines Market Report Coverage
Report Coverage
Details
Base Year:
2022
Market Size in 2022:
USD 1.6 Billion
Forecast Period:
2023 to 2032
Forecast Period 2023 to 2032 CAGR:
2.5%
2032 Value Projection:
USD 2 Billion
Historical Data for:
2019 to 2022
No. of Pages:
110
Tables, Charts & Figures:
93
Segments covered:
Voltage, Product, & Country
Growth Drivers:

Refurbishment & retrofit of existing grid infrastructure
Growing renewable integration
Expansion of micro-grid network

Pitfalls & Challenges:
To get more details on this report: Request Free Sample PDF

Aging infrastructure, coupled with the increasing frequency of extreme weather events, has spurred investments in upgrading distribution lines. Utilities are deploying advanced technologies like smart meters and sensors to improve grid monitoring, reduce downtime, and enhance the overall reliability of power distribution. In addition, integration of renewable sources of energy with main electrical grid to fulfill the rising energy needs will fuel the U.S. distribution lines market development.

The push for electrification in transportation is further influencing distribution lines industry in the U.S. Moreover, the growing adoption of electric vehicles (EVs) necessitates infrastructure expansion, including the installation of EV charging stations along distribution networks. This trend aligns with the broader effort to reduce greenhouse gas emissions and promote sustainable transportation, thereby impelling the market scenario.

COVID- 19 Impact
The COVID-19 pandemic had a noticeable impact on the U.S. distribution lines market. In the initial phases of the pandemic, disruptions were observed in supply chains, manufacturing operations, and workforce availability, leading to delays in distribution line projects. Restrictions on construction activities and lockdown measures affected the pace of infrastructure development, including distribution line upgrades and installations. However, the increased demand for residential electricity due to remote work and stay-at-home orders highlighted the critical role of distribution lines in maintaining a stable power supply. This realization led to a renewed focus on the resilience and reliability of distribution networks.

U.S. Distribution Lines Industry Trends
The aging infrastructure in the U.S. coupled with the increasing frequency of extreme weather events, has spurred utilities and stakeholders to invest significantly in upgrading and fortifying distribution lines. Increasing concern towards energy security & diversification along with shifting focus toward adoption of transmission & distribution interconnector projects will augment the industry outlook. Ongoing initiatives to channelize energy security & diversification across various economy through interconnector projects that enhance energy security by providing access to diverse energy sources from neighboring regions is anticipated to have a positive impact on the market dynamics. In addition, rigorous government mandates & policies towards grid balancing & flexibility along with rising inclination towards cross-border/state energy trading will complement the U.S. distribution lines market landscape.

U.S. Distribution Lines Voltage Segmentation
To get more details on this report: Request Free Sample PDF

The 11 kV to 33 kV voltage distribution lines industry was reached USD 774 million in 2022 and is undergoing significant growth, led by the essential need to strengthen and expand medium-voltage distribution networks to accommodate the rising trends of urbanization and industrialization. Additionally, investments in renewable energy projects are acting as a significant catalyst for the growth of this segment, led by the increasing demand for efficient and resilient grid connections.

The growth prospects for the 33 kV to 66 kV distribution lines segment in the U.S. are promising, impelled by the increasing demand for electricity, the integration of renewable energy sources, and the imperative of grid reliability. With the continuous & exponential upgradation of energy infrastructure in the country, this voltage range is expected to play a critical role in meeting the evolving energy needs while ensuring a robust and sustainable electrical grid. These trends will shape the dynamics of the U.S. distribution lines market.

U.S. Distribution Lines Product Segmentation
To get more details on this report: Request Free Sample PDF

The ABC distribution lines industry is estimated to observe 4.1% growth till 2032. The transition towards more advanced and insulated conductors and cables is being prevailed in the electrical industry due to concerns about safety, reliability, and the increasing need for electricity capacity, thereby spurring the growth for ABC distribution lines. However, open wire distribution lines still have niche applications in certain low-density areas where cost-effective solutions are essential. In these situations, open wire lines offer reliable electricity distribution.

U.S. Distribution Lines Country Analysis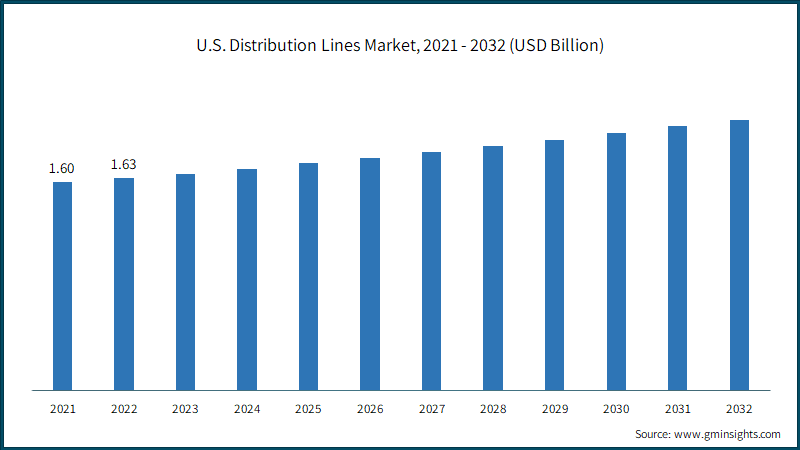 U.S. Distribution lines market is projected to grow at rate of over 25.9% through 2032, due to the ongoing commitment to strengthen and expand the distribution infrastructure. This is vital to meet the increasing electricity demand across the nation. In addition, the rapid processes of urban migration, industrialization, and grid modernization initiatives are driving investments in new distribution lines and projects. These endeavors are essential to ensure a reliable and resilient electrical grid that can accommodate the evolving energy landscape and the changing needs of consumers and industries.

A rising emphasis on grid resilience and the adoption of smart grid solutions, coupled with the growing integration of renewable energy sources across the country, will foster with the business landscape. Furthermore, the trend towards cross-border interconnections with neighboring countries, aimed at enhancing regional energy cooperation and trade, is expected to boost market growth.
U.S. Distribution Lines Industry Leaders
The U.S. distribution lines market is on the brink of significant expansion, vital for improving energy access, dependability, and sustainability throughout the nation. Key market players are proactively forging collaborations and partnerships as a strategic means to secure essential financial backing for the enhancement of the electrical infrastructure. The prominent players profiled in the market includes Nexans, Siemens Energy, ABB, Prysmian Group, CTC Global Corporation, American Wire Group, Quanta Services, Southwire Company, LLC., Sumitomo Electric Industries, Ltd., Bekaert.

U.S. Distribution Lines Industry News
In February 2023, the U.S. government under its federal funding allocated USD 13 billion for expanding and modernizing the national power grid representing the most substantial single direct federal investment in essential Distribution and distribution (T&D) infrastructure.

In November 2021, the U.S. government decide to invest USD 13 billion in an effort to enhance and modernize the electric grid. This substantial funding aims to support transformative projects that will strengthen the reliability and resilience of the country's power grids. The investment will be made available through President Joe Biden's Bipartisan Infrastructure Law, which seeks to address critical infrastructure needs across various sectors, including energy.

This U.S. Distribution Lines market research report includes in-depth coverage of the industry with estimates & forecast in terms of 'ckm', 'MVA' & 'USD Million' from 2019 to 2032, for the following segments:


Click here to Buy Section of this Report
Market, By Voltage
< 11 kV
11 kV - 33 kV
> 33 kV - 66 kV
> 66 kV
Market, By Product
The above information has been provided for the following country: