Synthetic Latex Polymers Market Size
Synthetic Latex Polymers Market was valued at around USD 30.3 Billion in 2022 and is anticipated to grow at a CAGR of around 4.4% between 2023 and 2032. These polymers are created through emulsion polymerization, a process in which monomers undergo polymerization in an aqueous medium, resulting in the formation of tiny polymer particles. Synthetic latex polymers are celebrated for their versatility and find applications in numerous sectors. They are notably used in the formulation of adhesives and sealants, providing robust bonding capabilities and enhancing product performance. Moreover, they play a vital role in the paint and coatings industry, enhancing both the durability and appearance of paints.

To understand key trends &nbsp
Download Free Sample

These polymers are also integral in the paper and paperboard manufacturing, where they contribute to enhanced paper strength and print quality. In the textile industry, synthetic latex polymers are pivotal in creating coated fabrics and nonwoven materials. Their adaptability and advantageous properties make them an indispensable material across a broad spectrum of industries, encompassing construction to textiles.

Synthetic Latex Polymers Market Report Attributes
Report Attribute
Details
Base Year:
2022
Synthetic Latex Polymers Market Size in 2022:
USD 30.3 Billion
Forecast Period:
2023 to 2032
Forecast Period 2023 to 2032 CAGR:
4.4%
2032 Value Projection:
USD 46.5 Billion
Historical Data for:
2018 – 2022
No. of Pages:
180
Tables, Charts & Figures:
136
Segments covered:
Type, Application and Region
Growth Drivers:

Increasing Demand in Paints and Coatings
Rising Construction Activities
Growth in the Adhesives and Sealants Sector

Pitfalls & Challenges:

Price Volatility of Raw Materials
To understand market opportunities &nbsp
Download Free Sample

Price Volatility of Raw Materials is indeed a significant pitfall for the synthetic latex polymers industry. The market's dependence on raw materials like styrene, butadiene, acrylic monomers, and others makes it vulnerable to price fluctuations. These fluctuations can directly impact production costs and profit margins for manufacturers. To mitigate this challenge, companies in the market often employ strategies such as long-term contracts, diversification of suppliers, and efficient inventory management to better navigate the volatility of raw material prices.

COVID-19 Impact
The COVID-19 pandemic had a notable impact on the synthetic latex polymers market. As lockdowns and restrictions disrupted various industries, such as construction, automotive, and manufacturing, the demand for synthetic latex polymers saw a decline. This was particularly pronounced during the early phases of the pandemic. Additionally, supply chain disruptions, including interruptions in the availability of raw materials and transportation challenges, hindered production. However, as the world adapted to the new normal, the market gradually rebounded due to the recovery in construction and manufacturing activities. The increased use of synthetic latex polymers in healthcare and personal protective equipment (PPE), such as gloves and masks, also contributed to their resilience during the pandemic. The importance of stringent hygiene and protective measures highlighted the versatility of these polymers in various applications, supporting their market recovery.

Synthetic Latex Polymers Market Trends
Several notable trends are shaping the synthetic latex polymers industry. First, there's a growing emphasis on sustainability, driving the development of eco-friendly latex products with reduced environmental impact. Second, the construction and automotive industries continue to be major consumers, leading to the demand for high-performance latex polymers in adhesives, sealants, and coatings. Third, advancements in technology are resulting in the creation of specialized synthetic latex polymers with improved properties, expanding their applications in industries such as textiles and packaging. Additionally, the market is witnessing a shift towards water-based products, driven by the desire for low-VOC and environmentally friendly alternatives. Lastly, the impact of the COVID-19 pandemic has highlighted the importance of synthetic latex polymers in healthcare and PPE applications, with ongoing growth in this sector.

Synthetic Latex Polymers Market Analysis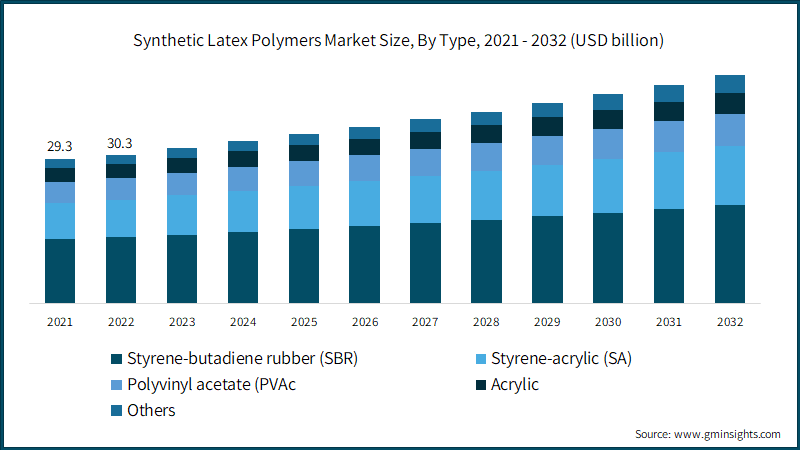 To understand key market trends &nbsp
Download Free Sample

Based on type, the market is segmented as styrene-butadiene rubber (SBR), styrene-acrylic (SA), polyvinyl acetate (PVAC), acrylic, others. Styrene-butadiene rubber (SBR) held a majority market value of USD 13.4 Billion in 2022. In the realm of Synthetic Latex Polymers, several key categories hold prominence. These include Styrene-acrylic (SA), which offers enhanced adhesion and durability in coatings and adhesives. Polyvinyl acetate (PVAc) finds wide application in the adhesives industry, known for its strong bonding capabilities. Acrylic latex polymers are favored for their versatility, contributing to the durability and performance of paints and coatings. Alongside these, there exists a range of other specialized synthetic latex polymers, each tailored to specific applications, showcasing the diversity and adaptability of this market.

To understand key market trends &nbsp
Download Free Sample

Based on Application, the market is segmented as paints and coatings, adhesives and sealants, paper and paperboard, textile and others. Paints and coatings segment held a dominant market share of around 49% in 2022 and is expected to grow at a lucrative pace through 2032. Synthetic Latex Polymers play a crucial role across a spectrum of industries, finding their utility in various applications. They are integral in the formulation of adhesives and sealants, where they provide strong bonding properties, enhancing the performance of these products. In the realm of paper and paperboard, synthetic latex polymers contribute to improved strength and printability, thus bolstering the quality of paper products. The textile industry benefits from these polymers, employing them in the creation of coated fabrics and nonwoven materials. Moreover, their versatility extends to other applications, reflecting their adaptability and indispensability in diverse sectors.

To understand regional trends &nbspDownload Free Sample

U.S. dominated the North American region with majority market share and a revenue of USD 7.1 Billion in 2022 and is anticipated to expand at a significant pace from 2023-2032. The U.S. benefits from a robust manufacturing sector, particularly in construction, automotive, and consumer goods, all of which are significant consumers of synthetic latex polymers. Furthermore, the shift towards environmentally friendly and sustainable products in the U.S. has accelerated the demand for water-based and low-VOC synthetic latex polymers. This emphasis on eco-friendliness aligns with the global trend and positions the U.S. market for continued growth.

Synthetic Latex Polymers Market Share
Major players operating in the synthetic latex polymers industry include:
BASF
Dow Chemical
Celanese Corporation
Wacker Chemie
Arkema
Synthomer
OMNOVA Solutions
Trinseo
Zeon Corporation
Nippon Zeon
Asahi Kasei
LG Chem
Kumho Petrochemical
BASF and Dow Chemical have secured significant market shares in the Asia-Pacific Synthetic Latex Polymers industry, and their success can be attributed to various factors. Both companies are renowned for their relentless commitment to research and innovation, resulting in the development of cutting-edge synthetic latex products with enhanced performance characteristics. Their strong global presence and extensive distribution networks further amplify their reach in the region. Additionally, their proactive approach to sustainability aligns with the growing emphasis on eco-friendly products in Asia-Pacific, where environmental awareness is on the rise. This combination of technological leadership, market penetration, and a commitment to sustainability has solidified their positions as major players in the ever-expanding Asia-Pacific Market.

Synthetic Latex Polymers Industry News
In 2021, Dow Chemical Company announced that it was investing in a new production facility in Europe for its synthetic latex polymers. The investment was aimed at expanding the company's production capacity to meet the growing demand for its products in the region.

In 2019, Synthomer plc acquired Omnova Solutions Inc., a U.S. company that specializes in specialty chemicals and polymers. The acquisition was valued at around USD 824 million and aimed at expanding Synthomer's product offerings in the synthetic latex polymer market.

Synthetic Latex Polymers Market research report includes an in-depth coverage of the industry with estimates & forecast in terms of revenue in USD Billion & Kilo Tons from 2018 to 2032, for the following segments:


Click here to Buy Section of this Report
Market, By Type
Styrene-butadiene rubber (SBR)
Styrene-acrylic (SA)
Polyvinyl acetate (PVAc
Acrylic
Others
Market, By Application
Paints and coatings
Adhesives and sealants
Paper and paperboard
Textile
Others
The above information is provided for the following regions and countries:
North America
Europe

Germany
UK
France
Italy
Spain
Russia

Asia Pacific

China
India
Japan
South Korea
Australia
Indonesia
Malaysia

Latin America
MEA

South Africa
Saudi Arabia
UAE