Saffron Market Size
Saffron Market size was valued at USD 1.10 billion in 2022 and is estimated to witness 4.1% CAGR from 2023 to 2032. One of the primary growth drivers is the increasing awareness of the numerous health benefits associated with saffron consumption.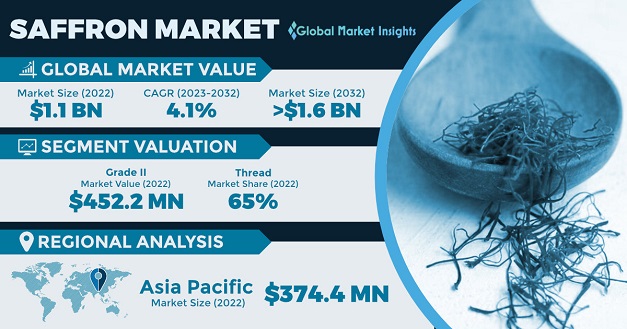 To understand key trends &nbsp
Download Free Sample

Saffron is rich in antioxidants, such as crocin and crocetin, which have been linked to various health advantages, including improved mood, reduced symptoms of depression, and potential anti-cancer properties. As consumers become more health-conscious and seek natural remedies, the demand for saffron-based products in food, beverages, supplements, and cosmetics has surged.

Saffron Market Report Attributes
Report Attribute
Details
Base Year:
2022
Saffron Market Size in 2022:
USD 1.10 Billion
Forecast Period:
2023 to 2032
Forecast Period 2023 to 2032 CAGR:
4.1%
2032 Value Projection:
USD 1.66 Billion
Historical Data for:
2018 - 2022
No. of Pages:
210
Tables, Charts & Figures:
246
Segments covered:
Grade, Form, Applications, Distribution channel
Growth Drivers:

Increasing Awareness of Health Benefits
Expanding Culinary Applications
Globalization and Supply Chain Efficiency

Pitfalls & Challenges:

Price Volatility and Counterfeiting
To understand market opportunities &nbsp
Download Free Sample

Saffron is a high-value spice, and fluctuations in supply and demand can lead to price spikes, making it expensive. Additionally, the high market value of saffron has led to instances of adulteration and the sale of counterfeit saffron, which can negatively impact consumer trust and the reputation of saffron-based products. Ensuring the authenticity and quality of saffron products is a persistent challenge for the industry.

COVID-19 Impact
The COVID-19 pandemic had a significant impact on the saffron market. Initially, it disrupted the supply chain, causing delays in saffron harvesting and distribution due to lockdowns and labor shortages. However, as the pandemic unfolded, saffron's reputation as a natural remedy with potential health benefits drove an increase in demand, particularly in the herbal supplements and immunity-boosting sectors. This heightened consumer interest partially offset the initial challenges, leading to a more stable market.

Nevertheless, fluctuations in prices and concerns about the authenticity of saffron products remained persistent issues. As the world gradually recovers from the pandemic, the market is expected to continue adapting to evolving consumer preferences for natural and health-conscious products.

Saffron Market Trends
The growing popularity of saffron-infused gourmet and artisanal foods, as well as craft beverages, reflects an increasing appreciation for its unique flavor profile and vibrant color. Additionally, saffron is gaining traction in the cosmetic and skincare industry for its antioxidant and anti-inflammatory properties, further diversifying its applications beyond culinary uses. Sustainable and ethical sourcing practices are also becoming crucial considerations, as consumers and businesses prioritize responsible production and fair trade in the saffron supply chain.

Saffron Market Analysis
To understand key market trends &nbsp
Download Free Sample

Based on grade, the grade II segment dominated around USD 452.2 million revenue in 2022. Grade II saffron is less expensive than Grade I saffron, but it is still of high quality. Grade II saffron is a good value for the money, and it is a popular choice for both home cooking and commercial use. It is used in a variety of dishes, including curries, rice dishes, desserts, and beverages. Grade II saffron is also used in a variety of personal care products and supplements.

To understand key market trends &nbsp
Download Free Sample

Based on form, the thread form segment accounted for 65% of the saffron market share in 2022, because this form of saffron is the least processed and closest to its natural state, ensuring purity and authenticity. Consumers often prefer whole threads as they can visually verify the saffron's origin and quality. Saffron threads contain the highest concentration of the spice's characteristic flavor and aroma compounds. When saffron threads are steeped or infused in a dish or liquid, they release their distinct and intense flavor and aroma, which are highly valued in cooking and culinary applications.

Based on application, the food & beverage industry will gain remarkable momentum during the forecast timeline. Saffron has a rich history of culinary use, dating back centuries. It is a prized and iconic spice in various world cuisines, including Indian, Persian, Spanish, and Middle Eastern cuisines. Its unique flavor, aroma, and vibrant color make it a favorite ingredient in a wide range of dishes, from biryanis and paellas to desserts like saffron ice cream and cakes. Saffron's versatility in food and beverage applications is a key factor. It can be used in both savory and sweet dishes, enhancing the flavor profile and adding a visually appealing golden hue.

Based on distribution channel, the saffron market from B2B segment is poised to show tremendous growth through 2032. Saffron is often purchased in bulk quantities by businesses such as food manufacturers, restaurants, and spice distributors. B2B channels allow for the efficient sale and delivery of large volumes of saffron, making it the preferred choice for businesses looking to meet their supply needs. Businesses that rely on saffron for their products or dishes require a consistent and high-quality supply. B2B relationships often involve direct interactions between saffron suppliers and buyers, allowing for quality assurance measures, such as product samples, certifications, and traceability, to be easily established and maintained.

To understand regional trends &nbspDownload Free Sample

Asia Pacific saffron market size held over USD 374.4 million in 2022. Saffron cultivation has historical roots in Asia, particularly in regions such as Iran, where it has been cultivated for thousands of years. The history of saffron production and usage in Asia-Pacific countries, including India, Iran, and some Middle Eastern nations, has established a deep cultural connection to the spice. Saffron is an integral part of the culinary traditions of many Asian and Middle Eastern countries. It is used to flavor and color a wide range of dishes, from biryanis and pilafs in India to Persian rice dishes and Middle Eastern sweets. The spice's unique aroma and flavor have made it a cherished ingredient in these culinary traditions.

Saffron Market Share
Some of the major companies operating in the saffron industry are:
Tarvand Saffron Co.
Gohar Saffron
Novin Saffron
Saharkhiz Saffron Co.
Iran Saffron Company
Saffron Business Co.
Hebei Xingchen Biological Technology Co., Ltd.
Royal Saffron Company
Taj Agro International
Ehsan Saffron Co.
These companies focus on strategic partnerships, new grade launch & commercialization for market expansion. Furthermore, these companies are heavily investing in research that allows them to introduce innovative grades and garner maximum revenue in the market.

Tarvand Saffron Co. is an Iranian company that is one of the largest producers and exporters of saffron in the world. It was founded in 1995 and is headquartered in Mashhad, Iran. The company has a network of farms and processing facilities throughout Iran, and it exports its products to over 50 countries around the world. Tarvand Saffron Co. offers a wide range of saffron products, including saffron threads, saffron powder, saffron liquid, and saffron extracts. The company also offers a variety of saffron-based food and beverage products, such as saffron rice, saffron sugar, and saffron tea.

Saffron Industry News
In August 2023 Saffron prices in India skyrocketed since the Saffron from Jammu & Kashmir was given the Geographical Indication (GI) tag by the government. Saffron is often called the world's costliest spice by weight.

The saffron market research report includes an in-depth coverage of the industry with estimates & forecast in terms of revenue in USD Million & Units in Tons from 2018 to 2032, for the following segments:


Click here to Buy Section of this Report
Market, By Grade
Grade I
Grade II
Grade III
Grade IV
Market, By Form
Liquid
Powder
Thread
Others
Market, By Application
Food & Beverage
Personal Care
Supplements
Others
Market, By Distribution Channel
The above information has been provided for the following regions and countries:
North America
Europe

Germany
UK
France
Spain
Italy

Asia Pacific

China
Japan
India
Australia
South Korea
Indonesia
Malaysia

Latin America
Middle East & Africa

South Africa
Saudi Arabia
UAE
Egypt