Psoriasis Treatment Industry Analysis
Psoriasis Treatment Market size was anticipated to be worth USD 26.5billion in 2022 and is expected to reach USD 60.5 billion by 2032, increasing at an 8.6% CAGR by 2032 due to growing demand for effective and safe treatment options for psoriasis, increasing awareness of psoriasis among the public and healthcare professionals, and increasing research and development in psoriasis treatment.

To get more details on this report: Request Free Sample PDF

Moreover, therapeutic device developments, including advanced phototherapy equipment and targeted delivery systems, have improved treatment results for psoriasis patients. These advancements provide more efficient and easy options for treatment.
Psoriasis Treatment Market Report Coverage
Report Coverage
Details
Base Year:
2022
Market Size in 2022:
USD 26.5 Billion
Forecast Period:
2023-2032
Forecast Period 2023-2032 CAGR:
8.6%
3-2032 Value Projection:
USD 60.5 Billion
Historical Data for:
2018 to 2022
No. of Pages:
248
Tables, Charts & Figures:
428
Segments covered:
Drug class, Type, Route of Administration, Distribution Channel, and Region
Growth Drivers:

Rising prevalence of psoriasis
Increasing awareness and improved diagnosis
Advancements in psoriasis treatment options
Growing geriatric population
Growing investments in R&D

Pitfalls & Challenges:

Side effects and safety concerns
Limited insurance coverage
High cost of treatment
To get more details on this report: Request Free Sample PDF

COVID-19 Impact
The COVID-19 pandemic had a significant impact on the psoriasis treatment market. The pandemic has led to reduced access to healthcare, increased stress and anxiety, and financial hardship for many patients with psoriasis. Stress is known to trigger or worsen psoriasis flare-ups, and the pandemic-induced psychological burden have influenced disease severity and treatment outcomes.

The global supply chain for pharmaceuticals and medical devices experienced disruptions during the pandemic. Manufacturing and distribution challenges, transportation delays, and increased demand for certain medications and supplies may have resulted in temporary shortages or delays in accessing psoriasis treatments.

However, the pandemic has also created some opportunities for the development of novel therapies that target specific pathways and mechanisms involved in psoriasis treatment. The pandemic has accelerated the adoption of telemedicine, increased emphasis on infection control, stimulated research on the interaction between psoriasis and COVID-19, led to a shift towards self-care and home-based treatments, and brought economic implications to the forefront.

Psoriasis Treatment Market Trends
The market is experiencing several notable trends that are shaping its development. Some key trends in the industry includes increasing adoption of biologic therapies, growing emphasis on precision medicine in the treatment of psoriasis, increasing focus on expanding topical treatment options, growing interest in combination therapies, increasing focus on patient-centric care, and technological advancements in phototherapy, such as narrowband UVB and targeted phototherapy.

Psoriasis Treatment, Drug class Segmentation
To get more details on this report: Request Free Sample PDF

Based on drug class, the psoriasis treatment market is segmented as TNF inhibitors, interleukins inhibitors, vitamin D analogs, and other drug classes. The interleukins inhibitors segment accounted for the largest share of 46.6% in 2022. Interleukin inhibitors have demonstrated significant success in the treatment of psoriasis. They directly target the inflammatory processes associated with the development and progression of psoriasis, resulting in considerable clinical relief and better skin clearing. Clinical trials have shown that they can provide immediate and persistent responses, making them a viable therapy choice for people with moderate to severe psoriasis.

Furthermore, interleukin inhibitors provide an important treatment option for patients who have not responded adequately to traditional therapies such as topical creams, phototherapy, or conventional systemic medications. For individuals with moderate to severe psoriasis who do not achieve satisfactory results with standard treatments, interleukin inhibitors offer a new and effective approach to disease management.

Psoriasis TreatmentType Segmentation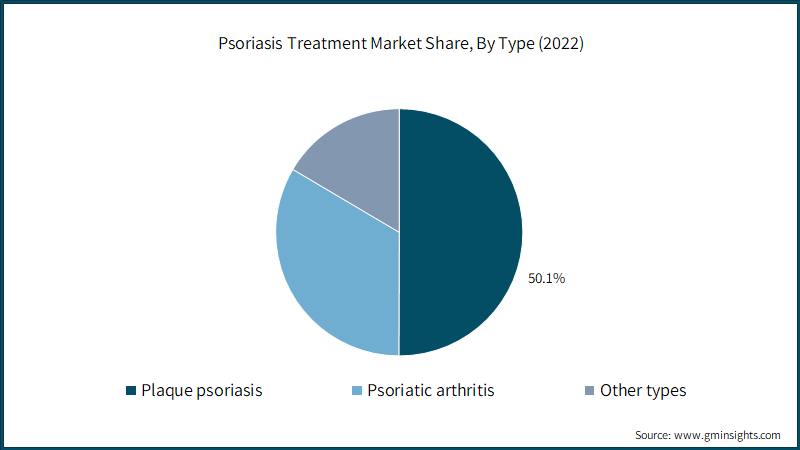 To get more details on this report: Request Free Sample PDF

Based on type, the psoriasis treatment market is segmented as psoriatic arthritis, plaque psoriasis, and other types. The plaque psoriasis segment held dominant market share of around 50.1% in 2022 and is expected to grow at a significant pace of 8.5% by 2032. Plaque psoriasis is the most common type of psoriasis, affecting a large proportion of the world's population.

However, despite the availability of many therapeutic options, there are still unmet medical requirements in plaque psoriasis care. Certain therapies may cause insufficient response, intolerance, or contraindications in some individuals. There is an ongoing effort towards developing novel medicines and treatment methods that provide greater efficacy, safety, and long-term results for people with plaque psoriasis.

Psoriasis Treatment Route of Administration Segmentation
Based on route of administration, the psoriasis treatment market is segmented parenteral, topical, and oral. The parenteral segment was anticipated to be worth USD 21.8 billion in 2022 and is expected to grow at 8.6% CAGR by 2032. Most drugs used for the treatment of psoriasis are available in subcutaneous injections and intravenous infusions. Parenteral administration allows for quick and direct delivery of the medication into the bloodstream. This results in a rapid onset of action, enabling faster relief of symptoms and potentially more immediate therapeutic effects. Moreover, parenteral administration allows for precise dosing and control over the amount of medication administered. This is particularly important in the case of potent psoriasis treatment drugs where accurate dosing is critical for achieving optimal therapeutic outcomes and minimizing the risk of adverse effects.

Psoriasis Treatment Distribution Channel Segmentation
Based on distribution channel, the psoriasis treatment market is segmented as hospital pharmacies, retail pharmacies, and other distribution channels. The hospital pharmacies segment held a dominant market share of 64.8% in 2022 and is expected to grow at a CAGR of 8.4% by 2032. Hospital pharmacies frequently have access to specialised drugs and therapies that may not be easily available in other healthcare settings. This is especially crucial for those who have severe or resistant psoriasis and require advanced therapy. Biologic drugs, immunomodulators, and other targeted medicines that require specialised handling and administration can be obtained and provided by pharmacies in hospitals.

Psoriasis Treatment Regional Analysis
North America psoriasis treatment market is expected to reach USD 25 billion in 2032 with a CAGR of 8.5% by 2032. North America has a well-developed and advanced healthcare infrastructure, including hospitals, clinics, research institutions, and pharmaceutical companies. This infrastructure supports the diagnosis, treatment, and management of psoriasis, facilitating the availability of a wide range of treatment options and promoting innovation in the field.

Moreover, the region's robust R&D activities in the field of psoriasis contribute to advancements in treatment options. Academic institutions, research organizations, and pharmaceutical companies in North America conduct extensive research to understand the underlying mechanisms of psoriasis, develop novel therapies, and improve existing treatment approaches.

Psoriasis Treatment Industry Leaders
Some of the major market players operating in the psoriasis treatment market are Amgen, Inc., Merck & Co., Biogen, Eli Lilly and Company, Astra Zeneca, LEO Pharma A/S, Novartis AG, AbbVie, Inc., Johnson & Johnson Services, Inc., and Pfizer, Inc.

Psoriasis Treatment Industry News:
In September 2020, Merck, a global pharmaceutical firm, announced positive top-line results from a Phase II study of sonelokinab (M1095), an experimental anti-IL-17 A/F Nanobody that neutralizes both IL-17A and IL-17F, in patients with moderate to severe chronic plaque-type psoriasis.

In February 2021, Amgen announced the submission of a supplementary New Drug Application (sNDA) to the U.S. Food and Drug Administration (FDA) for Otezla (apremilast) for the treatment of people with mild-to-moderate plaque psoriasis who are not candidates for phototherapy or systemic therapy.

The psoriasis treatment market research report includes an in-depth coverage of the industry with estimates & forecast in terms of revenue in USD Million from 2018 to 2032, for the following segments:


Click here to Buy Section of this Report
By Drug class, 2018 - 2032 (USD Million)
Interleukins inhibitors

Secukinumab
Ustekinumab
Other interleukin inhibitors

TNF inhibitors

Etanercept
Certolizumab pegol
Adalimumab
Infiximab
Golimumab

Vitamin D analogs

Calcitriol
Calcipotriol
Tacalcitol

Other drug classes
By Type, 2018 - 2032 (USD Million)
Psoriatic arthritis
Plaque psoriasis
Other types
By Route of administration, 2018 - 2032 (USD Million)
By Distribution Channel, 2018 - 2032 (USD Million)
Hospital pharmacies
Retail pharmacies
Other distribution channels
The above information is provided for the following regions and countries:
North America
Europe

Germany
UK
France
Spain
Italy
Rest of Europe

Asia Pacific

Japan
China
India
Australia
South Korea
Rest of Asia Pacific

Latin America

Brazil
Mexico
Rest of Latin America

Middle East & Africa

South Africa
Saudi Arabia
Rest of Middle East & Africa