Power Line Communication (PLC) Market Size
Power Line Communication Market size was valued at USD 9.8 billion in 2022 and is estimated to register a CAGR of over 14.5% between 2023 and 2032, propelled by innovative hardware launches. Such innovations cater to the expanding EV infrastructure, promoting efficient and reliable communication solutions in the market. For instance, in May 2022, Qualcomm Technologies, Inc. launched QCA7006AQ, a modern Power Line Communication (PLC) device designed to meet the increasing demand for Electric Vehicle (EV) charging station communications. This device complies with the Home Plug Green PHY (HPGP) specification, a leading standard for implementing Vehicle-to-Grid (V2G) systems.

To understand key trends &nbsp
Download Free Sample

Smart metering is driving the power line communication market growth. Smart meters enable two-way communication between utility companies and consumers through the existing power lines. This facilitates real-time data collection, remote monitoring, and control of energy consumption. For instance, in March 2023, Tata Power and Enel Group partnered on two pilot projects for India's distribution network, involving smart metering and digitalization/automation. Tata Power Delhi Distribution Ltd. (TPDDL) will work with Enel Group's Gridspertise to implement these projects. These initiatives promote the adoption of advanced technologies and solutions, potentially leading to an increased demand for communication infrastructure to support grid digitalization and automation in the future.
Power Line Communication (PLC) Market Report Attributes
Report Attribute
Details
Base Year:
2022
Power Line Communication (PLC) Market Size in 2022:
USD 9.8 Billion
Forecast Period:
2023 to 2032
Forecast Period 2023 to 2032 CAGR:
14.5%
2032 Value Projection:
USD 38 Billion
Historical Data for:
2018 - 2022
No. of Pages:
250
Tables, Charts & Figures:
347
Segments covered:
Offering, Frequency, Application, Industry Vertical
Growth Drivers:

Rising demand for PLC systems in advanced metering infrastructure
Increasing demand for cost-effective installations
Growth of smart buildings
Renewable energy integration and restructuring of electric infrastructure
Emergence of PLC as a low-cost solution

Pitfalls & Challenges:

Interference and radio static
Availability of other alternatives
To understand market opportunities &nbsp
Download Free Sample

Interference and radio static present significant challenges in the power line communication market. Power lines can be susceptible to electromagnetic interference, which disrupts signal transmission and reduces reliability. Radio static from nearby electronic devices can also hinder the quality of data communication. Overcoming these challenges often requires advanced filtering and modulation techniques to ensure a stable & interference-free power line communication network, making it crucial to maintain signal integrity in this market.

COVID-19 Impact
The COVID-19 pandemic negatively impacted the power line communication market. Lockdowns and economic uncertainties led to reduced investments in infrastructure and delayed projects. Additionally, the prioritization of healthcare and remote work solutions shifted focus away from power line communication development. Supply chain disruptions affected equipment availability and increased costs. Budget constraints in various industries further delayed the adoption of power line communication solutions, leading to a slowdown in the market.

Power Line Communication (PLC) Market Trends
The expanding adoption of smart grid technologies is a prominent trend in the power line communication industry. Smart grids leverage power line communication to enhance grid efficiency, monitor energy consumption in real time, and enable demand response mechanisms. This trend aligns with the global push for more sustainable and efficient energy distribution. Power line communication's ability to support bidirectional data exchange is crucial for the implementation of smart grids, making it a key enabler for modernizing the energy infrastructure and optimizing power distribution systems.

IoT connectivity is emerging as a significant trend in the power line communication industry. Power line communication provides an efficient and reliable solution to connect a wide range of IoT devices, from smart meters to home automation systems, over an existing electrical infrastructure. This trend is driven by the increasing deployment of IoT solutions in various sectors including energy management, industrial automation, and smart cities.

For instance, in February 2023, iWire Global partnered with UnaBiz to accelerate the adoption of IoT technologies in the MEA region via a closer alignment with the regional IoT regulatory frameworks & requirements. PLC's ability to facilitate seamless connectivity for IoT devices also positions it as a key enabler for IoT expansion in the market.

Power Line Communication (PLC) Market Analysis: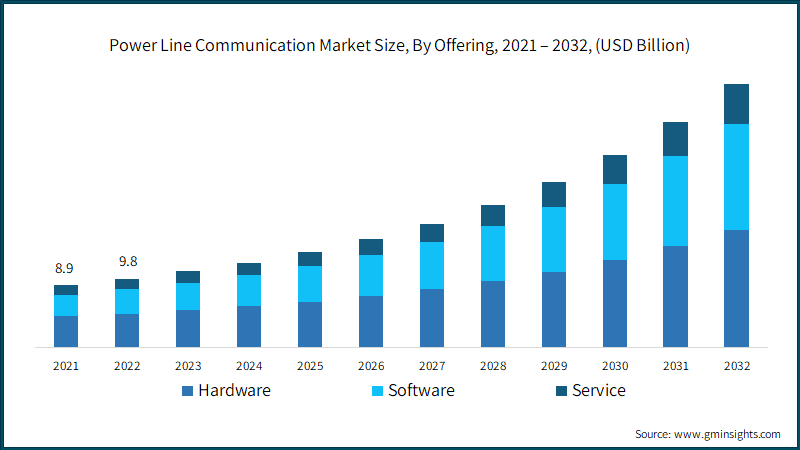 To understand key market trends &nbsp
Download Free Sample

Based on offering, the hardware segment held over USD 4.8 billion revenue in 2022, attributed to the increased demand for cutting-edge hardware and tools that support reliable power line communication networks. The demand for hardware such as communication chips, couplers, and modems has increased with the growth of smart grid initiatives, smart meters, and IoT devices.

For instance, in December 2022, the European Commission introduced the EU action plan, "Digitalization of the Energy System". The Commission expects about USD 633 billion in investments in the European electricity grid by 2030, of which USD 184 billion will be for digitalization (smart meters, automated grid management, digital technologies for metering, and improvement on the field operations).
To understand key market trends &nbsp
Download Free Sample

Based on frequency, the power line communication market from narrowband segment dominated around USD 6.3 billion revenue in 2022. Narrowband power line communication technology is well-suited for applications such as smart metering, which require reliable long-range communication with low data rates. As utilities and industries increasingly adopt smart grid solutions & IoT devices, narrowband power line communication's efficiency in transmitting data over long distances while minimizing interference positions it for substantial growth.
For instance, in April 2023, Bharti Airtel, a major Indian telecom operator, teamed up with Secure Meters to introduce Narrow Band-Internet of Things (NB-IoT) services for smart meter solutions. This partnership aims to provide 1.3 million households with India's first NB-IoT solution, ensuring real-time connectivity and uninterrupted data transfer through a fallback option on 2G & 4G networks.

To understand regional trends &nbspDownload Free Sample

North America power line communication market accounted for 35% of the revenue share in 2022. PLC plays a significant role in the development of smart grids, helping utilities monitor and control power distribution more efficiently. Utilities in North America have been investing in smart grid technologies to enhance reliability and reduce operational costs. PLC enables the creation of the communication infrastructure necessary for these smart grids.

PLC is utilized in industrial automation and control systems. It offers a reliable & cost-effective means of communication for various industrial devices and sensors. Industries in the U.S. are likely to continue exploring PLC solutions to enhance their operations. In August 2023, Reuters announced that North American companies are focusing on automating their factories to enhance efficiency and streamline operations.

Power Line Communication (PLC) Market Share
Major companies operating in the power line communication industry are:
Schneider Electric
General Electric
Hitachi Energy Ltd.
Siemens AG
STMicroelectronics
Renesas Electronics Corporation
AMETEK Inc.
Schneider Electric and General Electric are major companies in the power line communication market and hold over 11% of the revenue share in 2022. Schneider Electric specializes in smart grid and energy management solutions, utilizing power line communication for efficient grid management. General Electric, with its industrial expertise, offers power line communication technologies for various applications, particularly in smart grid and industrial automation. Both companies have a global presence, strong research & development capabilities, and a commitment to advancing power line communication technology.

Power Line Communication (PLC) Industry News
In November 2022, Microchip Technology Inc. introduced the PIC32CXMT 32-bit microprocessors with the MPL460 Power Line Communication modem. This range of MCU devices represents a cutting-edge smart metering platform designed for industrial IoT, as well as commercial and industrial metering applications.

The power line communication market research report includes in-depth coverage of the industry with estimates & forecast in terms of revenue (USD Billion) from 2018 to 2032, for the following segments:


Click here to Buy Section of this Report
Market, By Offering
Hardware
Software

Data Acquisition and Management
Energy Management

Service

Professional Services
Maintenance & Repair
Market, By Frequency
Market, By Application
Networking
Smart Grid
Long-haul
Market, By Industry Vertical
Commercial
Residential
Industrial

Automotive & Transportation
Energy & Power
The above information has been provided for the following regions and countries:
North America
Europe

UK
Germany
France
Italy
Spain
Netherlands

Asia Pacific

China
India
Japan
South Korea
ANZ

Latin America

Brazil
Mexico
Argentina
Colombia

MEA

Saudi Arabia
UAE
South Africa