Phenylephrine Hydrochloride Market Size
Phenylephrine Hydrochloride Market size was valued to be USD 777.6 million in 2022 and is anticipated to reach USD 1.6 billion by 2032, with a growth rate of 7.7% during the forecast period.
To understand key trends &nbsp
Download Free Sample

The market is primarily driven by the consistent demand for decongestant medications in response to respiratory ailments. This demand is closely linked to seasonal factors, as well as the year-round occurrence of conditions like the common cold, allergies, and sinus congestion. Phenylephrine HCL is a key ingredient in various over-the-counter and prescription medications used to alleviate nasal congestion, making it a fundamental component in the pharmaceutical industry. Furthermore, the market benefits from the adaptability of Phenylephrine HCL in various formulations, including nasal sprays, oral tablets, and liquids.
Phenylephrine HCL API refers to Phenylephrine Hydrochloride Active Pharmaceutical Ingredient. It is a chemical compound used in the pharmaceutical industry as the active component in various medications, particularly decongestants. Phenylephrine HCL acts as a nasal decongestant by constricting blood vessels in the nasal passages, which reduces swelling and helps relieve nasal congestion caused by conditions like the common cold, allergies, or sinusitis.
Phenylephrine Hydrochloride Market Report Attributes
Report Attribute
Details
Base Year:
2022
Phenylephrine Hydrochloride Market Size in 2022:
USD 777.6 Million
Forecast Period:
2023 to 2032
Forecast Period 2023 to 2032 CAGR:
7.7%
2032 Value Projection:
USD 1.6 Billion
Historical Data for:
2018 to 2022
No. of Pages:
158
Tables, Charts & Figures:
234
Segments covered:
Application, Mode, Use, and Region
Growth Drivers:

Increasing applications of Phenylephrine HCL
Increasing prevalence of respiratory conditions and allergies

Pitfalls & Challenges:

Availability of alternative treatment options and other decongestant
To understand market opportunities &nbsp
Download Free Sample

COVID-19 Impact
The COVID-19 pandemic had both direct and indirect effects on the phenylephrine hydrochloride market. While Phenylephrine HCL is primarily used in decongestant medications and not directly related to COVID-19 treatment, the pharmaceutical industry as a whole experienced significant disruptions and shifts during the pandemic, which indirectly influenced the API market. With the onset of the pandemic, there was heightened concern about respiratory symptoms and illnesses. This led to increased demand for cold and flu medications, including those containing Phenylephrine HCL, as people sought relief from symptoms similar to those of COVID-19, such as nasal congestion.
However, the pandemic disrupted global supply chains, affecting the production and distribution of pharmaceutical ingredients, including Phenylephrine HCL API. Lockdowns, travel restrictions, and reduced workforce capacity in manufacturing facilities hindered the timely sourcing of raw materials and the movement of goods, leading to potential delays and shortages.
Phenylephrine Hydrochloride Market Trends
The applications of Phenylephrine HCL (Phenylephrine Hydrochloride) API have been diversifying, extending beyond its conventional role as a decongestant. In addition to its well-established use in decongestant medications for nasal relief, Phenylephrine HCL has found increasing relevance in various medical and non-medical domains. Beyond respiratory health, Phenylephrine HCL has also made inroads into ophthalmic applications. It is utilized in ophthalmic solutions as a mydriatic agent, facilitating pupil dilation during eye examinations and surgeries. This function enhances the visibility of the eye's internal structures, aiding medical professionals in diagnostics and surgical procedures. Thus, wide number of applications of phenylephrine hydrochloride drive the market growth
Phenylephrine Hydrochloride Market Restraint
The patient using phenylephrine hydrochloride may observe allergic reactions such as skin rash, itching, hives, swelling of the face, lips, tongue, or throat. The most common adverse reactions include nausea, vomiting, headache, and nervousness in an awake patient. Because of phenylephrine's sole alpha-receptor stimulation, it can cause baroreceptor-mediated reflex bradycardia. Clinicians should consider different classes of vasopressor medications in the bradycardic, hypotensive patient. Also, in geriatric population, it also affects heart palpitations and renal efficacy of patients. Hence, physicians opt for alternative treatment options and other decongestants such as pseudoephedrine, nasal sprays, antihistamines, to provide effective treatment. This may hinder the market growth to some extent.
Phenylephrine Hydrochloride Application Market Analysis
To understand key market trends &nbsp
Download Free Sample

Based on application, the global phenylephrine hydrochloride is segmented into nasal decongestion, cold, hypotension, allergic reaction, eye diseases, and other applications. The nasal decongestion segment dominated the global phenylephrine hydrochloride market with market share of 29.5% in 2022. Phenylephrine HCl (Phenylephrine Hydrochloride) API is a vital component in nasal decongestant medications, serving as the active ingredient that provides relief from nasal congestion. This pharmaceutical compound functions by constricting the blood vessels in the nasal passages, effectively reducing the swelling and congestion associated with various respiratory conditions, including the common cold, allergies, sinusitis, and hay fever.
Further, phenylephrine HCl is formulated into a range of nasal decongestant products, including nasal sprays, nasal drops, and oral tablets. These formulations are readily available over-the-counter (OTC) and by prescription, catering to individuals seeking quick and effective relief from nasal congestion

To understand key market trends &nbsp
Download Free Sample

By mode, the phenylephrine hydrochloride market is segmented into in-house manufacturing and contract manufacturing. The in-house manufacturing segment held significant market share of 72.2% in 2022 and is expected to witness growth at CAGR of 7.6% over the forecast timeframe. In-house manufacturing of phenylephrine hydrochloride PAI enables pharmaceutical companies to exert precise control over every aspect of the production process. It offers greater flexibility to pharmaceutical companies for customizing the production according to their specific requirements and market demands.
Additionally, for companies involved in pharmaceutical research and development (R&D), in-house manufacturing of APIs can enable smooth integration between R&D and production departments. This integration facilitates the transition from drug development to commercial production, reducing lead times and optimizing the workflow and development process. All these factors together contribute towards the high segmental progress.
By use, the phenylephrine hydrochloride market is segmented into human and veterinary. The human segment dominated the global market with highest market share of 75.5% in 2022. Phenylephrine HCl API is subject to strict quality and safety standards to ensure its suitability for human use. It is typically produced in accordance with good manufacturing practices (GMP) and undergoes rigorous testing to meet pharmaceutical quality requirements. As with any medication, it should be used according to healthcare provider recommendations, or the instructions provided on the product label to ensure safe and effective use for human health.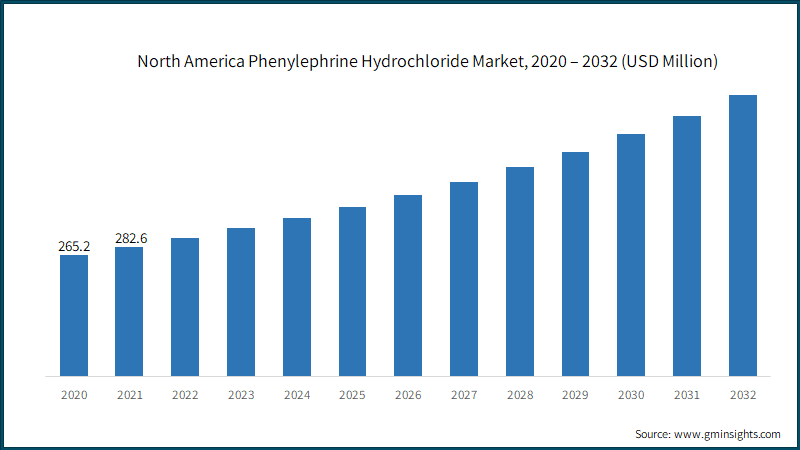 To understand regional trends &nbspDownload Free Sample

The North America dominated the phenylephrine hydrochloride market with a business share of 38.9% in 2022. Phenylephrine HCl (Phenylephrine Hydrochloride) API in the North American region holds significant importance in the pharmaceutical sector, primarily due to its key role in the production of nasal decongestant medications. North America is home to a diverse array of pharmaceutical manufacturers, both domestic and international, that produce Phenylephrine HCl API. These manufacturers operate within a regulatory framework overseen by agencies like the U.S. Food and Drug Administration (FDA) in the United States and Health Canada, ensuring that the manufacturing processes meet stringent quality and safety standards. As North America continues to lead in pharmaceutical innovation and market penetration, the high growth of the market is poised to continue over the analysis period.

Phenylephrine Hydrochloride Market Share
Market players operating in the phenylephrine hydrochloride market is as mentioned below:
Aarti Pharmalabs Limited
SNA Healthcare Private Limited
Ralington Pharma
Cornileus Pharmaceuticals (P) Ltd.
Shenzhen Oriental Pharmaceutical Co. Ltd.
Unichem Laboratories Ltd.
Kavya Pharma
Transo-Pharm
LGM Pharma
Divi's Laboratories Limited
Company Market Share Analysis
The global phenylephrine hydrochloride market is highly competitive and consists of several major players. The key industry players in the market implement several strategies to maintain a competitive edge in the market. These players are engaged in strategic acquisitions, mergers, collaborations, and partnerships, among other strategies. Divi's Laboratories Limited, Aarti Pharmalabs Limited, and VBShilpa holds largest market share in the overall market. By meticulously assessing the market share of each company, considering factors such as product offerings, production capacity, geographic reach, etc., one can unveil valuable insights into the competitive landscape of this market and strategically position themselves for success in this sector.

Phenylephrine Hydrochloride Industry News:
In October 2022, Aarti Industries demerged the pharma business into a separate entity, Aarti Pharmalabs Ltd. This demerger helped to establish a separate sector dedicated to APIs and allowed to increase the growth & revenue of the company.

In July 2020, LGM Pharma acquired Nexgen Pharma, Inc., uniting LGM Pharma's global expertise in Active Pharmaceutical Ingredient (API) sourcing, distribution, and supply chain management with Nexgen Pharma's extensive drug product contract development and manufacturing (CDMO) services. This strategic move expanded the company's reach and revenue.

The phenylephrine hydrochloride market research report includes an in-depth coverage of the industry with estimates & forecast in terms of revenue in USD from 2018 to 2032, for the following segments:


Click here to Buy Section of this Report
By Application
Nasal decongestion
Cold
Eye diseases
Hypotension
Allergic reaction
Other applications
By Mode
In-house manufacturing
Contract manufacturing
By Use
The above information is provided for the following regions and countries:
North America
Europe

France
Italy
Germany
UK
Russia
Spain
Rest of Europe

Asia Pacific

China
Japan
India
South Korea
Australia
Malaysia
Rest of Asia Pacific

Latin America

Brazil
Mexico
Rest of Latin America

Middle East & Africa

Saudi Arabia
South Africa
UAE
Rest of Middle East & Africa