North America Transformer Market Size
North America Transformer Market Size was valued at USD 15 billion in 2022 and is projected to grow at a CAGR of 8.1% by 2032. The North American transformer industry is significantly influenced by initiatives aimed at modernizing and upgrading the current electrical grid infrastructure.

To understand key trends &nbsp
Download Free Sample

In accordance with the U.S. Department of Energy's definition, the electrical grid encompasses a complex network involving manufacturers, owners of assets, government entities at the federal, state, and local levels, as well as service providers. For instance, the Office of Electricity Delivery & Energy Reliability (OE) has been engaged in partnerships with both private and public stakeholders to enhance, enhance, and reshape energy infrastructure. The primary goal is to guarantee consistent access to secure, environmentally friendly, and dependable energy resources.

North America Transformer Market Report Attributes
Report Attribute
Details
Base Year:
2022
North America Transformer Market Size in 2022:
15 Billion (USD)
Forecast Period:
2023 to 2032
Forecast Period 2023 to 2032 CAGR:
8.1%
2032 Value Projection:
33.2 Billion (USD)
Historical Data for:
2018 to 2022
No. of Pages:
350
Tables, Charts & Figures:
548
Segments covered:
Core, Product, Winding, Cooling, Insulation, Rating, Mounting, Application
Growth Drivers:

Refurbishment demand for existing grid infrastructure
Rising infrastructural spending
Growing deployment of renewable energy

Pitfalls & Challenges:
To understand market opportunities &nbsp
Download Free Sample

A transformer is a static electrical apparatus employed to transmit electrical energy between two or more circuits by harnessing the principles of electromagnetic induction. When a varying electric current flows through one coil of the transformer, it generates a changing magnetic field. Consequently, this magnetic field induces an electromotive force, commonly referred to as "voltage," across a second coil. Despite recent challenges and resistance, there have been notable advancements in acknowledging the importance of investing in infrastructure throughout the United States. For instance, there is an estimated $4.6 trillion allocated for the enhancement of U.S. infrastructure by 2025, specifically earmarked for the Highway Trust Fund (HTF). The HTF plays a critical role in funding improvements to the nation's transportation infrastructure.

The industry faces certain challenges, including the substantial upfront expenses and rising replacement costs for transformers. The technology employed in transformers is subject to strict regulations and labeling standards, which have led to higher production costs for advanced products. Transformers play a crucial role within the Transmission and Distribution (T&D) network, particularly concerning voltage regulation and current-carrying capabilities. Components used in transformer manufacturing are vital for critical electricity applications and require substantial investments in quality control and automated production processes. The utilization of advanced electrical components and growing requirements for energy efficiency are also contributing factors driving up transformer prices.

COVID-19 Impact
The pandemic disrupted global supply chains, leading to delays in the production and delivery of transformers. Factory closures, restrictions on movement, and reduced workforce capacity in manufacturing facilities affected the availability of transformers. The economic slowdown caused by the pandemic led to reduced demand for new transformers, especially in sectors including construction and manufacturing. Many infrastructure projects were postponed or delayed.

North America Transformer Market Trends
Continued initiatives aimed at upgrading the power grid, which encompass grid energy storage, the development of smart grids, as well as research and advancements in technologies, are poised to be significant drivers of business growth. The demand for power flow controllers and solid-state transformers, capable of optimizing power distribution and bolstering resilience, is expected to rise. Additionally, the incorporation of interactive features like adaptive networks and the integration of intelligent control and communication systems are anticipated to have a positive impact on the demand for these products.

North America Transformer Market Analysis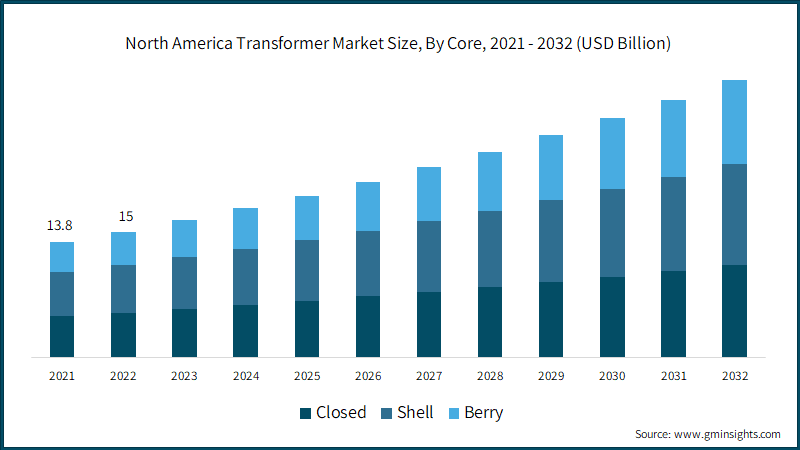 To understand key market trends &nbsp
Download Free Sample

Based on core, the market is segmented as closed, shell, and berry. The closed core segment held a market value of more than USD 4.9 billion in 2022. Closed-core power transformers have seen widespread adoption in the industry due to their versatility in handling various voltage conditions. They have played a crucial role in the industry's growth by enabling the integration of renewable energy sources while maintaining long-lasting and efficient operational lifespans.

Based on product, the North America transformer market is segmented as distribution transformer, power transformer, instrument transformer, and others. Increased infrastructure investments, along with favorable regulations governing the upgrade and expansion of existing grid systems, have led to a substantial increase in the demand for power transformers. Rapid urbanization and ongoing industrial growth in emerging economies will further strengthen business expansion in this sector. Additionally, the growing need for modernizing and renovating aging electrical networks across North America has created a favorable industrial environment.

Based on winding, the market is segmented as two winding and auto transformer. The auto transformer market is poised for growth, driven primarily by its superior transformation capabilities and operational flexibility when compared to alternative options. Key factors fueling the adoption of this product include its compact design, cost-effectiveness, and improved efficiency. Moreover, the integration of intelligent monitoring technologies has increased product reliability and cost-efficiency, making a significant contribution to the industry's expansion.

Based on cooling, the North America transformer market is segmented as dry type and oil immersed. The market demand for oil-immersed power transformers is experiencing substantial growth, primarily due to their excellent suitability for high-voltage applications and superior cooling capabilities compared to dry transformers. This technology has gained a robust foothold in the market, primarily due to its efficient cooling properties and ease of installation. However, it's important to recognize that concerns related to product leakage, health implications, and fire risks could potentially constrain the demand for these transformers in the coming years.

Based on insulation, the market is segmented as gas, oil, solid, air, and others. Oil-insulated units have been a longstanding insulation technology since the inception of transformers in electrical infrastructure. Their robust insulation capabilities, ability to withstand high temperatures, and long-term suitability have fueled demand for these products. However, the rapid technological advancements have introduced more advanced insulation technologies, which could potentially hinder the growth of this industry.

Based on rating, the North America transformer market is segmented as ≤ 10 MVA, > 10 MVA to ≤ 100 MVA, > 100 MVA to ≤ 600 MVA, and > 600 MVA. The market for transformers rated at 10 MVA or lower is poised for substantial growth, primarily driven by their wide-ranging applications in sectors such as process industries, power generation, and infrastructure. The rapid uptake of renewable energy sources in residential environments and the swift expansion of micro-grid networks are expected to positively influence the industry.

Based on mounting, the market is segmented as pad, pole, and others. Pad-mounted distribution transformer units have garnered significant market acceptance due to their need for efficient base foundations and grounding arrangements, particularly when installing larger units. These units have found extensive use in various industrial and utility settings, primarily because transformers must be located in close proximity to their intended application sites.

To understand key market trends &nbsp
Download Free Sample

Based on application, the North America transformer market is segmented as residential, commercial & industrial, and utility. The residential application is set to grow at a CAGR of over 9.4% by 2032. The business landscape is set to be shaped by rapid urbanization and government initiatives that promote the integration of renewable energy into residential areas. The increasing adoption of on-site electricity generation technologies and ongoing endeavors to establish smart control networks will further drive the demand for these products.

To understand regional trends &nbspDownload Free Sample

The transformer market across the U.S. held a market share of over 64.7% in 2022. The U.S. continues to invest in grid modernization efforts, aiming to upgrade and enhance the reliability and efficiency of its electrical grid. Transformers play a crucial role in these initiatives, particularly in supporting the integration of renewable energy sources and improving grid resilience. The growth of renewable energy sources, such as wind and solar power, has led to an increased demand for transformers to accommodate the variable and distributed nature of these energy resources. Transformers are essential for transmitting renewable energy from generation facilities to the grid. Energy efficiency remains a priority in the U.S. Transformer manufacturers are focusing on developing more energy-efficient products to meet regulatory standards and customer demands for reduced energy losses.

North America Transformer Market Share
Siemens Energy commands a substantial share in the North America transformer industry, distinguished for its extensive experience in engineering and producing diverse transformer types, encompassing power transformers, distribution transformers, among others. With a rich history deeply rooted in the transmission and distribution sector, the company has delivered transformer solutions across a broad spectrum of applications, spanning commercial, industrial, and utility sectors.

Some of the key market players operating across the North America transformer industry are:
General Electric
Siemens Energy
Mitsubishi Electric Corporation
ABB
Schneider Electric
Toshiba International Corporation
Elsewedy Electric
Eaton
CG Power & Industrial Solutions Ltd.
IMEFY GROUP
Ormazabal
ARTECHE
Pfiffner Group
Trench Group
Amran Inc
Raychem RPG Private Limited
Kirloskar Electric Company

North America Transformer Industry News:
In October 2021, Prolec Transformers Inc, a subsidiary of GE acquired SPX Transformer Solutions Corporation. for strengthening its footprints in Americas and offering sustainable electric equipment to customers. The combined entities planned to support the evolution of advanced grids in the U.S. and other Americas by offering effective energy solutions.

In June 2020, Siemens AG acquired UltraSoC Technologies Ltd., a leading provider of analytics and instrumentation solutions including cybersecurity, intelligent monitoring, and functional hardware systems. The company will integrate UltraSoC's Tessent software across its product line. This software will enable a unified real-time data-driven infrastructure, thereby improving product quality.

North America transformer market research report includes an in-depth coverage of the industry with estimates & forecast in terms of volume & revenue in '000 Units & USD Million from 2019 to 2032, for the following segments:



Click here to Buy Section of this Report



By Core, 2019 - 2032 ('000 Units & USD Million)
By Product, 2019 - 2032 ('000 Units & USD Million)
Distribution Transformer
Power Transformer
Instrument Transformer
Others
By Winding, 2019 - 2032 ('000 Units & USD Million)
Two Winding
Auto Transformer
By Cooling, 2019 - 2032 ('000 Units & USD Million)
Dry Type
Oil Immersed

Self Cooled
Water Cooled
Forced Oil
Others
By Insulation, 2019 - 2032 ('000 Units & USD Million)
By Rating, 2019 - 2032 ('000 Units & USD Million)
≤ 10 MVA
> 10 MVA to ≤ 100 MVA
> 100 MVA to ≤ 600 MVA
> 600 MVA
By Mounting, 2019 - 2032 ('000 Units & USD Million)
By Application, 2019 – 2032 ('000 Units & USD Million)
Residential
Commercial & Industrial
Utility
The above information is provided for the following countries: