Micro Battery Market Size
Micro Battery Market was valued at over USD 600 million in 2022 and is anticipated to grow at a CAGR of over 20% between 2023 and 2032. The growing adoption of micro batteries in medical devices serves as a primary factor fueling the market.

To understand key trends &nbsp
Download Free Sample

With their compact size and high energy density, these batteries are ideally suited to power a wide range of portable and implantable medical devices. These devices include insulin pumps, pacemakers, hearing aids, and various sensors used for monitoring and diagnostics. The increased prevalence of chronic diseases and an aging population have propelled the demand for such medical devices. Micro batteries provide a reliable and long-lasting power source, ensuring continuous device functionality, reducing the need for frequent battery replacements, and minimizing patient inconvenience. The compact form factor of micro batteries aligns with the trend toward miniaturization in the medical industry, enabling the design of smaller, more discreet, and comfortable medical devices and ultimately enhancing patient care and improving the overall healthcare experience.

Micro Battery Market Report Attributes
Report Attribute
Details
Base Year:
2022
Micro Battery Market Size in 2022:
USD 610.3 Million
Forecast Period:
2023 to 2032
Forecast Period 2023 to 2032 CAGR:
20%
2032 Value Projection:
USD 3.5 Billion
Historical Data for:
2018 to 2022
No. of Pages:
220
Tables, Charts & Figures:
471
Segments covered:
Type, material, components, capacity, rechargeability, end-use industry & region
Growth Drivers:

Advantage of micro batteries over traditional batteries
Growing adoption of micro batteries in medical devices
Increasing demand for wearables with thin & printed batteries
Growing adoption of specialized batteries in IoT applications
Rising focus on the miniaturization of electronic devices

Pitfalls & Challenges:

Complex battery fabrication process
Lack of designing & manufacturing standards for micro batteries
To understand market opportunities &nbsp
Download Free Sample

The absence of standardized design and manufacturing protocols for micro batteries poses a significant pitfall for the market. This deficiency hampers product consistency, quality control, and inter-device compatibility. It leads to variations in performance, safety, and reliability, hindering wide adoption. Without established standards, consumers and manufacturers face uncertainties about the lifespan, safety, and performance of micro batteries. The lack of uniformity in design and manufacturing makes it challenging for regulatory bodies to enforce safety and quality standards, potentially resulting in safety hazards and resistance from users across various industries.

COVID-19 Impact
The COVID-19 pandemic disrupted the micro battery market in multiple ways. Initially, the supply chain faced significant disruptions due to factory shutdowns, leading to shortages of critical battery components. Furthermore, as lockdowns and travel restrictions were imposed, the demand for certain portable electronics, such as wearables and remote sensors, surged, increasing the need for micro batteries. Simultaneously, the automotive and consumer electronics sectors experienced a slowdown, impacting micro battery sales. The market adapted to these changes by diversifying its product offerings and focusing on remote health monitoring and IoT applications, which saw increased adoption during the pandemic, ultimately reshaping the industry landscape.

Micro Battery Market Trends
The market has been witnessing a trend toward miniaturization and higher energy density. As electronic devices become smaller and more power-hungry, the demand for micro batteries with increased energy storage capacity in compact sizes has surged. Manufacturers are innovating to meet these demands, developing batteries that are smaller and capable of delivering longer-lasting power for applications including wearables, IoT sensors, and medical implants. The Internet of Things (IoT) revolution has significantly impacted the market. IoT devices, which range from smart thermostats to industrial sensors, require compact, long-lasting power sources. Micro batteries are essential in meeting these needs, driving innovations in battery technology to ensure reliable & enduring power for IoT deployments.

In the medical field, micro batteries are used in several applications including implantable devices, such as pacemakers and sensors, for monitoring vital signs. Battery safety, long life, and biocompatibility are crucial factors in this sector. Ongoing trends involve the development of smaller and more efficient batteries for medical devices, allowing patients to enjoy longer periods between battery replacements or recharging. Wearable technology, such as smartwatches and fitness trackers, depends on micro batteries. Consumers prefer small & lightweight devices capable of powering complex features. Manufacturers have responded by developing micro batteries that offer longer lifespans and quicker recharging times, enhancing user convenience.

Micro Battery Market Analysis
To understand key market trends &nbsp
Download Free Sample

Based on the end use, the market is segmented into consumer electronics, medical devices, smart cards, smart packaging, wireless sensors, and others. The medical devices segment is expected to witness healthy growth rate of over 22% between 2023 to 2032.

The medical device micro-battery market is witnessing substantial growth owing to a confluence of significant drivers. The increasing adoption of miniaturized and wearable medical devices demands compact & long-lasting power sources and a surge in remote patient monitoring and telehealth applications requires reliable, small-scale batteries to ensure uninterrupted operation.

The development of implantable medical devices, such as cardiac pacemakers and neurostimulators, necessitates micro batteries with high energy density and biocompatibility. Ongoing advancements in battery technology including improved energy efficiency and longer lifespans are propelling the growth of micro-battery solutions, ensuring that medical devices remain compact, reliable, and effective in delivering critical healthcare solutions.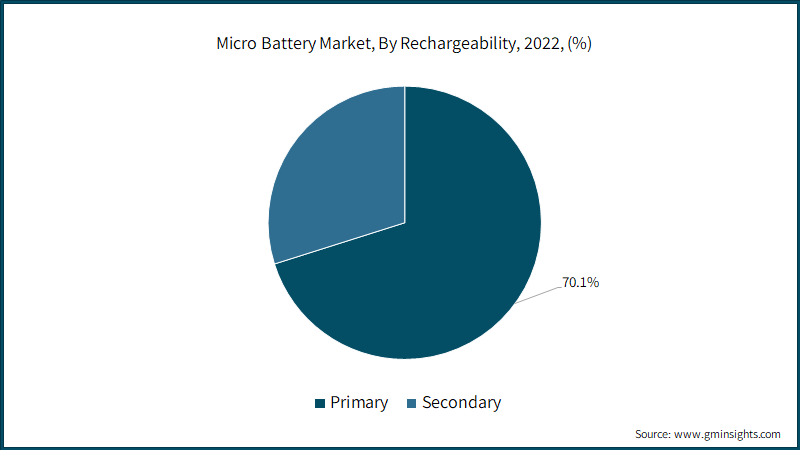 To understand key market trends &nbsp
Download Free Sample

Based on rechargeability, the micro battery market is divided into primary and secondary. The primary segment is dominating the market with over 65% business share in 2022.

The primary market is expanding primarily owing to the relentless pursuit of miniaturization and portability in electronic devices. It is a central motivator, compelling manufacturers to develop increasingly compact and high-performance power sources. There is a growing demand for extended operational lifespans in applications such as medical implants, IoT sensors, and remote monitoring devices.

Primary micro batteries offer a reliable, long-lasting power solution, reducing maintenance and replacements. The proliferation of IoT and wearable technology, along with the burgeoning market for remote and wireless sensors, further propels the demand for these compact, non-rechargeable power supplies.


To understand regional trends &nbspDownload Free Sample

Asia Pacific dominated the global micro battery market with a share of over 30% in 2022. The region is a hub for the manufacturing of electronic devices, wearables, and IoT products, which increasingly require compact and long-lasting power sources. The rising adoption of electric vehicles and renewable energy technologies drives demand for advanced energy storage solutions, including micro batteries. Government initiatives and investments in green technologies also support this growth. Furthermore, the Asia Pacific's large and tech-savvy population creates a significant consumer base for portable electronics, further fueling the need for compact and efficient micro batteries.

Micro Battery Market Share
The players in the micro battery industry focus on implementing different growth strategies to strengthen their offerings and expand their market reach. These strategies involve new product development & launches, partnerships & collaborations, mergers & acquisitions, and customer retention. These players also heavily invest in research & development to introduce innovative and technologically advanced solutions in the market. Some major players operating in the micro battery industry are mentioned below,
Cymbet Corporation
Maxell Holdings, Ltd.
Murata Manufacturing Co., Ltd.
Panasonic Corporation
TDK Electronics AG,
Ultralife Corporation
VARTA AG
Micro Battery Industry News:
In November 2022, VARTA AG launched the latest version of its CoinPower series, the A5. These batteries offer up to 15% more capacity than previous CoinPower generations. They offer improved performance, cycle life, and capacity, making them ideal for a wide range of applications such as smartwatches, wearable devices, hearing aids, medical devices, industrial sensors, and IoT devices.

In September 2022, Maxell, Ltd. developed the "PSB401515H", a high-capacity ceramic packaged all-solid-state battery using a solid sulfide electrolyte, increasing the side length to 15mm with double the capacity of the existing product, which enables it to support various applications and situations.

The micro battery market research report includes in-depth coverage of the industry with estimates & forecast in terms of revenue (USD Million) from 2018 to 2032 for the following segments:



Click here to Buy Section of this Report



By Type, 2018 – 2032
Thin film batteries
Printed batteries
Solid-state chip batteries
Button batteries
By Material, 2018 – 2032
Silver oxide
Lithium
Others
By Components, 2018 – 2032
Electrodes
Electrolytes
Substrates
Current collectors
Others
By Capacity, 2018 – 2032
Below 10 mAh
10 to 100 mAh
Above 100 mAh
By Rechargeability, 2018 – 2032
By End-use Industry, 2018 - 2032
Consumer electronics
Medical devices
Smart cards
Smart packaging
Wireless sensors
Others
The above information is provided for the following regions and countries:
North America
Europe

Germany
UK
France
Italy
Spain
Rest of Europe

Asia Pacific

China
Japan
India
South Korea
ANZ
Singapore
Rest of Asia Pacific

Latin America

Brazil
Mexico
Rest of Latin America

MEA

UAE
Saudi Arabia
South Africa
Rest of MEA