Manual Lifting Mobile Light Tower Market Size
Manual Lifting Mobile Light Tower Market was valued at USD 3.3 billion in 2022 and is anticipated to register at a CAGR of over 5% during 2023 and 2032. The increasing need for portable and versatile lighting solutions in various industries, including construction, mining, and outdoor events, has fueled demand for manual lifting light towers. These towers offer mobility and easy setup, making them ideal for temporary lighting needs. Additionally, the growing emphasis on energy-efficient and environmentally friendly lighting options has driven the adoption of LED-based light towers, which are often manual lifting.

To understand key trends &nbsp
Download Free Sample

The expansion of construction and infrastructure development projects worldwide has boosted the market growth across major regions including North America and others. For instance, data from the US Census Bureau reveals a substantial uptick in the total value of new private construction in the United States, surging to $1.4 trillion in 2022, a marked increase from the $505.3 billion recorded in 2010. This is expected to boost the technology demand across the country as these projects often require temporary lighting solutions to enhance safety and productivity. Overall, the manual lifting light tower market growth is driven by its versatility, energy efficiency, and its ability to cater to diverse industries and applications.
Manual Lifting Mobile Light Tower Market Report Attributes
Report Attribute
Details
Base Year:
2022
Manual Lifting Mobile Light Tower Market Size in 2022:
USD 3.3 Billion
Forecast Period:
2023 to 2032
Forecast Period 2023 to 2032 CAGR:
5.4%
2032 Value Projection:
USD 5.7 Billion
Historical Data for:
2019 to 2022
No. of Pages:
555
Tables, Charts & Figures:
741
Segments covered:
Lighting, Power Source, Application
Growth Drivers:

Increasing intensity & frequency of weather-related disasters
Rising safety concerns in the construction sector
Soaring infrastructural funding
Increasing focus on energy efficiency
Technological advancements

Pitfalls & Challenges:

High capital, installation & maintenance costs
To understand market opportunities &nbsp
Download Free Sample

COVID-19 Impact
Amid the COVID-19 pandemic, the manual lifting mobile light tower market encountered initial setbacks due to construction project delays and supply chain issues. However, it showcased resilience as construction operations resumed and demand for outdoor lighting solutions, particularly at testing and vaccination sites, grew. The market's rebound was further reinforced by an enhanced focus on safety measures and the integration of remote monitoring capabilities, which contributed to a more robust recovery in the post-pandemic era.

Manual Lifting Mobile Light Tower Market Trends
The manual lifting light tower industry has been evolving in response to various industry trends. There is a growing emphasis on sustainability and energy efficiency, leading to the widespread adoption of LED lighting technology in these towers. LED lights are not only more environmentally friendly but also provide improved illumination and longer-lasting performance. Furthermore, the market is witnessing an increasing integration of smart and remote monitoring features, enabling users to control and monitor light towers remotely, improving operational efficiency and reducing maintenance costs.

The ongoing trend toward urbanization and the development of smart cities is also influencing the market. Urban planners and city developers are increasingly looking for versatile lighting options that can be easily deployed in various locations, such as construction sites, parks, and public events. This trend is driving innovation in manual lifting light towers to make them more adaptable to urban environments.

Manual Lifting Mobile Light Tower Market Analysis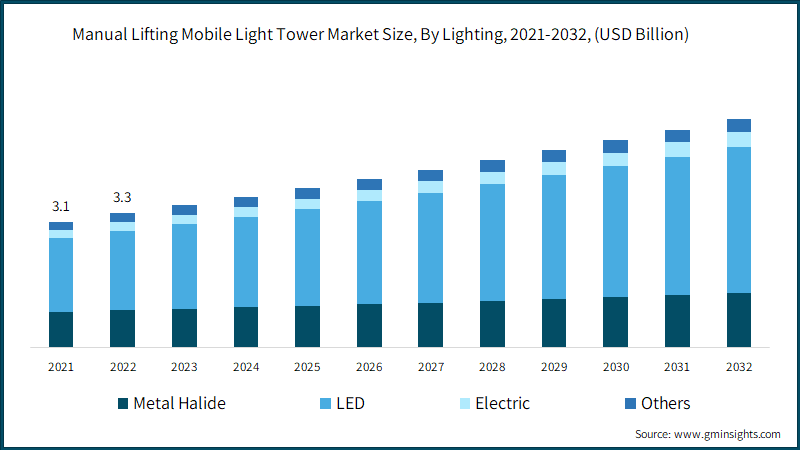 To understand key market trends &nbsp
Download Free Sample

The LED lighting solutions valuation surpassed USD 2 billion in 2022 and is poised to about 6% CAGR from 2023 to 2032. LED lights offer remarkable energy efficiency, longer lifespan, superior brightness, and enhanced durability compared to traditional lighting sources, making them ideal for a wide range of applications in construction, events, and emergency response. Their environmental friendliness, reduced maintenance, and potential government incentives contribute to cost savings and align with sustainability goals. As technological advancements continue, smart lighting systems further enhance the appeal of LED-equipped mobile light towers. This trend is expected to persist as industries prioritize efficiency and eco-conscious solutions.

To understand key market trends &nbsp
Download Free Sample

The diesel-powered mobile light towers market is projected to observe gains at nearly 3.5% up to 2032. Diesel-powered mobile light towers have established themselves as essential tools across diverse sectors like construction, mining, and remote infrastructure endeavors, owing to their exceptional reliability and adaptability. Additionally, their high mobility and autonomy, as well as the ability to provide robust and consistent lighting, have sustained the demand for manual lifting mobile light towers powered by diesel. As industries expand and seek dependable lighting solutions, the manual lifting mobile light tower market is set to maintain its growth, fueled by the reliability and durability of diesel technology.

Manual lifting mobile light towers exhibit remarkable versatility and find applications across a range of sectors, including construction, infrastructure development, oil & gas, mining, military & defense, emergency & disaster relief, and various other domains. Of these, the construction sector stands out as a key driver for the market growth. This surge is primarily driven by the growing need for efficient and adaptable lighting solutions at construction sites, enhancing visibility and safety during nighttime operations. Construction companies are increasingly adopting these mobile light towers due to their ease of portability and user-friendliness, facilitating the effective illumination of large work areas.

To understand regional trends &nbspDownload Free Sample

Asia Pacific manual lifting mobile light tower market is driven by the region's robust urbanization and infrastructure development, which in turn have led to increased construction activities, necessitating efficient and versatile lighting solutions, thus boosting the demand for manual lift light towers. Additionally, the expanding industrial and mining sectors, coupled with growing emergency response and disaster relief operations, have created a demand for reliable, mobile illumination sources.

The adoption of energy-efficient technologies, including LED lighting, in these light towers aligns with the region's sustainability goals and helps reduce operational costs. Government initiatives and investments in infrastructure projects further contribute to the market's growth. As the Asia-Pacific region continues to experience economic growth and development, the manual lift mobile light tower market is expected to flourish, meeting the diverse lighting requirements of these expanding sectors.

Manual Lifting Mobile Light Tower Market Share
Atlas Copco has established a dominant presence in the manual lifting mobile light tower industry through its commitment to innovation, product quality, and a global distribution network. The company's cutting-edge technology, including energy-efficient LED lighting, sets them apart, offering exceptional performance and durability. Atlas Copco's reputation for reliability and product excellence has garnered trust from various industries, leading to a substantial market share. Their customer-focused approach, providing solutions tailored to specific needs, further solidifies their position as a market leader. With a comprehensive product range and a strong presence in key regions, Atlas Copco maintains a significant market share in the manual lifting mobile light tower industry.

Some of the key market players operating across the manual lifting mobile light tower industry are:
Doosan Portable Power
Generac Power Systems, Inc.
LARSON Electronics
Atlas Copco AB
Caterpillar
United Rentals, Inc.
J C Bamford Excavators Ltd.
Multiquip Inc.
Wacker Neuson SE
HIMOINSA
Inmesol gensets, S.L.U.
Trime S.r.l.
Youngman Richardson
Colorado Standby
Chicago Pneumatic
Light Boy Co. Ltd.
Allmand Bros Inc.
DMI
The Will Burt Company
OLIKARA LIGHTING TOWERS PVT LTD
Progress Solar Solutions
LTA Projects
Aska Equipments Private Limited

Manual Lifting Mobile Light Tower Market News
In August 2021, Trime S.r.l. secured a substantial order for light towers from GAP Hire Solutions Group, a UK-based independent equipment rental company. The order, valued at more than USD 4.7 million, includes a range of models, such as X-HYBRID, X-SOLAR, X-SOLAR/HYBRID, and Trime's latest innovation, the X-LITHIUM HYBRID LT. This strategic agreement will not only bolster Trime's standing in the light tower industry but also contribute to enhancing the performance metrics of its equipment rental business within the market.

In July 2021, Wacker Neuson SE inaugurated the advanced state-of-the-art logistics center at Reichertshofen, Germany. Through this move, the company sped up the warehouse turnaround time by reducing former transportation journeys and digitalizing processes. The facility helped the company modernize its logistics process and reduce carbon footprint by reducing turnaround times.

This manual lifting mobile light tower market research report includes an in-depth coverage of the industry with estimates & forecast in terms of units and revenue in '000 Units and USD Million from 2019 to 2032, for the following segments:


Click here to Buy Section of this Report
Metal Halide
LED
Electric
Others
By Power Source
Diesel
Solar
Direct
Others
By Application
Construction
Infrastructure Development
Oil & Gas
Mining
Military & Defense
Emergency & Disaster Relief
Others
The above information has been provided for the following regions and countries:
North America
Europe

Germany
UK
France
Italy
Spain
Russia

Asia Pacific

China
Japan
India
Australia
South Korea

Middle East & Africa

Saudi Arabia
UAE
Qatar
Iran
South Africa

Latin America