Infertility Drugs Industry Analysis
Infertility Drugs Market size accounted for USD 3.6 billion in 2022 and is estimated to grow at 5.9% to reach USD 6.4 billion by 2032. Governments across the globe are launching number of programmes to help people with infertility problems by offering insurance coverage for therapy.

To get more details on this report: Request Free Sample PDF

For instance, from April 2022 onwards, Japan's public health insurance will reimburse fertility treatments, with an aim to make the treatments more accessible to patients by effectively lowering the cost by 70%. Such initiatives will accelerate the market progress. Furthermore, it is also anticipated that the availability of a wide range of medications for the treatment of infertility issues will benefit the industry.

Infertility drugs are a pharmaceutical product specifically designed to address and treat infertility-related issues in individuals or couples. These drugs are formulated to regulate hormone levels, stimulate ovulation, improve sperm production or quality, enhance the chances of successful fertilization, or address underlying medical conditions that contribute to infertility.

Infertility Drugs Market Report Coverage
Report Coverage
Details
Base Year:
2022
Market Size in 2022:
USD 3.6 Billion
Forecast Period:
2023 to 2032
Forecast Period 2023 to 2032 CAGR:
5.9%
2032 Value Projection:
USD 6.4 Billion
Historical Data for:
2018 to 2022
No. of Pages:
180
Tables, Charts & Figures:
269
Segments covered:
Drug Class, Route of Administration, Gender, Distribution Channel and Region
Growth Drivers:

Increasing prevalence of infertility worldwide
Rising healthcare awareness along with increasing aging female population
Increasing funding for infertility R&D

Pitfalls & Challenges:

Side effects and risks associated with infertility drugs
To get more details on this report: Request Free Sample PDF

COVID-19 Impact
The COVID-19 pandemic had negatively affected the infertility drugs market. The pandemic led to delays in infertility diagnoses and treatments, as healthcare resources were redirected to address COVID-19 patients. This delay in care has potentially impacted the demand for infertility drugs. For instance, in March 2020, the American Society for Reproductive Medicine (ASRM) issued guidelines to stop all new fertility treatment cycles and non-urgent diagnostic procedures.

Also, during this time, a study by Strata Decision Technology in 228 hospitals across 40 states in U.S. found patient encounters for infertility services were down 83% from March 22 to April 4, 2020, as compared to the previous year. Moreover, disruptions in global supply chains due to lockdowns, travel restrictions, and temporary closures of manufacturing facilities had created challenges in the availability and distribution of infertility drugs. Thus, decreased patient number along with aforementioned factors had negatively impacted the market growth in 2020.

Infertility Drugs Market Trends
The increasing prevalence of infertility worldwide is one of the significant growth drivers for the market. For instance, according to the World Health Organization (WHO) report, around 17.5% of the adult population or roughly 1 in 6 individual worldwide experience infertility, showing the urgent need to increase access to affordable, high-quality fertility care for those in necessity. Also, various factors contribute to the rising incidence of infertility, including lifestyle changes, delayed pregnancies, environmental factors, and medical conditions such as polycystic ovary syndrome (PCOS) and endometriosis. Such factors will supplement the market development. Furthermore, as the global population continues to age and fertility rates decline, the demand for infertility treatments and drugs is expected to surge in a forthcoming year.

Infertility Drugs Market Restraint
The side effects and risks associated with infertility drugs may significantly hamper the market expansion. While these drugs aim to assist couples in achieving pregnancy, they can also introduce potential risks and adverse effects. Few of the common side effects associated with infertility drugs include headaches, mood swings, hot flashes, nausea, and bloating. Some individuals may experience more severe complications such as ovarian hyperstimulation syndrome (OHSS), a condition characterized by enlarged ovaries and fluid retention. OHSS can cause abdominal pain, shortness of breath, and in rare cases, life-threatening complications. Thus, various adverse effects associated with the use of infertility drugs may significantly hamper the market growth.

Infertility Drugs Class Segmentation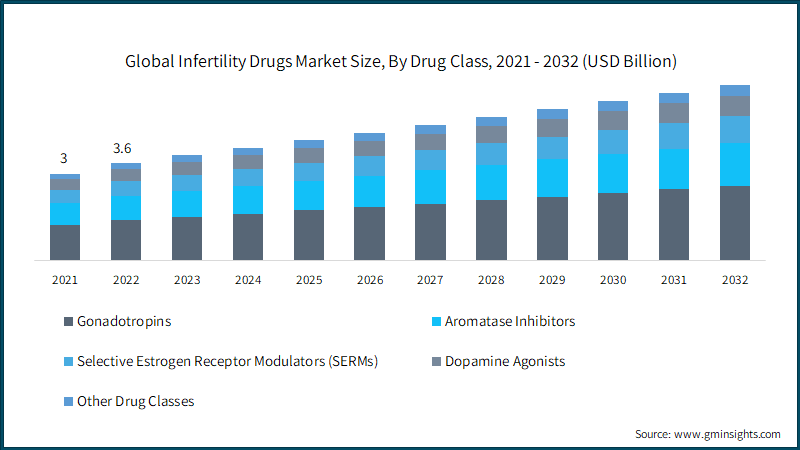 To get more details on this report: Request Free Sample PDF

By drug class, the infertility drugs market is classified into gonadotropins, aromatase inhibitors, selective estrogen receptor modulators (serms), dopamine agonists, and other drug classes. The gonadotropins segment accounted for 41.5% of the market share in 2022 and is projected to witness robust growth over the analysis timeframe. Growing demand for assisted reproductive technologies (ART) such as in-vitro fertilization (IVF) services and intrauterine insemination (IUI), where gonadotrophins play a crucial role will supplement the segment share. Moreover, advancements in technology and research are leading to the development of more refined and targeted gonadotrophin formulations.

Infertility Drugs Route of Administration Segmentation
To get more details on this report: Request Free Sample PDF

Based on route of administration, the infertility drugs market is segmented into parenteral, oral, and topical. The parenteral route of administration is expected to register around USD 3.6 billion by 2032. The parenteral route includes injections and intravenous infusion, which offers direct and rapid delivery of infertility drugs into the bloodstream. This ensures more efficient and predictable absorption of the drugs, resulting in faster onset of action and improved treatment outcomes. Therefore, healthcare professionals and patients are increasingly opting for parenteral administration for infertility drugs, thereby propelling market trends. Moreover, the parenteral route of administration allows for precise dosing and individualized treatment regimens, thereby augmenting the market size.

Infertility Drugs Gender Segmentation
By gender, the infertility drugs market is segmented into female and male. The female segment accounted for significant market revenue in 2022 and is expected to grow at 6.1% during the forecast period. One of the key drivers for the market is the rise in female infertility occurrences. For instance, according to the Centers for Disease Control and Prevention (CDC), in the U.S., among married women aged 15 to 49 years with no prior births, about 1 in 5 (19%) are unable to get pregnant after one year of infertility. Also, about 1 in 4 (26%) women in this group have difficulty getting pregnant or carrying a pregnancy to term (impaired fecundity). Thus, increasing female infertility will accelerate the segmental growth. Moreover, increasing prevalence of Polycystic Ovary Syndrome (PCOS) among women are also anticipated to boost the segment growth.

Infertility Drugs Distribution Channel Segmentation
The distribution channel in infertility drugs market is divided into hospital pharmacies, specialty & retail pharmacies, and online pharmacies. Hospital pharmacies accounted for USD 2 billion market revenue in 2022. Increasing prevalence of infertility coupled with rising healthcare awareness will fuel the demand for specialized medications. Hospital pharmacies, with their comprehensive range of infertility drugs, are well-positioned to meet this demand and ensure their availability within the hospital setting, thereby boosting the segment trends. Additionally, the advanced pharmaceutical infrastructure and expertise of hospital pharmacies, including compounding capabilities, allow for personalized and tailored treatments, further contributing to their growth in this segment.

Infertility Drugs Regional Analysis
North America infertility drugs market accounted for 43% business share in 2022 and is anticipated to grow at considerable growth rate during the forecast timeframe. Increasing adoption of a sedentary lifestyle by both women and men will accelerate the market expansion. For instance, as per CDC report, in 2021, nearly 12 of every 100 U.S. adults aged 18 years or older (11.5%), accounting 28.3 million adults currently smoke cigarettes. The report also stated that, one of the main causes of hormonal imbalance, polycystic ovarian disease, and weight problems, which have an immediate influence on the embryo and result in infertility concerns, is a sedentary lifestyle.

Therefore, growing adoption of sedentary lifestyle will foster the market outlook. Further, the market for infertility drugs in the region is expanding because of several factors including a high concentration of market players, mergers and collaborations among significant players, and an increase in the number of infertility and PCOS cases.

Infertility Drugs Industry Leaders
Major market players operating in the infertility drugs market include Merck KGaA, Ferring B.V., Abbott, Livzon, Pfizer Inc., Mankind Pharma, Teva Pharmaceutical Industries Ltd., and IBSA Institut Biochimique SA, among others. These industry players majorly adopt various strategies including collaborations, acquisitions, mergers, and partnerships to create a global footprint and sustain market competition.

Infertility Drugs Industry News:
In August 2021, Merck Specialties Pvt ltd, the healthcare business of Merck in India, launched Pergoveris Pen for advanced infertility treatment in India. The Pergoveris Pen provide combination treatment option for women with a severe follicle-stimulating hormone (FSH) and luteinizing hormone (LH) deficiency. This strategy helped the company to enhance its product offering in market and assist in strengthening the market position.

In December 2019, Mankind Pharma launched its generic Dydrogesterone tablets for treatment of infertility and pregnancy related complications in the Indian market. The company's product is generic version of Abbott's Duphaston tablets. This strategy helped the company to expand and grow.

The infertility drugs market research report includes an in-depth coverage of the industry with estimates & forecast in terms of revenue in USD from 2018 to 2032, for the following segments:


Click here to Buy Section of this Report
By Drug Class
Gonadotropins
Aromatase Inhibitors
Selective Estrogen Receptor Modulators (SERMs)
Dopamine Agonists
Other drug classes
Route of Administration
Gender
Distribution Channel
Hospital Pharmacies
Specialty & Retail Pharmacies
Online Pharmacies
The above information is provided for the following regions and countries:
North America
Europe

Germany
UK
France
Spain
Italy
Rest of Europe

Asia Pacific

Japan
China
India
Australia
Rest of Asia Pacific

Latin America

Brazil
Mexico
Argentina
Rest of Latin America

Middle East & Africa

South Africa
Saudi Arabia
Rest of MEA