In-vitro toxicology testing market size is expected to grow significantly from 2020 to 2026. In-vitro toxicity testing involves the use of cultured cells or computer models to identify toxic or hazardous chemicals of new substances. These tests can also be used to confirm the absence of toxic chemicals from the drug or substance of choice. In-vitro toxicity testing is usually prevalent in the early stages of clinical trials.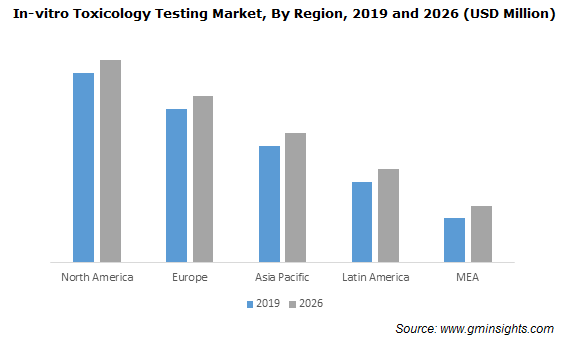 Get more details on this report - Request Free Sample PDF

Ethical concerns regarding the use of animals for toxicity screening will primarily drive the market growth. The trauma and suffering endured by animals has caused growing concerns, especially among animal rights activists. Furthermore, medical professionals are questioning the efficacy of animal testing due to the genomic differences between humans and animals. Thus, these factors will contribute to the in-vitro toxicology testing market growth.

Technological advancements in the in-vitro testing market will contribute to increasing adoption of technology. Increased R&D efforts and emphasis on detecting toxicity at an early stage of testing have led to advent of sophisticated in-vitro testing technologies. Furthermore, there has been emphasis on using in-vitro testing techniques by government agencies such as the Food and Drug Administration due to their increased accuracy. These factors will spur the market growth over the forecast period.

However, the high cost of in-vitro toxicology testing models might dampen the market growth in the short run. Additionally, in-vitro testing systems do not replicate the interconnected organ systems in animals. These factors might restrict the adoption of in-vitro models over the forecast period.

The in-vitro toxicology testing market growth is segmented by products and services offered. The product segment includes consumables, assays, equipment, and software. The consumables segment will hold a substantial market share across the analysis timeframe. Consumables include reagents, media, and chemicals which require frequent applications in testing. Thus, repeated use of consumable products will boost segment growth.

By method of testing, the market is bifurcated into cellular assays, biochemical assays, in silico models and ex vivo models. The cellular assays segment will exhibit substantial growth over the forecast period. Cell based assays use live cell lines to study the effects of substances. Their wide application in screenings such as toxicity, viability, migration will boost the in-vitro toxicology testing market demand.

ADME toxicity testing will present a lucrative opportunity in the endpoint toxicity testing segment. ADME denotes absorption, distribution, metabolism, and elimination screening. ADME is a vital element of drug screening and around 50% of drugs fail due to unacceptable efficacy. It also tests for drug-drug interactions. These factors will augment the segment growth and boost the in-vitro toxicity testing market.

The technology segment is classified into cell culture technologies, high-throughput technologies, and toxicogenomics. The cell culture technologies will account for significant market value over the forecast period. Cell culture uses live cells and tissues to study the effects of drugs. This has increased the preference for cell cultures as they offer increased accuracy in determining basic toxicity. These factors will attribute to segment growth.

The market is categorized into pharmaceuticals & biopharmaceuticals, cosmetics, food, and chemicals by industry. The pharmaceuticals & biopharmaceuticals segment will show strong growth over the forecast period. Increased use of in-vitro testing models in drug testing to identify toxicity at early stages of clinical trials will fuel the segment growth. Furthermore, in-vitro testing yields faster results as compared to animal models. This will increase the preference for in-vitro testing in pharmaceuticals industry, spurring the market growth.

European in-vitro toxicology testing market will account for substantial share over the forecast period. The presence of key market players in the region and high rates of technology adoption will drive the product demand. Furthermore, the presence of multiple research institutes across the region will contribute to the regional market expansion.

Some of the prominent players operating in the in-vitro toxicology testing market share include Merck KGaA, Bio-Rad Laboratories, GE Healthcare, Eurofins Scientific, Charles River Laboratories, Catalent Inc., Cyprotex, Qiagen, MatTek, and MB Research Laboratories. These players are adopting various market expansion strategies such as new product launch and partnerships with leading distributors to expand their product outreach.

In-vitro Toxicology Testing Market, By Product & Service, 2015-2026 (USD Million)
Consumables
Assays

Bacterial Toxicity Assays
Enzyme Toxicity Assays
Cell-based Elisa & Western Blots
Receptor-binding Assays
Tissue Culture Assays
Other Assays

Equipment
Software
Services
In-vitro Toxicology Testing Market, By Method, 2015-2026 (USD Million)
Cellular Assays
Biochemical Assays
In Silico Models
Ex Vivo Models
By Toxicity Endpoint, 2015-2026 (USD Million)
ADME
Skin Irritation, Corrosion, & Sensitization
Genotoxicity Testing
Cytotoxicity Testing
Ocular Toxicity
Organ Toxicity
Phototoxicity Testing
Dermal Toxicity
Other Toxicity Endpoints & Tests
By Technology, 2015-2026 (USD Million)
Cell Culture Technologies
High-throughput Technologies
Toxicogenomics
By Technology, 2015-2026 (USD Million)
Pharmaceuticals & Biopharmaceuticals
Cosmetic
Food
Chemicals
The above information is provided for the following regions and countries:
North America
Europe

Germany
UK
France
Italy
Spain

Asia Pacific

Japan
China
India
Australia

Latin America
Middle East and Africa

Saudi Arabia
South Africa

What Information does this report contain?
Historical data coverage: 2017 to 2021; Growth Projections: 2022 to 2028.
Expert analysis: industry, governing, innovation and technological trends; factors impacting development; drawbacks, SWOT.
6-7 year performance forecasts: major segments covering applications, top products and geographies.
Competitive landscape reporting: market leaders and important players, competencies and capacities of these companies in terms of production as well as sustainability and prospects.