High Voltage Power Transformer Industry Analysis
High Voltage Power Transformer Market Size was valued at USD 19.3 billion in 2022 and is projected to grow at a CAGR of 7.1% by 2032. In recent years, the power transformer industry has witnessed substantial expansion, primarily propelled by heightened electricity demand and beneficial regulatory changes aimed at enhancing and extending existing grid infrastructure. Advanced economies, governed by strict energy efficiency standards, have exhibited a growing inclination towards the upgrading and modernization of traditional transmission networks, thus fostering a favorable business environment for the sector.

To get more details on this report: Request Free Sample PDF

A high voltage power transformer is an electrical apparatus designed to convert electrical energy at high voltages from one level to another. These transformers are crucial components of electrical grids and industrial facilities, allowing for the efficient transmission and distribution of electrical power over long distances and between different voltage levels. Manufacturers across the globe have been proactively bolstering their market positions by engaging in robust research and development (R&D) endeavors and implementing strategic business initiatives. The sector's upward momentum can be ascribed to the worldwide drive for enhanced efficiency and dependability in power transmission and distribution systems.

High Voltage Power Transformer Market Report Coverage
Report Coverage
Details
Base Year:
2022
Market Size in 2022:
19.3 Billion (USD)
Forecast Period:
2023 to 2032
Forecast Period 2023 to 2032 CAGR:
7.1%
2032 Value Projection:
38.7 Billion (USD)
Historical Data for:
2019 to 2022
No. of Pages:
397
Tables, Charts & Figures:
727
Segments covered:
Cooling, Voltage Rating, Application
Growth Drivers:

North America
Increasing demand for refurbishment of existing grid infrastructure
Growing investments toward infrastructural development

Europe
Paradigm shift toward renewable based generation
Upgradation of existing grid network
Asia Pacific
Increasing demand for sustainable energy
Middle East & Africa and Latin America
Growing demand for electricity
Expansion of existing transmission networks
Pitfalls & Challenges:
To get more details on this report: Request Free Sample PDF

Companies operating in the power transformer industry are capitalizing on prospects within both developed and emerging markets, harnessing innovation and acquisitions to establish competitive advantages. As the demand for electricity continues its upward trajectory, the power transformer sector stands ready for continued expansion and innovation to address the evolving energy requirements of the world.

The power transformer market encounters obstacles attributed to the relatively high prices of these products, which can impede their market growth potential. Nonetheless, ongoing technological advancements and the absence of alternative energy sources will propel the evolution of these devices, thereby increasing their market penetration. However, power transformers equipped with extended product lifecycles, exceptional operational efficiency, and unwavering reliability will ultimately counterbalance the initial cost constraints, rendering them a cost-effective and economically viable option in the long term.

COVID-19 Impact
The pandemic disrupted global supply chains, affecting the availability of raw materials and components required for manufacturing high voltage power transformers. Lockdowns, factory closures, and transportation restrictions hindered production and delivery. Economic uncertainty caused by the pandemic led to reduced capital expenditure by businesses and governments. This, in turn, impacted investment in new electrical infrastructure, including high voltage transformers. Many construction and infrastructure projects that would have required high voltage power transformers were delayed or put on hold due to the pandemic. This led to a decrease in demand for new transformers. On the contrary, the pandemic underscored the importance of a resilient and reliable electrical grid, as many aspects of daily life shifted online. This recognition could drive investments in grid infrastructure, including high voltage transformers, to enhance reliability.

High Voltage Power Transformer Market Trends
The electric infrastructure is grappling with the challenges posed by aging components and the demand for increased capacity that exceeds its initial design. Over 70% of the transmission and distribution infrastructure is now older than 25 years, underscoring the urgent requirement for upgrades to bolster grid stability. In response to this predicament, there's a mounting momentum towards the modernization of grid networks, aiming to imbue them with intelligence and resilience. This momentum is propelled by the integration of pioneering equipment, technologies, and control systems. The synergy between these smart monitoring units and sustainable electricity networks is geared towards delivering electricity with higher reliability and efficiency. These advancements have the potential to considerably diminish the frequency and duration of power outages, expediting service restoration and minimizing the impact of disruptions caused by adverse weather conditions. Moreover, consumers can reap the benefits of enhanced access to data, enabling them to effectively manage their energy consumption and associated costs.

As the favorable outlook toward smart monitoring units and sustainable electricity networks continues to gather momentum, it will catalyze a transformation within the power industry. This transformation holds the promise of cultivating a business landscape characterized by heightened efficiency, reliability, and sustainability. Additionally, utilities stand to gain manifold advantages from a revitalized grid, encompassing reduced peak loads, heightened security, decreased operational expenses, and increased assimilation of renewable energy sources.

High Voltage Power Transformer Cooling Segmentation
To get more details on this report: Request Free Sample PDF

Based on cooling, the high voltage power transformer market is segmented as dry type and oil immersed. The dry type segment is set to grow at a CAGR of more than 7.8% through 2032. The safety advantages of dry-type transformers over oil-immersed transformers stem from their non-flammable and self-extinguishing insulation materials. In response to growing safety and environmental considerations, the market for dry-type transformers has experienced a surge in demand. This trend is driven by the elimination of the risks associated with oil leakage and its potential hazards. Additionally, the increasing integration of renewable energy sources such as solar and wind power into the electrical grid has further fueled the demand for dry-type transformers.

High Voltage Power Transformer Voltage Rating Segmentation
Based on voltage rating, the high voltage power transformer market is segmented as SPT (≤ 60 MVA) and LPT (> 60 MVA). The LPT (> 60 MVA) segment is held a majority market share of over 90% in 2022. The growing necessity for the modernization of power grids and the replacement of aging infrastructure is propelling the demand for large power transformers (LPTs). Governments and utility companies are making substantial investments in projects aimed at expanding and improving grid reliability, thereby stimulating the LPT market. The surge in worldwide electricity consumption, particularly in emerging economies, is driving the requirement for additional power generation and transmission capabilities, consequently boosting the demand for LPTs.

Furthermore, the integration of renewable energy sources into the grid necessitates efficient power transmission and distribution, a role where large power transformers are indispensable in connecting renewable energy facilities to the grid.

High Voltage Power Transformer Application Segmentation
To get more details on this report: Request Free Sample PDF

Based on application, the high voltage power transformer market is segmented as commercial, industrial, and utility. The utility segment held the majority market value of more than USD 13.5 billion in 2022. The growing uptake of renewable energy sources, including solar and wind power, in large-scale utility projects is a key driver behind the rising demand for high voltage power transformers. These transformers are indispensable for converting and transmitting electricity generated from renewable sources to the electrical grid. Utility companies are making substantial investments in grid modernization and expansion endeavors, aimed at boosting the efficiency and reliability of power transmission. Within these initiatives, utility-scale high voltage power transformers are being deployed to accommodate the increased power demand and enhance grid stability.

The utility-scale high voltage power transformers market is also being influenced by the integration of smart grid technologies. Smart grid systems demand advanced monitoring, control, and communication capabilities, which are effectively facilitated by intelligent high voltage transformers.

High Voltage Power Transformer Regional Analysis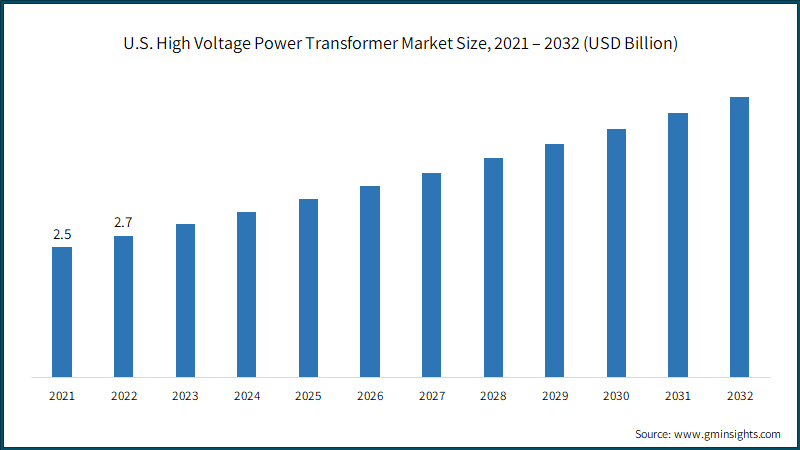 North America high voltage power transformer market has witnessed a growth rate of over 6.3% between 2023 and 2032. In North America, particularly in the United States and Canada, there has been a notable uptick in the demand for electrical products, driven by increased investments in the development of extensive long-distance transmission networks. In recent years, the emergence of public-private partnerships (PPPs) has emerged as a pivotal financing mechanism for electrical infrastructure projects in the region. These partnerships have played a pivotal role in supporting the expansion of power networks and are poised to continue creating favorable conditions for businesses in the industry.

The power sector is poised for further expansion due to the combination of increasing financial resources and a growing number of public and private collaborations. This trend is set to create a positive outlook for enterprises operating in the electrical products market. Additionally, there is a growing emphasis on replacing conventional electrical equipment with advanced, state-of-the-art systems, a shift that will contribute to heightened demand for products throughout the region.

High Voltage Power Transformer Industry Leaders
Some of the key market players operating across the high voltage power transformer market are Hitachi Energy Ltd., ABB, General Electric, Toshiba Energy Systems & Solutions Corporation, Hyosung Heavy Industries, HD HYUNDAI ELECTRIC CO., LTD., WEG, CG Power & Industrial Solutions Ltd., Kirloskar Electric Company, DAIHEN Corporation, Bharat Bijlee Limited, Siemens Energy, Bharat Heavy Electricals Limited, JSHP Transformer, LS ELECTRIC Co., Ltd. Major manufacturers across Asia Pacific, the U.S., and the Middle East & Africa are inclined toward mergers & acquisitions, strategic collaborations, partnerships, and joint ventures to further gain a competitive advantage in the market.

High Voltage Power Transformer Market News:
In October 2022, Hitachi Energy secured a contract from NTPC REL to deliver power transformers for its upcoming 4.75 GW renewable energy park located in Gujarat, India. This ambitious park, spanning 72,600 hectares in Kutch, is part of India's largest solar park initiative and aligns with the country's commitment to a carbon-neutral future, significantly expanding its green energy capacity. The collaboration between Hitachi Energy and NTPC REL represents a significant step toward fulfilling India's target for renewable energy sources by 2030.

In March 2023, General Electric announced an investment of over USD 450 million in its current manufacturing facilities in the U.S. The investment will involve acquiring state-of-the-art equipment and implementing upgrades to strengthen the company & its American workforce, complementing its plans to establish two separate, industry-leading entities in the fields of energy and aerospace. It will also expand the company's energy portfolio, which includes transformers, turbines, and generators.

High voltage power transformer market research report includes an in-depth coverage of the industry with estimates & forecast in terms of volume and revenue in Units & USD Million from 2019 to 2032, for the following segments:


Click here to Buy Section of this Report
By Cooling, 2019 - 2032 (Units & USD Million)
By Voltage Rating, 2019 - 2032 (Units & USD Million)
SPT (≤ 60 MVA)
LPT (> 60 MVA)
Application, 2019 - 2032 (Units & USD Million)
Commercial
Industrial
Utility
The above information is provided for the following regions and countries:
North America
Europe

Germany
France
Russia
UK
Italy
Spain
Netherlands

Asia Pacific

China
Japan
South Korea
India
Australia

Middle East & Africa

Saudi Arabia
UAE
Qatar
Egypt
South Africa
Nigeria

Latin America