Halogen Biocides Market Size
Global halogen biocides market for water treatment applications size exceeded USD 1.2 billion, globally in 2018 and is estimated to grow at over 5% CAGR between 2019 and 2026.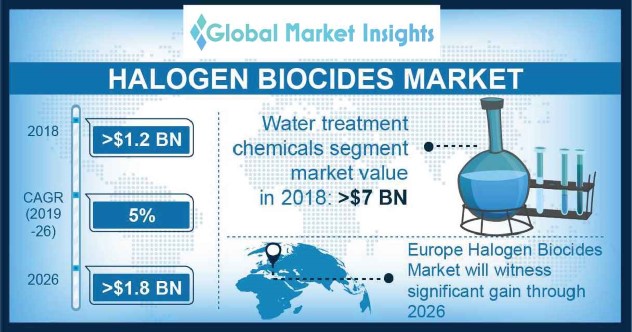 To understand key trends &nbsp
Download Free Sample

Halogen is a group of chemical elements that includes fluorine, bromine, iodine, astatine, and chlorine. These biocides are manufactured using different halogens in order to utilize the disinfectant properties and are used in treating the municipal water. Halogen biocides are used as chemical substances intended to deter, destroy, render harmless or exert a controlling effect on any harmful organisms. The biocides including chlorine and bromine generally slays microorganisms through oxidation by electrochemical process. According to halogen biocides market statistics, these are the most used methods to refine water from organic susceptibilities due to cost effectiveness along with beneficial germ-killing properties which can be utilized in municipal pipelines.

Halogen Biocides Market Report Attributes
Report Attribute
Details
Base Year:
2018
Forecast Period:
2019 to 2026
Historical Data for:
2015 to 2018
No. of Pages:
1,050
Tables, Charts & Figures:
1,542
Segments covered:
Product, Application, End-Use
Growth Drivers:

North America: Booming mining industry
Europe: Growing concerns regarding water pollution and increasing trend for wastewater recycling
Asia Pacific: Growing demand for safe drinking water

Pitfalls & Challenges:

Stringent environmental norms
To understand market opportunities &nbsp
Download Free Sample

It is estimated that over 2 billion of the total population around the globe are not accessible to safe drinking water services, thereby increasing halogen biocides market shares of treatment chemicals to kill the disease-causing germs & bacteria. Pressure on local municipal corporations from different health & safety organizations including WHO is indicating market opportunities for halogen biocides for water treatment application manufacturers.

Increasing global pollution rates has encouraged local governments to take initiatives for supplying treated water in order to eliminate the ailments & infections causing bacteria which can negatively affect coherence of local communities. Chlorine and bromine-based halogen biocides often face industry challenges as these products are exploited through different processes in order to increase the hygiene of the supplied water. These biocides may be harmful if consumed in high doses. However, halogen biocides market statistics depicts the availability of different treatment chemicals with permissible limits set by associations, which results in an effective treatment of microbe & germs present in the water.

The halogen biocides market forecast signifies water treatment chemicals revenue to have surpassed USD 7 billion in 2018 and considerable part of it has been taken up by halogen biocides. More than 50% of the community water systems in the U.S. utilize chlorine in water treatment application which signifies a healthy market share.

Halogen Biocides Market Analysis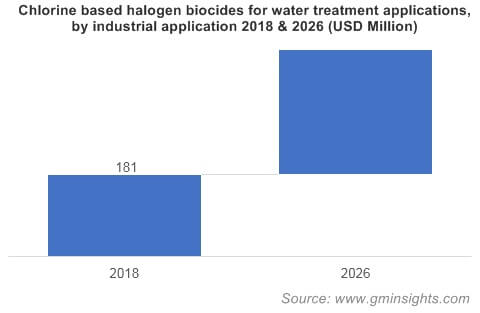 To understand key market trends &nbsp
Download Free Sample

Market analysis suggests the strong usage of chlorine based halogen biocides in industrial sector in order to treat water. Food & beverage faces different industry challenges as it requires strong water treatment systems which are supported by chemicals including chlorine in order to eliminate pollutants. According to market statistics, food & beverage sector utilize water in raw material cleaning along with its incorporation in the different recipes. Chlorine is widely used in treating the water for food & beverage and helps in maintaining the production quality.

Chlorine based halogen biocides also provides an efficient & low-cost solutions as a powerful disinfectant and can be used in oxidizing industrial wastewater pollutants including phenols, cyanide, sulphides, manganese and iron. The halogen biocides market demand is predicted to expand considerably as these products strikes a right balance between cost & effectiveness in the low-level industrial residual.

Expansion of oil & gas, chemical, pulp & paper and power industries is anticipated to maintain chlorine industry demand as a biocide. The importance of treating water in the industrial front is an important factor in determining the development of a particular sector. Sustainable water management is achieved with a help of effective compounds including chlorine-based halogen biocides which curbs dependency on external water source, energy and raw materials.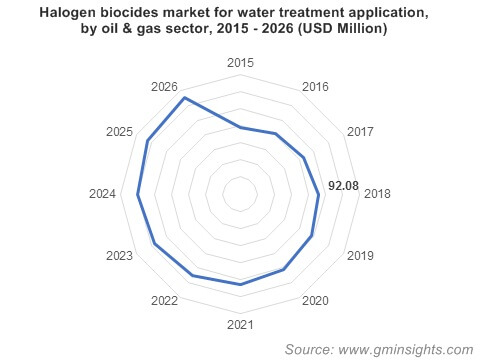 To understand key market trends &nbsp
Download Free Sample

Halogen biocides for water treatment application is an important part of oil & gas sector. Used in relatively smaller quantity, it is still vital for providing protection from harmful microorganisms. According to the current market analysis & trend, these compounds also find application in oil & gas water facility for mitigating acids, scale, slime and poisonous gases.

After years of oversupply, the halogen biocides market data suggest supply crunch in the oil & gas industry trends which is anticipated to flourish the enhanced oil recovery sector (EOR). Market forecasts is suggesting the growing oil & gas exploration through EOR methods, which will create ample opportunities for halogen biocides manufacturers to expand in water treatment application. These products are widely used in water treatment while the EOR techniques are implemented in order to eliminate selected microorganisms and bacteria which may hinder oil & gas exploration process.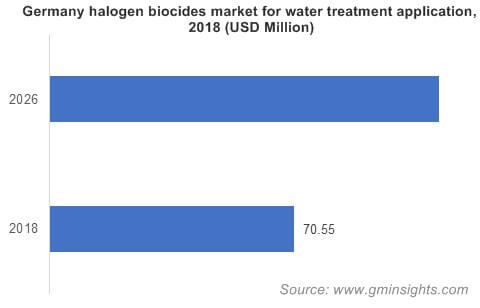 To understand regional trends &nbspDownload Free Sample

Halogen biocides industry for water treatment applications growth can be attributed to government focus towards treatment of urban & industrial wastewater to ensure public health and environmental protection. According to market statistics, substantial consumption of water in residential & industrial activities has led to the development of high performance chemicals for water treatment. According to EEA, the households connected to treatment facilities across the region values from 70% to 90%, thereby depicting that the market forecast is favorable for the product.

Depleting water resources in the region has resulted in the strong usage for recycled water. Market demand is anticipated to witness an upsurge as the municipal and industrial sector utilize halogen biocides including chlorine & bromine for treating & recycling water.

Rapid industrialization in the European region has resulted in strong demand for treatment chemicals. The halogen biocides market outlook suggests the European chemical sector statistics to be over USD 550 billion in 2018, thus implying a strong growth opportunity for halogen biocides industry for water treatment application.

Halogen Biocides Market Share
Some of the major players operating in halogen biocides market for water treatment applications are
Nouryon
Lonza
Clariant AG
SUEZ
Albemarle Corporation
DuPont

Key market players operating in are adopting strategies including collaborations and acquisitions to enhance their existing offerings and target a wider customer base and strengthen the market position. In September 2019, Vink Chemicals, a manufacturer of biocides acquired technical biocide brands from Schülke & Mayr to expand its range of technical biocides and entering the oil and gas business. The company added former brands PARMETOL, GROTANOL and GROTAMAR from Schülke to the product portfolio. The acquisition will further strengthen company's focus on developing treatment chemical for oil and gas sector.

In May 2015, Troy Corporation announced the acquisition of industrial biocides segment from Ashland Inc. This addition of Ashland's industrial biocides division is anticipated to enhance company portfolio in biocides segment and strengthen its position as a key market players.

The halogen biocides market for water treatment applications research report includes in-depth coverage of the industry, with estimates & forecast in terms of volume (Kilo Tons) and revenue (USD Million) from 2015 to 2026, for the following segments:


Click here to Buy Section of this Report
By Product
Chlorine
Chloramine
Bromine
Chlorine Dioxide
Iodine
By Application
Wastewater Treatment
Cooling Towers
Boiler Water
By End-use
Municipal

Drinking Water
Sewage Treatment

Industrial

Food & Beverage
Pulp & Paper
Oil & Gas
Power Plants
Chemical Industry
Others
The above information has been provided for the following regions and countries:
By Region
North America
Europe

Germany
UK
Italy
France
Russia
Spain

APAC

China
India
Japan
South Korea
Malaysia
Australia

LATAM
MEA

Saudi Arabia
South Africa
UAE