Disinfectant and Cleaning Agents Market size is expected to grow significantly from 2020 to 2026. Disinfectants and cleaning agents are vital for safety assurance. The disinfectants are essential to control contamination and further kills the microorganisms. Selecting a better disinfectant is key for successful surface disinfection. Various substances including alcohol or creosote are applied to inanimate objects to kill microorganisms. The three main types of disinfectant and cleaning agents such as liquids, sprays and wipes will augment the industry progression over the forthcoming years.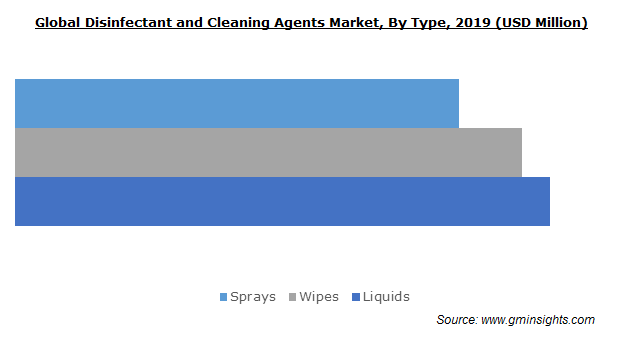 Get more details on this report - Request Free Sample PDF

Rising incidence of hospital-acquired infections (HAIs) will augment the overall disinfectants and cleaning agent's market growth. HAIs are nosocomial infections that specifically occur during a patient's stay at hospitals and some related facilities. These infections include surgical site infections, hospital-acquired pneumonia, urinary tract infections and bloodstream infections among others. In addition, longer hospital stays, patient's immune status, older age are some of the factors further contributing to the industry progression. Therefore, in order to minimize the rate of HAIs, several regulatory guidelines are implemented to decrease the incidence of infections. Thus, the above-mentioned factors will prove beneficial for the disinfectants and cleaning agents market growth.

Furthermore, the growing incidence of various other infectious diseases including human immunodeficiency virus (HIV), tuberculosis and human papillomavirus (HPV) and hepatitis, among others will foster the demand for disinfectants. In addition, the rising prevalence of lifestyle diseases across the globe will further enhance the need for sprays and wipes among others. Disinfection is one of the primary modes of eliminating microorganisms, hence, increasing prevalence of these ailments will boost the disinfectants and cleaning agents industry growth. However, side effects of certain toxic substances may hinder the business progression during forthcoming years.

The disinfectant and cleaning agents market is bifurcated into composition, type and end-use. Based on composition, the market covers quaternary ammonium compounds, alcohols, chlorhexidine gluconate, aldehydes and hypochlorite among others. The alcohol segment is anticipated to witness lucrative growth over the analysis timeframe. Alcohols, typically in the form of 60 to 80% ethyl alcohol or 70% isopropyl alcohol, are used as topical disinfectants. Alcohol is effective against enveloped viruses and bacteria, thereby, driving the segmental growth.

The type segment is divided into wipes, sprays and liquids. Amongst them, the wipes segment will grow substantially during the analysis period. Several benefits such as reduced chance of contamination, zero water consumption as compared to other types, favor the segmental progression. Wipes are extensively used for medical device disinfection, especially in the cases where sprays or liquids are unfeasible. Moreover, easy availability and easy handling of these wipes will accelerate the overall disinfectant and cleaning agents market growth.

The end-use segment is segmented into hospitals, diagnostic laboratories, pharmaceutical & biotechnology companies and others. Easy availability of disinfectants and cleaning agents in hospital settings will surge the segmental growth. Moreover, the surged prevalence of HAIs has driven the adoption of infection control products in hospital settings, thereby, fueling the market growth.

North America disinfectant and cleaning agents industry will account for a lucrative revenue share by 2026 owing to rising prevalence of chronic diseases in the region. Increasing elderly population base suffering from various types of disorders will boost regional growth. Furthermore, presence of key market players in the region will further foster the overall regional growth.

Some of the eminent industry players operating in disinfectant and cleaning agents market include Procter and Gamble, Cantel Medical, Ecolab, SC Johnson Professional, The Clorox Company, Metrex Research, Steris, 3M Company, Diversey, and Whiteley. These business players are adopting numerous growth strategies including mergers and collaborations to sustain in the market competition. For instance, in February 2020, Procter & Gamble launched Microban 24, a line of surface antibacterial cleaning products. This strategy enhanced the product portfolio of the firm.

Disinfectant and Cleaning Agents Market By Composition, 2015-2026 (USD Million)
Quaternary Ammonium Compounds
Chlorhexidine Gluconate
Alcohols
Aldehydes
Hypochlorite
Others
By Type, 2015-2026 (USD Million)
By End-use, 2015-2026 (USD Million)
Hospitals
Diagnostic Laboratories
Pharmaceutical & Biotechnology Companies
Others
The above information is provided for the following regions and countries:
North America
Europe

Germany
UK
France
Italy
Spain

Asia Pacific

Japan
China
India
Australia

Latin America
Middle East and Africa

South Africa
Saudi Arabia
What Information does this report contain?
Historical data coverage: 2017 to 2021; Growth Projections: 2022 to 2028.
Expert analysis: industry, governing, innovation and technological trends; factors impacting development; drawbacks, SWOT.
6-7 year performance forecasts: major segments covering applications, top products and geographies.
Competitive landscape reporting: market leaders and important players, competencies and capacities of these companies in terms of production as well as sustainability and prospects.