Dialyzers Market size is projected to experience significant growth from 2020 to 2026. Dialyzers are the medical devices that remove the metabolic waste products as well as excess water from the blood using an artificial membrane. Dialyzers are commonly used by healthcare professionals during hemodialysis. Hemodialysis is a process that is used to treat patients with acute as well as chronic kidney failure.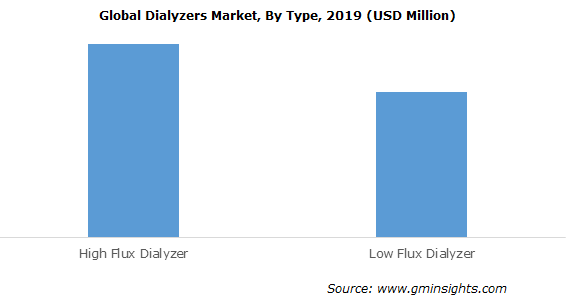 Get more details on this report - Request Free Sample PDF

Increasing prevalence of kidney disorders will enhance the demand for dialyzers over the analysis timeframe. High blood pressure and diabetes are the major risk factor for chronic kidney disorders. Consequently, rising prevalence of diabetes, hypertension and other related disorders will drive the demand for dialyzers during forthcoming years. For instance, as per the Centers for Disease Control and Prevention (CDC) in 2019, about 37 million people in the U.S. were estimated to have chronic kidney disease. Thus, increasing incidence of chronic kidney disease will boost the overall industry growth.

Rising geriatric population base will boost the dialyzers market growth during the analysis period. Patients aged 65 and above are susceptible to end stage renal disease (ESRD). Geriatric population base is continuously rising from past few years and scenario is likely to remain so over the forecast period. The rising elderly population base will lead to an upsurge in the adoption of dialyzers.

Based on type, the market is bifurcated into low flux dialyzer and high flux dialyzer. Amongst them, high flux dialyzer segment will witness substantial growth during the forecast period. Factors such as efficiency in removing larger waste molecules, enhanced removal of uremic toxins and better compatibility will drive the market growth for high flux dialyzers. The aforementioned factors prove beneficial for the segmental expansion.

Based on material, the market is bifurcated into polysulfone (PSf), polyethersulfone (PES), cellulose triacetate (CTA), plus polyarylate (PEPA), polymethylmethacrylate (PMMA) and others. PolySulfone (PSf) segment will witness rapid growth during the analysis period. Polysulfone dialyzers are preferred by healthcare practitioners owing to its superior biocompatibility and minimal anticoagulation requirements. Moreover, polysulfone is widely used as endotoxin absorbers that will enhance the segmental growth.

Based on usability, the dialyzers market is segmented into disposable and reusable. Among them, the disposable segment will grow substantially during the forecast period. Surging adoption of disposable dialyzers to prevent the adverse effects of reusable dialyzers will enhance the segmental progression. Additionally, reuse of dialyzers can cause allergic reactions and lead to environmental contamination that will drive the adoption of disposable products.

On the basis of end-use, the market is segmented into dialysis centers, hospitals, home care settings and others. Hospitals will foresee lucrative growth during forecast period. Availability of wide treatment options along with availability of skilled workers will propel the demand for dialyzers in hospitals. Moreover, increasing adoption of latest dialysis devices in hospital settings for better patient care will boost the overall segmental progression.

Asia Pacific dialyzers market size is anticipated to show momentous growth during the forecast period. Increasing adoption of hemodialysis for the treatment of end stage renal disease will surge the market demand for dialyzers. Additionally, technological advancements are surging the demand for dialyzers in the region. Furthermore, rapidly developing healthcare facilities and infrastructure in developing countries such as China and India will propel the regional growth.

Key industry players operating in dialyzers market share include Fresenius Medical Care, B. Braun, Baxter, Nikkiso, Browndove Healthcare, Fresenius Medical Care, KAWASUMI LABORATORIES, Jihua Medical Apparatus and Instruments, TORAY MEDICAL and Medica Group. These players are undertaking product launches and acquisitions strategies to strengthen their business. For instance, in February 2018, TORAY MEDICAL launched TORAY FILTRYZER NF Series dialyzer in Europe. This strategy strengthened the company's product portfolio and thus enhanced its geographical presence.

Dialyzers Market Size, By Type, 2015-2026 (USD Million)
High Flux Dialyzer
Low Flux Dialyzer
Dialyzers Market, By Usability, 2015-2026 (USD Million)
By Material, 2015-2026 (USD Million)
PolySulfone (PSf)
PolyetherSulfone (PES)
Cellulose triacetate (CTA)
PES plus polyarylate (PEPA)
Polymethylmethacrylate (PMMA)
Others
By End-Use, 2015-2026 (USD Million)
Dialysis Centers
Hospitals
Home Care Settings
Others
The above information is provided for the following regions and countries:
North America
Europe

Germany
UK
France
Italy
Spain
Russia

Asia Pacific

Japan
China
India
Australia

Latin America
Middle East and Africa

South Africa
Saudi Arabia

What Information does this report contain?
Historical data coverage: 2017 to 2021; Growth Projections: 2022 to 2028.
Expert analysis: industry, governing, innovation and technological trends; factors impacting development; drawbacks, SWOT.
6-7 year performance forecasts: major segments covering applications, top products and geographies.
Competitive landscape reporting: market leaders and important players, competencies and capacities of these companies in terms of production as well as sustainability and prospects.