Chemotherapy-induced Myelosuppression Treatment Market Size, Industry Analysis Report, Regional Outlook (U.S., Canada, Germany, UK, France, Russia, Spain, Italy, Japan, China, India, Australia, Brazil, Mexico, South Africa, Saudi Arabia), Application Potential, Price Trends, Competitive Market Share & Forecast, 2021 – 2027
Report ID: GMI4420
Chemotherapy-induced Myelosuppression Treatment Market size is projected to experience significant growth from 2019 to 2025.

Chemotherapy-induced myelosuppression is the most common fatal and dose limiting complication of cancer treatment. In this condition, the functionality of bone marrow to produce blood cells such as white blood cells, red blood cells and blood platelets is significantly reduced. It is commonly seen in cancer patients that undergo extensive chemotherapy to treat cancer. The patient is diagnosed with three adverse condition, decreased production of red blood cells (anemia), white blood cells (leukopenia) and blood platelets (thrombocytopenia). New cancer treatment approaches like intensive radiotherapy-chemotherapy combinations and high-dose chemotherapy lead to severe bone marrow toxicity leading to fatal complications.

Chemotherapy-induced Myelosuppression Treatment Market Share, By Drug Class, 2018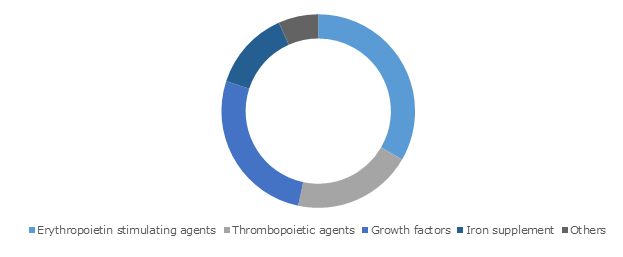 Get more details on this report - Request Free Sample PDF

Rising prevalence of cancer worldwide will substantially augment the growth of chemotherapy-induced myelosuppression treatment market in the coming years. According to the World Health Organization, cancer was responsible for around 9.6 million deaths worldwide. Around 70% of the deaths were reported in low- and middle-income countries. Adoption of unhealthy lifestyle, excessive consumption of tobacco and alcohol and changing environmental factors have largely contributed to the increasing incidence of cancer. Thus, aforementioned factors will spur the growth of the market.

Chemotherapy is the most common drug therapy for cancer. This treatment kills cells and suppress the spread of cancer, by slowing down its growth. However, chemotherapy have its adverse effects that results into myelosuppression. Thus, availability of advanced treatment methods such as radiotherapy, chemotherapy and surgical procedures will also boost the chemotherapy induced myelosuppression treatment industry.

Based on drug class, the chemotherapy-induced myelosuppression treatment market is bifurcated into erythropoietin stimulating agents, thrombopoietic agents, growth factors and iron supplements. Erythropoietin stimulating agents (ESA) will witness rapid growth owing to rising incidence of anemia due to chemotherapy-induced myelosuppression. ESA are medications use to stimulate the production of red blood cells in bone marrow. It is mainly offered to chemotherapy-associated anemia patients with hemoglobin less than 10 g/dL. The commercially available erythropoietin stimulating agents are darbepoetin alfa and epoetin alfa, commonly used to treat anemic patients from chemotherapy.

Route of administration segment includes oral and injectable drugs. Injectables will dominate the market across the forecast years. Better therapeutic properties, dependable and reproducible effects are few of the advantages of injectable drugs. Injectables are convenient dosage form to treat myelosuppression, as entire administrated dose reaches the systemic circulation immediately. The dose can be titrated accurately against the response. Thus, adoption of easy, dependable and result generating treatment methods will further escalate the customer preference and adoption of injectables, thereby stimulating segmental growth.

Chemotherapy-induced myelosuppression treatment medications are majorly distributed via hospital pharmacies, retail pharmacies and online pharmacies. The retail pharmacies segment will witness lucrative growth in the upcoming years. Due to rising incidence of cancer and increasing healthcare expenditure by the government, retail pharmacies segment is expected to witness robust growth in the future. Owing to high convenience and easy accessibility of these pharmacies, the segment will witness higher customer preference.

U.S. chemotherapy-induced myelosuppression treatment market growth is attributed to increasing number of cancer patients, increasing R&D activities to launch advanced treatment methods and presence of major market payers. According to the National Cancer Institute, in 2018 around 17,35,350 people were diagnosed from cancer. Additionally, rising awareness among people regarding chemotherapy-induced myelosuppression treatment will further pose lucrative business growth opportunity in the foreseeable future.

Some of the major market players involved in the global chemotherapy-induced myelosuppression treatment market are Amgen Inc., Teva Pharmaceutical Industries Ltd., Janssen Pharmaceutical NV, Sandoz, Pfizer Inc. and Mylan NV. These companies are adopting business expansion strategies, collaborations and new product development to increase their market footprint. For instance, in November 2019, Sandoz, received US FDA approval for Ziextenzo, an oncology supportive care biosimilar to decrease the incidence of febrile neutropenia, thereby strengthening its chemotherapy-induced myelosuppression treatment market.

Chemotherapy-induced Myelosuppression Treatment Market, By Drug class, 2014-2025 (USD Million)
Erythropoietin stimulating agents
Thrombopoietic agents
Growth factors
Iron supplement
Others
Chemotherapy-induced Myelosuppression Treatment Market, By Route of Administration, 2014-2025 (USD Million)
Chemotherapy-Induced Myelosuppression Treatment Market, By Distribution Channel, 2014-2025 (USD Million)
Hospital Pharmacies
Retail pharmacies
Online pharmacies
The above information is provided for the following regions and countries:
North America
Europe

Germany
UK
France
Italy
Spain
Russia

Asia Pacific

Japan
China
India
Australia

Latin America
Middle East and Africa

South Africa
Saudi Arabia
Company Profiles:
Amgen Inc.
Dova Pharmaceuticals
Janssen Pharmaceutical NV
Mission Pharmacal Company
Mylan NV
Novartis AG
Partner Therapeutics, Inc
Pfizer Inc.
Teva Pharmaceutical Industries Ltd.
What Information does this report contain?
Historical data coverage: 2016 to 2020; Growth Projections: 2021 to 2027.
Expert analysis: industry, governing, innovation and technological trends; factors impacting development; drawbacks, SWOT.
6-7 year performance forecasts: major segments covering applications, top products and geographies.
Competitive landscape reporting: market leaders and important players, competencies and capacities of these companies in terms of production as well as sustainability and prospects.
Customize this Report
Our Market Research Reports Include:
Market snapshot

Market Segmentation

Value Chain Analysis

Growth Dynamics

Potential Market Opportunities

Regulatory Overview

Technology Evolution

Innovation & Sustainability
Connect with our sales team