Biologic Excipients Market Size, Industry Analysis Report, Regional Outlook (U.S., Canada, Germany, UK, France, Spain, Italy, Japan, China, India, Australia, South Korea, Brazil, Mexico, South Africa, Saudi Arabia), Application Potential, Price Trends, Competitive Market Share & Forecast, 2021 – 2027
Report ID: GMI4430
Biologic Excipients Market size is projected to experience significant growth from 2019 to 2025.

Biologic excipients are inert pharmaceutical ingredients that are utilized in product formulations and find immense importance in the pharmaceutical industry. Each excipient serves a specific function and efficacy of final product depends upon the type of excipient chosen during manufacturing process.

Global Biologic Excipients Market, By Formulation Type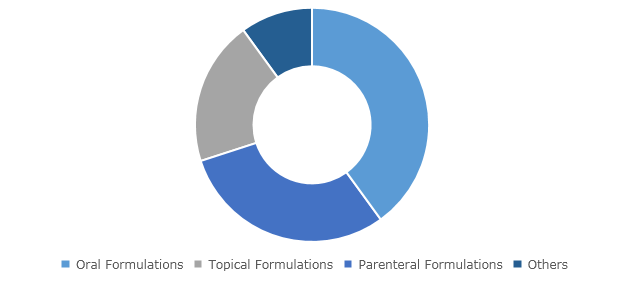 Get more details on this report - Request Free Sample PDF

Increasing demand for generic drugs will positively impact biologic excipients market growth in the near future. Generic drugs are the exact copy of novel drugs that are available at lower prices in the market. These drugs provide same dosage, strength as well as quality of medication and make up for more than 80% prescriptions filled in the U.S. This scenario proves beneficial for industry growth as it increases the demand for biological excipients for manufacturing the generic drugs. Moreover, Asian countries with high disease prevalence project soaring demand for generics. For instance, Indian population majorly relies on the generic drugs as they are available at low prices and have showcased maximum efficacy in treating chronic diseases that has raised the demand for biologic excipients.

Growing adoption of multifunctionality excipients will stimulate biologic excipients market growth in the coming years. Multifunctionality excipients have several benefits associated with them that raises their demand in the manufacturing of drugs. Excipients play a vital role in drug formulation process as they have an importance in stabilizing the process, reducing the cost and improving the manufacturing efficiency. Above mentioned factors will spur the industry growth. However, stringent regulatory landscape for biologic excipients may restrain the industry growth to some extent.

Organic segment of biologic excipients market will witness substantial growth during the analysis timeframe. Considerable segmental growth can be associated with the specificity of organic excipients that aids drug delivery process. Organic biologic excipients enhance the bioavailability of the final drug. Furthermore, organic excipients cost less as compared to the inorganic excipients and also have commendable binding properties. Moreover, these excipients are majorly plant based and free from any side-effects that increases their preference thereby, fostering the segmental growth.

Binders segment held substantial market share in 2018 and significant segmental growth can be attributed to the increasing demand for binders in developing the pharmaceutical compounds. Capsule binders are prominently utilized in the manufacturing of solid oral dosage forms for retaining the active pharmaceutical ingredient (API) together in a cohesive force. Binders utilized for wet granulation are hydrophilic and are highly soluble in water that further boosts their preference thereby, augmenting the segment growth.

Oral formulations segment accounted for significant revenue size in 2018. According to a survey, around 90% of the formulations available in the market are in the solid tablet form. Industry players have focused on integrating technology for facilitating the process of manufacturing oral formulations of improved quality. Furthermore, people usually prefer administering drugs through oral route since, it is convenient. Additionally, pharmacogenetics study suggests that efficacy of the oral formulations is considerably higher as compared to the topical formulations that positively influences the business growth.

U.S. biologic excipients industry is estimated to grow rapidly during the analysis period due to increasing prevalence of chronic disorders such as cancer and diabetes. According to National Cancer Institute, in 2018, over 1.7 million new cases of cancer were diagnosed and the number is still projected to increase in the near future. This scenario proves beneficial for the industry growth as it raises the demand for biological drugs. Furthermore, improving regulatory scenario will have a positive impact on the industry growth. Regulatory authorities are developing laws and regulations that has ensured availability of defect-free drugs in the market. Above mentioned factors propels the country growth.

Dupont De Nemours, Inc., Roquette Frères, Ashland, Meggle USA and Evonik Industries AG are some of the major market players involved in the global biologic excipients market. Key players are implementing strategic initiatives such as mergers and acquisitions as well as product launches for maintaining their market position. For instance, Meggle USA has developed Cellactose, a spray dried compound consisting of 75% of a lactose monohydrate having laudable binding power. Thus, introduction of such new products will foster company's growth.

Biologic Excipients Market, By Product, 2014-2025 (USD Million)
Organic

Oleochemicals
Carbohydrates
Cellulose
Starch
Petrochemicals
Proteins
Others

Inorganic

Calcium Phosphate
Metal Oxides
Calcium Carbonate
Others

Others
Biologic Excipients Market, By Functionality, 2014-2025 (USD Million)
Fillers & diluents
Suspending & viscosity agents
Coating agents
Binders
Flavoring agents & sweeteners
Disintegrants
Emulsifying agents
Others
Biologic Excipients Market, By Formulation Type, 2014-2025 (USD Million)
Oral formulation
Topical formulation
Parenteral formulation
Others
The above information is provided for the following regions and countries:
North America
Europe

Germany
UK
France
Italy
Spain

Asia Pacific

Japan
China
India
Australia
South Korea

Latin America
Middle East and Africa

South Africa
Saudi Arabia
Company Profiles:
Dupont De Nemours, Inc.
Roquette Frères
Ashland Global Holdings Inc.
Evonik Industries AG
BASF SE
MEGGLE USA
Kerry Group PLC
Croda International
Colorcon Inc.
What Information does this report contain?
Historical data coverage: 2016 to 2020; Growth Projections: 2021 to 2027.
Expert analysis: industry, governing, innovation and technological trends; factors impacting development; drawbacks, SWOT.
6-7 year performance forecasts: major segments covering applications, top products and geographies.
Competitive landscape reporting: market leaders and important players, competencies and capacities of these companies in terms of production as well as sustainability and prospects.
Customize this Report
Our Market Research Reports Include:
Market snapshot

Market Segmentation

Value Chain Analysis

Growth Dynamics

Potential Market Opportunities

Regulatory Overview

Technology Evolution

Innovation & Sustainability
Connect with our sales team