Analytical Instrumentation Industry Analysis
Analytical Instrumentation Market size was valued at around USD 51.7 billion in 2022 and is anticipated to grow at a CAGR of over 4.8% between 2023 and 2032.

To get more details on this report: Request Free Sample PDF

The field of pharmaceutical & biotechnology is increasingly focused on personalized medicine that requires precise and targeted analysis of individual patients' genetic information, biomarkers, and drug responses. This trend is driving the demand for analytical instruments that can perform genomics, proteomics, metabolomics, and other molecular analyses at a high level of accuracy and speed. The biotechnology industry is obliged to strict regulatory guidelines, especially in areas such as drug discovery, development, and manufacturing.

Analytical Instrumentation Market Report Coverage
Report Coverage
Details
Base Year:
2022
Market Size in 2022:
USD 51.7 Billion
Forecast Period:
2023 to 2032
Forecast Period 2023 to 2032 CAGR:
4.8%
2032 Value Projection:
USD 81.6 Billion
Historical Data for:
2018 to 2022
No. of Pages:
180
Tables, Charts & Figures:
463
Segments covered:
Product, Technology, Application, End-use and Region
Growth Drivers:

Technological advancements
Rising R&D spending by pharmaceutical industry & government research organizations
Increasing adoption of analytical instrumentation for precision medicine applications
Growing prevalence of chronic diseases

Pitfalls & Challenges:

High cost of instruments
Lack of skilled professionals
To get more details on this report: Request Free Sample PDF

Analytical instrumentation that meets regulatory requirements and can ensure compliance with standards such as Good Laboratory Practices (GLP) and Good Manufacturing Practices (GMP) is essential. This has led to an increased emphasis on instrument validation, calibration, and documentation. Furthermore, quality control is crucial in the pharmaceutical industry to ensure the safety, efficacy, and consistency of products. Analytical instrumentation plays a vital role in quality control processes, including raw material analysis, in-process monitoring, and final product testing. Hence, the demand for analytical instruments is expanding that can provide accurate and reliable results to maintain high-quality standards.

Analytical instrumentation refers to a wide range of devices and equipment used in scientific and industrial laboratories to analyze and measure various parameters such as chemical composition, physical properties, and biological characteristics. It includes instruments such as spectrometers, chromatographs, mass spectrometers, pH meters, and particle size analyzers, among others.

However, the lack of skilled professionals for handling analytical instruments may have a negative impact on the market. Inefficient utilization of analytical instruments without skilled professionals can affect analytical instruments potential benefits. This can lead to suboptimal usage, lower productivity, and decreased efficiency in data analysis and decision-making processes. Skilled professionals are crucial for accurate and timely interpretation of data generated by analytical instruments. Their expertise in calibration, troubleshooting, and quality control ensures reliable and precise results. A lack of skilled professionals can lead to delays in obtaining results or even inaccurate interpretations, that can impact research, manufacturing processes, and overall decision-making. Thus, the lack of skilled professionals may restrain the industry growth.

COVID-19 Impact
The COVID-19 pandemic has had a significant impact on analytical instrumentation markets. In early 2020, many analytical instrument manufacturers faced disruptions in the supply chain due to lockdowns and travel restrictions, leading to delays in production and delivery. The global pharmaceutical supply chain faced disruptions, particularly for active pharmaceutical ingredients and raw materials that impacted production and availability of certain drugs. However, this pandemic highlighted the importance of advanced analytical instrumentation for effective disease detection and research. This augmented further innovation in the field, leading to the development of more efficient and automated instruments.

The need for accurate and rapid testing led to a surge in demand for analytical instruments such as PCR machines, spectrometers, and liquid chromatography systems. These instruments were essential for diagnostic testing and research activities related to COVID-19. Further, the analytical instrumentation market witnessed increased investment in research and development to improve existing technologies and develop new solutions. This included the development of portable and point-of-care devices to facilitate testing in remote areas. Laboratories had increasingly adopted automated instruments to streamline testing processes and minimize human contact, reducing the risk of transmission. As a result, the COVID-19 pandemic had significantly impacted the analytical instrumentation industry.

Analytical Instrumentation Market Trends
Technological advancements in analytical instrumentation have greatly influenced drug discovery and life science research. Technological advancements in automation, robotics, and miniaturization have revolutionized drug discovery, enabling researchers to rapidly test thousands or even millions of compounds. This has significantly accelerated the drug discovery process. Advances in mass spectrometry technology such as improved sensitivity, resolution, and data analysis algorithms have expanded its applications and enhanced its capabilities in the fields of proteomics, metabolomics, and drug metabolism studies. The integration of technological advancements in analytical instrumentation has also led to significant improvements in chromatographic techniques, making them more efficient, sensitive, and reliable.

The high-performance liquid chromatography (HPLC) systems have seen several technological advancements such as the development of smaller particle sizes for stationary phases, improved column designs, and more advanced detectors. These advancements have enhanced the resolution, sensitivity, and speed of HPLC analyses, allowing for better separation and detection of pharmaceutical compounds. Overall, technological advancements in analytical instrumentation have revolutionized pharmaceutical research by enhancing the capabilities of analytical techniques. These advancements have improved the efficiency, sensitivity, and accuracy of analyses, enabling researchers to make significant improvements in drug discovery, development, and quality control in the pharmaceutical & biotechnology industry.

Analytical Instrumentation Product Segmentation
To get more details on this report: Request Free Sample PDF

Based on product, the analytical instrumentation market is segmented as chromatography instruments, spectroscopy instruments, molecular analysis instruments, electrochemical analysis instruments, particle counters & analyzers, and others. The spectroscopy instruments held the dominant market share in 2022 and was valued at over USD 19.7 billion. This segmental share is attributable to the increasing complexity of drug molecules, stringent quality control regulations, and the demand for faster & more sensitive analysis methods. Spectroscopy instruments includes UV-Visible spectrophotometers, Raman spectrometers, and NMR spectrometers, among others.

In pharmaceutical and biotechnology industries, spectroscopy is observed as a powerful analytical technique that provide valuable insights into their chemical and physical characteristics. It is enabling researchers to analyze the chemical composition of drugs, monitor their stability, detect impurities, and ensure batch-to-batch consistency. For instance, Raman spectroscopy measures the inelastic scattering of laser light, providing information about molecular vibrations and chemical structure. It is employed in pharmaceutical analysis for solid-state characterization, polymorph identification, and counterfeit detection.

Moreover, advancements in spectroscopic techniques such as miniaturization, automation, and the integration of spectroscopy with other analytical tools, contribute to the rising demand. These developments enable high-throughput analysis, real-time monitoring, and improved sensitivity, leading to increased efficiency and productivity in pharmaceutical and biotechnology research and production. Thus, the continuous advancements in analytical instrumentation and the growing need for accurate and efficient analysis drive the market's growth, making spectroscopy a necessary tool for drug discovery, development, and quality control.

Analytical Instrumentation Technology Segmentation
To get more details on this report: Request Free Sample PDF

Based on technology, the analytical instrumentation market is segmented as spectroscopy, chromatography, particle analysis, polymerase chain reaction, and others. The polymerase chain reaction segment accounted for a notable market share and is expected to grow with a CAGR of 5.4% by the end of 2032. This segment growth is owing to the several advantages associated with polymerase chain reaction in molecular diagnostics. Polymerase chain reaction (PCR) is observed as a powerful tool in clinical studies and research. Researchers are designing PCR primers to match specific target sequences, ensuring high specificity in amplification. This specificity helps to distinguish between closely related organisms or genetic variants, leading to accurate and reliable results.

Advanced PCR is rapidly amplifying DNA or RNA sequences, allowing quicker diagnosis and monitoring of infectious diseases or genetic conditions, and facilitating timely clinical decision-making. Real-time PCR techniques such as quantitative PCR (qPCR) is enabling the measurement of gene expression levels or viral load in clinical samples. This quantitative aspect of PCR is observed as a valuable tool for assessing disease progression, treatment response, or monitoring minimal residual disease.

Furthermore, PCR can be applied to various types of clinical samples including blood, tissue, urine, and cerebrospinal fluid that allows the detection of pathogens, genetic mutations, gene expression analysis, etc. The advent of automated liquid handling systems is automating the process of PCR setup, sample preparation, and pipetting, thereby reducing the risk of human error and improving efficiency. Hence, analytical instruments along with PCR technology contribute to the accuracy, sensitivity, and reliability of clinical studies, playing a vital role in various fields such as diagnostics, genetic research, and personalized medicine.

Analytical Instrumentation Application Segmentation
Based on application, the analytical instrumentation market is segmented as drug discovery, clinical diagnostics, cancer & genomics research, and others. The cancer & genomics research segment held a considerable market share in 2022 and was valued at around USD 15.6 billion. Cancer and genomics research along with analytical instrumentation is playing a crucial role in advancing the understanding of cancer biology, developing personalized therapies, and improving patient outcomes. Genomics research employing analytical instruments is assisting to identify genetic alterations such as mutations, deletions, or amplifications that drive the development and progression of tumors. This data can help researchers discover new therapeutic targets and develop personalized treatment strategies.

Additionally, analytical instruments are considered as critical for genomic research as they enable the sequencing of DNA or RNA molecules, providing insights into the genetic information and variations present in cancer cells. For instance, flow cytometry instruments are widely used to analyze and sort cells based on their physical and chemical properties that aid in characterizing cancer cells and studying their behaviour. Thus, the demand for analytical instrumentation in cancer and genomics research is continuously evolving driven by technological advancements and increasing demand for more precise & efficient analysis.

Analytical Instrumentation End-use Segmentation
Based on end-use, the analytical instrumentation market is segmented as diagnostic centers, research and academic institutes, pharmaceutical & biotechnology industry, and others. The diagnostic centers segment is projected to reach more than USD 14.9 billion by the end of 2032. This segment growth can be attributed to various factors including the increasing prevalence of diseases, technological advancements in analytical instruments, rising healthcare expenditure, and growing demand for personalized medicine.

Diagnostic centers are playing a crucial role in healthcare by providing accurate & timely diagnostic services that offer a wide range of tests including blood tests, imaging scans, genetic tests, and pathology examinations. These centers are equipped with advanced analytical instruments and employ trained professionals to perform the tests and interpret the results. For instance, mass spectrometers are highly beneficial in precise identification & quantification of chemical compounds in patient samples. Analytical instruments are also finding significant applications in toxicology and drug monitoring, as well as in detecting metabolic disorders and identifying specific biomarkers associated with various diseases.

Analytical Instrumentation Regional Analysis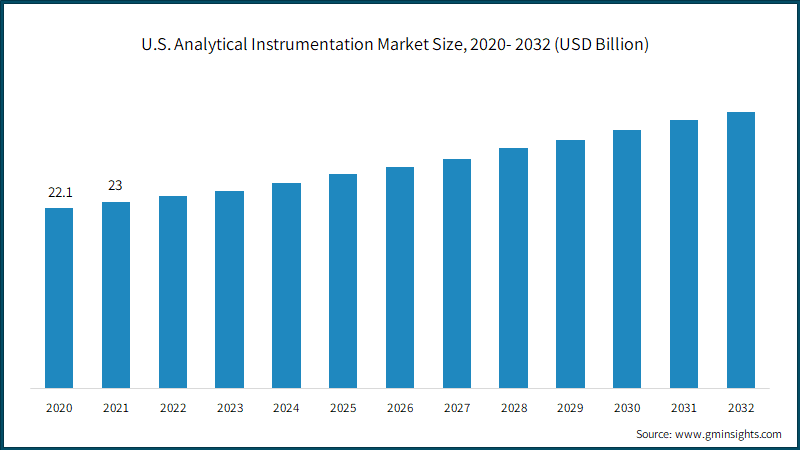 U.S. analytical instrumentation market is anticipated to reach around USD 34 billion by 2032. This largest revenue share is majorly owing to technological advancements, presence of leading market players, and increasing R&D spending by pharmaceutical industry & government research organizations. The presence of several major manufacturers and suppliers of analytical instrumentation are offering a wide range of products and technologies to support the biotechnology and pharmaceutical sectors.

Some prominent companies in the U.S. analytical instrumentation market include Thermo Fisher Scientific, Agilent Technologies, Waters Corporation, PerkinElmer, and Bruker Corporation among others. These companies provide cutting-edge instruments, software, and services to meet the evolving needs of researchers, scientists, and manufacturers. The market for analytical instrumentation in the biotechnology and pharmaceutical sectors in the U.S. is driven by factors such as increasing research and development activities, growing demand for personalized medicine, stringent quality control regulations, and the need for efficient drug development processes. Further, advancements in technologies including high-throughput screening, next-generation sequencing, and molecular imaging have also contributed to the demand for sophisticated analytical instruments. As a result, the continuous advancements in this field are expected to drive innovation and further accelerate the regional market revenue.

Analytical Instrumentation Industry Leaders
Some of the major players operating in the analytical instrumentation market are Agilent Technologies Inc., Avantor, Inc., Bio-Rad Laboratories Inc., Bruker Corporation, F. Hoffmann-La Roche AG, Hitachi High-Technologies Corporation, and Illumina, Inc. among others. Major market players are adopting strategic formulations such as forward integration, new product development, geographical expansion, and research collaborations to garner maximum industry share.

Analytical Instrumentation Industry News:
In June 2023, Thermo Fisher Scientific announced the introduction of the Orbitrap Astral mass spectrometer that combines high resolution and speed to accelerate the discovery of new proteins and advance precision medicine. This new Astral analyzer builds on Thermo Fisher's proven Orbitrap mass spectrometry platform with novel technology that will deliver up to two times deeper proteome coverage and up to four times more throughput compared to current mass spectrometers. This product launch will assist in creating a next-generation end-to-end solution for proteomics that enables the analysis of large cohorts efficiently.

In June 2023, Agilent Technologies Inc. announced the launch of two new liquid chromatography-mass spectrometry systems (LCMS), the Agilent 6495D LC/TQ and the Agilent Revident LC/Q-TOF. These products will be ideal for demanding and challenging targeted analysis applications requiring the highest analytical sensitivity. This product launch will help the company to expand the availability of high-quality analytical instruments worldwide in the future.

Analytical instrumentation market research report includes an in-depth coverage of the industry with estimates & forecast in terms of revenue in USD (million) and volume (Units) from 2018 to 2032 for the following segments:


Click here to Buy Section of this Report
By Product
Chromatography Instruments
Spectroscopy Instruments
Molecular Analysis Instruments
Electrochemical Analysis Instruments
Particle Counters & Analyzers
Others
By Technology
Spectroscopy
Chromatography
Particle Analysis
Polymerase Chain Reaction
Others
By Application
Drug Discovery
Clinical Diagnostics
Cancer & Genomics Research
Others
By End-use
Diagnostic Centers
Research and Academic Institutes
Pharmaceutical & Biotechnology Industry
Others
The above information is provided for the following regions and countries:
North America
Europe

Germany
UK
France
Spain
Italy
Poland
Sweden
The Netherlands

Asia Pacific

Japan
China
India
Australia

South Korea

Thailand
Indonesia
Philippines

Latin America

Brazil
Mexico
Argentina
Colombia
Chile
Peru

Middle East & Africa

South Africa
Saudi Arabia
UAE
Israel
Turkey
Iran