Air Separation Unit Market Size
Air Separation Unit Market was valued at USD 5.7 billion in 2022 and is set to grow at a CAGR of over 4.4% during 2023 and 2032. Increasing demand for industrial gases, including oxygen, nitrogen, and argon, across a wide range of industries along with active involvement of key players to establish new industries with separation unit will complement the business landscape.

To understand key trends &nbsp
Download Free Sample

The was a growing emphasis on energy efficiency and sustainability in ASU technology across various industrial domain will complement the industry outlook. Manufacturers were developing more energy-efficient ASU systems to reduce power consumption and greenhouse gas emissions. This trend was driven by both environmental concerns and the need to optimize operational costs.

Air Separation Unit Market Report Attributes
Report Attribute
Details
Base Year:
2022
Air Separation Unit Market Size in 2022:
USD 5.7 Billion
Forecast Period:
2023 to 2032
Forecast Period 2023 to 2032 CAGR:
4.4%
2032 Value Projection:
USD 8.6 Billion
Historical Data for:
2019 to 2022
No. of Pages:
280
Tables, Charts & Figures:
366
Segments covered:
Process, Gas, End Use, & Region
Growth Drivers:

Increasing demand of industrial gases
Rapid industrial growth in developing region
Government investment towards industries

Pitfalls & Challenges:
To understand market opportunities &nbsp
Download Free Sample

The adoption of on-site gas generation systems is gaining momentum as a wide array of companies are moving away from traditional gas supply models and investing in on-site ASUs to ensure a continuous and cost-effective gas supply, reducing the logistical challenges associated with gas transportation. The air separation unit market was also witnessing innovations in the use of advanced materials and technology, leading to more compact and efficient ASU designs. These developments were improving the overall performance and reliability of air separation units.

Sustainability and environmental concerns are becoming more prominent in the ASU industry. Global economies are increasingly adopting greener technologies, including energy-efficient ASUs and those that integrate carbon capture and storage (CCS) to reduce greenhouse gas emissions.

COVID- 19 Impact
The worldwide COVID-19 pandemic has significantly disrupted global supply chains, resulting in shortages of raw materials, delayed deliveries, logistical challenges, and obstacles, particularly in emerging economies. To meet the rising demands, there's been a redirection of industrial sector oxygen supplies toward healthcare facilities.

Air Separation Unit Market Trends
Bolstering trend of on-site gas generation across various end use verticals across the globe are shifting toward on-site gas generation to ensure a stable and cost-effective gas supply while reducing transportation-related emissions. This trend was particularly prominent in healthcare and manufacturing sectors. In addition, the integration of digital technologies and Industry 4.0 principles into ASU operations across developing industries will augment the business outlook.

Data-driven analytics and automation were improving efficiency, reducing downtime, and enhancing overall plant performance. One of the significant drivers contributing to the growth of the air separation plant market is the increasing adoption of alternative energy sources, including coal-to-liquid and coal-to-chemicals facilities, as well as large-scale gasification plants and oxygen-based gas-to-liquid processes.

Air Separation Unit Market Analysis
To understand key market trends &nbsp
Download Free Sample

Based on process, the cryogenic process is likely to register around 4.5% growth rate through 2032. Growing industrial demand coupled with increasing demand for hydrogen production will augment the business scenario. The use of cryogenic processes in ASUs is driven by the increasing demand for industrial gases, particularly in sectors like steel production, electronics manufacturing, and healthcare. In addition, cryogenic ASUs are well-suited for high-purity gas production.

Cryogenic ASUs were being designed to optimize energy consumption, recover heat from the process, and reduce overall operating costs. Energy efficiency was a crucial factor due to its economic and environmental benefits.

Cryogenic processes played a pivotal role in hydrogen production. With the rising interest in hydrogen as a clean energy source, cryogenic ASUs are becoming an integral to processes like liquefaction and purification of hydrogen.

Stringent air quality regulations, especially in urban areas, are necessitating the use of cleaner technologies in cryogenic ASUs to minimize emissions and maintain compliance with environmental standards.

To understand key market trends &nbsp
Download Free Sample

Based on gas, the nitrogen gas is projected to showcase more than 4.1% CAGR from 2023 to 2032. Nitrogen growing demand in various industrial applications, such as chemical manufacturing, food and beverage processing, and electronics production is increasing the deployment of the same across the end use industry. ASUs are adapting to cater to these diverse industrial needs, resulting in increased nitrogen production.

Many industries are moving away from traditional nitrogen supply methods and investing in on-site nitrogen generation systems, typically integrated with ASUs. On-site generation offers cost savings, convenience, and a consistent nitrogen supply, reducing reliance on nitrogen cylinder or bulk deliveries.

Different industries require nitrogen with specific purity levels. The trend was towards ASUs offering greater flexibility in customizing nitrogen purity to meet the unique requirements of various applications.

Advancements in membrane and adsorption-based nitrogen separation technologies were gaining attention. These innovations offered alternative methods of nitrogen production that could complement or compete with traditional cryogenic distillation processes.

Nitrogen plays a crucial role in various hydrogen production methods, including steam methane reforming (SMR). The growing interest in hydrogen as a clean energy source was influencing the nitrogen market in ASUs.

The COVID-19 pandemic underscored the importance of medical gases, including nitrogen, for healthcare facilities and laboratories. This led to increased attention to ensuring a reliable supply of high-purity nitrogen for critical healthcare applications.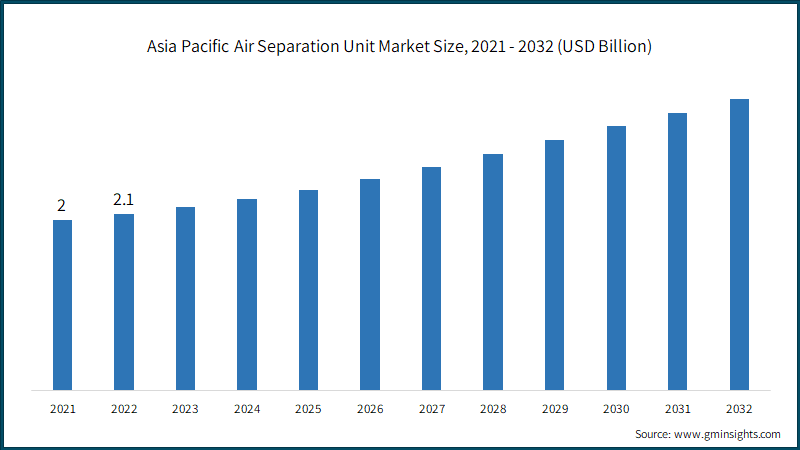 To understand regional trends &nbspDownload Free Sample

Asia Pacific air separation unit market is poised to witness about 5.3% CAGR through 2032, primarily propelled by the region's increasing involvement in climate mitigation and sustainability endeavors. The region, with its booming industrial sectors, is witnessing a growing demand for gases such as oxygen, nitrogen, and argon. These gases are essential for industries like steel production, electronics manufacturing, and healthcare. ASUs were expanding to meet this rising demand.

Energy-efficient ASUs were a significant trend, as countries in the region were increasingly focusing on sustainability and reducing energy consumption. ASUs were being designed with advanced technologies to minimize energy usage and reduce their carbon footprint.

Rapid economic growth in countries like China and India is driving investments in various sectors, which, in turn, increased the need for industrial gases, as a result ASUs re expanding to support this economic development.

With the growing demand for liquefied natural gas (LNG), ASUs are being involved in the production of nitrogen used for cryogenic cooling during LNG processing and storage.

The development of industrial infrastructure and manufacturing hubs in the Asia Pacific region was spurring investments in ASUs to provide a steady and efficient supply of industrial gases.

Air Separation Unit Market Share
The ASU market is marked by both established global players and regional companies. Competition is driving innovation and efficiency, benefiting customers in terms of better technology and competitive pricing across the end use segment:
Linde plc
Air Products and Chemicals, Inc.
TAIYO NIPPON SANSO CORPORATION
Praxair Technology, Inc.
Technex
Ranch Cryogenics, Inc.
KaiFeng Air Separation Group Co.,LTD.
Air Liquide
Enerflex Ltd.
AMCS Corporation
Messer
Universal Industrial Gases, Inc.
Sichuan Air Separation Plant Group
AIR WATER INC
Yingde Gases
CRYOTEC Anlagenbau GmbH
Air Separation Unit Market News
In August 2023, Air Water Inc. made an announcement regarding its US subsidiary, Air Water America, based in New Jersey, USA. The company has decided to build the inaugural air separation unit in Rochester, New York, situated in the northeastern United States. With this development, the AMericab subsidiary aims to establish a comprehensive gas supply operation, encompassing the entire spectrum from the production to the distribution of industrial gases.

In January 2022, Air Liquide announced plans to invest approximately Over USD 40 million in a new Air Separation Unit (ASU) specifically designed for its Industrial Merchant operations. This ASU will be located in Kosi, within the state of Uttar Pradesh in Northern India. It is anticipated to have a daily production capacity of 350 tonnes, with a maximum of 300 tonnes dedicated to oxygen production. Air Liquide India will take on the responsibility of constructing, owning, and operating this ASU, with the target of commencing operations by the end of 2023.

This air separation unit market research report includes in-depth coverage of the industry with estimates & forecast in terms of 'USD Million' from 2019 to 2032, for the following segments:


Click here to Buy Section of this Report
By Process
By Gas
Nitrogen
Oxygen
Argon
Others
By End Use
Iron & Steel
Oil & Gas
Healthcare
Chemicals
Others
The above information has been provided for the following regions across the regions.
North America
Europe

Germany
France
UK
Spain
Italy

Asia Pacific

China
India
Japan
Australia
South Korea

Middle East & Africa

Saudi Arabia
South Africa
UAE

Latin America