Polyurethane (PU) Adhesives Market Size, Industry Analysis Report, Regional Outlook, Application Development Potential, Price Trends, Competitive Market Share & Forecast, 2019 - 2025
Report ID: GMI2257
At Global Market Insights, our researchers and domain experts use a unique blend of primary and secondary research, with validation and iterations at every stage, in order to minimize deviation and present the most accurate analysis of the industry. The research process begins with extensive data mining, using authentic sources such as trade magazines, technical publications, independent studies along with paid avenues such as ICIS, Hoovers, etc. Primary objectives of data mining include:
Definition and scope of research
Market dynamics, growth drivers and industry pitfalls
Regulatory and political guidelines for the industry
Demographics and statistical data
All the above factors are identified and analyzed in detail, with their present and expected market impact, which is quantified and used to derive market growth expectation. Market forecast is built using statistical analysis with models built around time-variance, regression and correlation analytics.
Significant emphasis is put on primary research, which serves the dual role or not only validating our findings but also obtaining penetrating market insights, which help us gain more clarity regarding business environment and competitive leverage. Notable participants in our primary research process include:
Leadership figures such as CEOs, CSOs, VPs etc. in key companies
Supply-chain participants, distributors and domain experts
Key customers and B2B clients
Market research reports: Key analytical components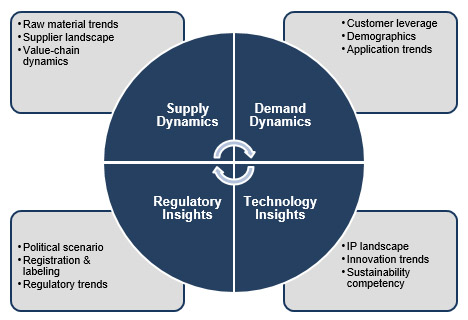 Market Insight Coverage|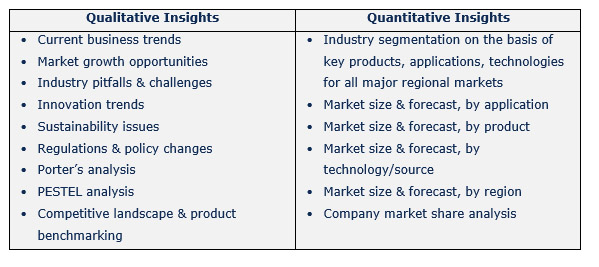 Our Market Research Reports Include:
Market snapshot

Market Segmentation

Value Chain Analysis

Growth Dynamics

Potential Market Opportunities

Regulatory Overview

Technology Evolution

Innovation & Sustainability
Connect with our sales team
Why Global Market Insights, Inc.?
Reliability & accuracy
GMI is unparalleled when to comes to the quality of research and information provided to clients. Our unique methodology is designed to ensure a minimum of 90% accuracy to give our clients excellent value on their investment.
Quality & trust
Customer service
Over 200 experts are available across various time-zones, ready to serve clients for their research needs. Our industry experts help clients to design reports customized to their needs.

Security & compliance
GMIPulse Subscription
An interactive business analytics platform; designed to assist clients in accessing and analyzing market data on real-time basis.
Start Your Free Trial