Pneumococcal Vaccines Market Size, Industry Analysis Report, Regional Outlook (U.S., Canada, Germany, UK, France, Italy, Spain, Japan, China, India, Australia, Mexico, Brazil, South Africa, GCC Countries), Application Potential, Price Trends, Competitive Market Share & Forecast, 2021 – 2027
Report ID: GMI4434
Pneumococcal Vaccines Market size is expected to grow significantly from 2019 to 2025.

Pneumococcal disease is an infection caused by bacteria named streptococcus pneumoniae (also known as pneumococcus). Pneumococcus can lead to infections in the blood, lungs, and brain. Some of the symptoms associated with pneumococcal disease are cough, chest pain, fever, rapid breathing, etc. Pneumococcal disease spreads from person to person and lead to different kinds of health problems. There are majorly two types of pneumococcal vaccines available in the market, and they are pneumococcal conjugate vaccines (PCV13 vaccine) and pneumococcal polysaccharide vaccines (PPSV23 vaccine). PCV13 vaccine is licensed for immunization of infants, older adults, and people with certain health conditions. Whereas, PPSV23 vaccine is licensed only for individuals aged over 2 years. Pneumococcal conjugate vaccines are presently the only vaccines for childhood protection. In 2000, FDA licensed the first pneumococcal conjugate vaccine (PCV7 or Prevnar). Similarly, in 2010, FDA licensed PCV13, that provides protection against infections.

Global Pneumococcal Vaccines Market, By Product, 2018 (USD Million)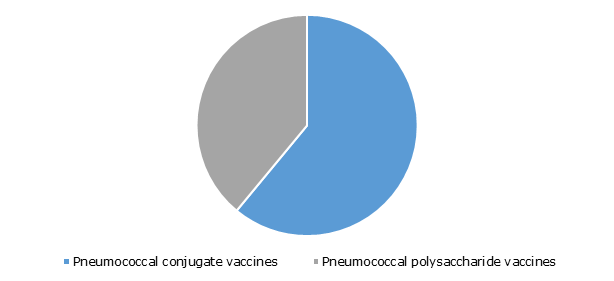 Get more details on this report - Request Free Sample PDF

Growing awareness among patients regarding pneumococcal disease treatment will increase the adoption of pneumococcal vaccines. The increasing demand for pneumococcal vaccines due to immunization programs is also expected to drive the pneumococcal vaccines market growth. Moreover, easier access to the healthcare facilities and vaccines at lower cost will provide lucrative opportunities to the market in the coming years. The growing number of clinical trials for development of pneumococcal vaccine is anticipated to offer enormous growth and fulfill the demand for vaccines for multiple serotypes. Furthermore, growing government initiatives to reduce the burden of pneumococcal diseases will increase the demand for pneumococcal vaccines. However, the slower introduction of new pneumococcal vaccines into the market is expected to hamper the growth of pneumococcal vaccines market.

The product segment is divided into pneumococcal conjugate vaccines and pneumococcal polysaccharide vaccines. The pneumococcal conjugate vaccines is expected to register a significant revenue share in 2018 and is projected to follow a similar trend during the forecast period. Pneumococcal conjugate vaccines prevent pneumococcal disease and prevent the spread of the infection from person to person. The vaccines protection lasts for at least 3 years. Also, it is observed that pneumococcal infections majorly occur during the first 2 years of life. This implies that the pneumococcal conjugate vaccine protects children when they are at the higher risk. The above-mentioned factors will contribute to the segmental revenue share.

Pneumococcal vaccines are distributed via pharmacies, public health agencies and community clinics. Public health agencies segment should witness significant growth during the forthcoming years. The healthcare facilities across the globe are increasingly taking effort to reduce the outbreaks of vaccine-preventable diseases. All countries require children to be immunized against certain communicable diseases. Public health agencies ensure the availability of pneumococcal vaccines. The CDC works directly with private partners and public health agencies to improve immunization coverage and to monitor the safety of vaccines. Due to the increasing adoption of pneumococcal vaccines to improve immunization will drive the segment growth.

North America pneumococcal vaccines market is anticipated to grow rapidly over the coming years. This is majorly due to the growing healthcare expenditure and favorable reimbursement policies for pneumococcal vaccination. The development of new multivalent pneumococcal vaccines and the presence of established market players will further fuel the North America pneumococcal vaccines market.

Some of the major notable players operating in the pneumococcal vaccines include Pfizer, GlaxoSmithKline, Sanofi, Serum Institute of India Pvt. Ltd., Merck & Co., Inc., Pnuvax Incorporated, Panacea Biotec Limited, SK Bioscience, Walvax Biotechnology Co., Ltd., and Shenzhen Kangtai Biological Products Co., Ltd. Partnerships and collaborations among manufacturers for vaccine distribution and research and development is expected to boost the growth of the pneumococcal vaccines market. For instance, in 2014, SK Bioscience signed an agreement with Sanofi for joint R&D and the sale of next-generation pneumococcal conjugate vaccine. In January 2019, Merck announced the FDA approval for V114 for the prevention of invasive pneumococcal disease caused by the vaccine serotypes in pediatric patients.

Pneumococcal Vaccines Market By Product, 2014-2025 (USD Million)
Pneumococcal conjugate vaccines
Pneumococcal polysaccharide vaccines
Pneumococcal Vaccines Market By Distribution Channel, 2014-2025 (USD Million)
Pharmacies
Public health agencies
Community clinics
Others
The above information is provided for the following regions and countries:
North America
Europe

Germany
UK
France
Italy
Spain

Asia Pacific

Japan
China
India
Australia

Latin America
Middle East and Africa

South Africa
GCC Countries
Company Profiles:
Pfizer
GlaxoSmithKline Plc
Sanofi S.A
Serum Institute of India Pvt. Ltd.
Merck & Co., Inc.
Pnuvax Incorporated
Panacea Biotec Limited
SK Bioscience
Walvax Biotechnology Co., Ltd.
Shenzhen Kangtai Biological Products Co., Ltd.
What Information does this report contain?
Historical data coverage: 2016 to 2020; Growth Projections: 2021 to 2027.
Expert analysis: industry, governing, innovation and technological trends; factors impacting development; drawbacks, SWOT.
6-7 year performance forecasts: major segments covering applications, top products and geographies.
Competitive landscape reporting: market leaders and important players, competencies and capacities of these companies in terms of production as well as sustainability and prospects.
Customize this Report
Our Market Research Reports Include:
Market snapshot

Market Segmentation

Value Chain Analysis

Growth Dynamics

Potential Market Opportunities

Regulatory Overview

Technology Evolution

Innovation & Sustainability
Connect with our sales team