Orphan Drugs Market Size, Industry Analysis Report, Regional Outlook (U.S., Canada, Germany, UK, France, Spain, Italy, Russia, Japan, China, India, Australia, Argentina, Brazil, Mexico, South Africa, Saudi Arabia, UAE), Application Potential, Price Trends, Competitive Market Share & Forecast, 2021 – 2027
Report ID: GMI4451
Orphan Drugs Market size is projected to experience significant growth from 2019 to 2025.

Orphan drugs can be defined as medicinal products particularly designed for diagnosis and treatment of rare or orphan disorders. Numerous indications where orphan drugs are utilized include albinism, lymphoma, apert syndrome, down syndrome, leukemia, cystic fibrosis, and other rare diseases.

Global Orphan Drugs Market, By Region, 2014 to 2025 (USD Million)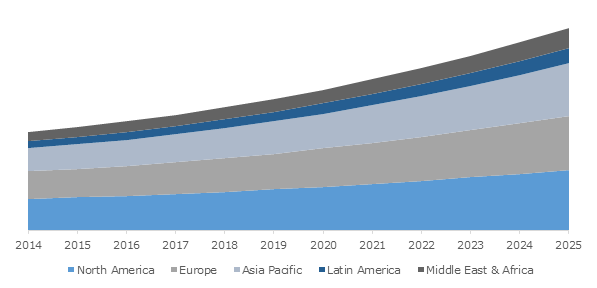 Get more details on this report - Request Free Sample PDF

The demand for orphan drugs has grown considerably owing to rise in occurrence of rare disorders. Moreover, the upsurge in awareness among people concerning orphan diseases, progress in R&D investments, & novel drug development will drive the market growth. Additionally, progress in new symptoms for established orphan drugs & unexploited emergent economies are expected to offer new market opportunities to orphan drug manufacturers in coming era. Thereby, rising prevalence of autoimmune & blood-related disorders, across the globe coupled with benefits offered by orphan medicines will stimulate the demand for orphan drugs in the upcoming period.

Escalating number of pharmaceutical industries across the globe will offer profitable growth prospective for orphan drugs business. Numerous firms across the globe are investing in innovating pharmaceuticals. Recent developments in healthcare sector have widened the range of therapies for rare diseases. Furthermore, rising drug approvals by FDA to treat rare disorders in infants will promote market development in near future.

However, occurrence rate of rare disease is very low as compared to normal disorders. Hence demand of orphan drugs limits to small patient population. Additionally, for drug companies, the cost of producing these drugs would not be recovered by expected sales. Therefore, high cost, low adoption rate & less profitability may restraint orphan drugs market growth in the coming years.

The global orphan drugs market is categorized into therapeutic area, drug components, route of administration, distribution channel & region. Therapeutic area includes autoimmune diseases, blood-related diseases, cancer, cardiovascular diseases, ophthalmic diseases, genetic disorders, infectious diseases, neurological disorders, respiratory disorders & others. Rare genetic disorders area will develop at significant pace in near future. The enhancement is attributed to increased maternal & paternal ages coupled with enhanced usage of fertility remedies. Moreover, rise in prevalence of down syndrome will propel the market growth. For instance, as per study published by the Genetics Home Reference (GHR), the anticipated frequency of Wolman disease, a type of lysosomal acid lipase (LAL) deficiency a rare enzyme genetic disorder is one in 350,000 live births.

By drug component, the market is sectored into biologics and non-biologics. Biologics component will hold considerable revenue size across the forecast timeframe owing to high drug efficacy, safety and minimal side effects. The number of biologic orphan drug approvals have heightened in recent years. Both novel indications & agents serve as the key drivers of segmental growth. Also, polices like the Orphan Drug Act has been a profitable catalyst in stimulating rare disease drug development. In addition, growing number of clinical trials and rise in pharmaceutical firms will inflate the segmental growth.

Route of administration includes oral & parenteral. Parenteral segment is further segmented into intravenous & subcutaneous oral segment is projected to grow at robust pace over the analysis period. The growth is attributed to advantages such as ease of ingestion, safety, good patient compliance, pain avoidance, and flexibility to adapt several types of drugs. Likewise, prominent drug producers are developing new oral medications to decrease the disease burden across the globe, thus fueling the segmental expansion. Thereby, precise clinical targeting and lesser side-effects are major factors fueling the biologics segment progression.

On the basis of distribution channel, the market is bifurcated into hospital pharmacy, retail pharmacy & online pharmacy. Amongst all, hospital pharmacy is forecasted to show lucrative growth over the analysis period owing to large presence of hospitals across the world. Furthermore, advantages such as updated medicine & pricing information, streamlined functionality of pharmacists, interoperability with other pharmacy or hospital systems will contribute to the segmental growth. In addition, establishment of satellite pharmacies in large hospitals, that facilitates strong interaction between patients & pharmacists will boom the segmental expansion in future.

U.S. Orphan drugs market will hold considerable revenue size over the estimation period. High market size can be attributed to initiation of inventive technologies and robust clinical pipeline. Also, rising genetic & neurological disease prevalence will lead to high adoption these drugs. Furthermore, the National Institutes of Health (NIH) & the Office of Rare Diseases Research (ORDR) commences various activities to encourage and support research on rare conditions. Additionally, rising rate of FDA approvals of orphan drugs coupled with increasing research in genetic disease treatments will expand the U.S. orphan drugs market growth over analysis period.

Some of the major market players involved in the global Orphan drugs market are Novartis, Roche, Pfizer, Glenmark Pharmaceuticals, GlaxoSmithKline, Pfizer Inc. & Celgene Corporation. Strategic initiatives such as launch of novel tests for orphan drugs, acquisitions and expansion of advanced research facilities are being adopted by these firms to fortify their business growth. For instance, in September 2019, Glenmark Pharmaceuticals received orphan drug designation (ODD) from USFDA for its antibody candidate GBR 1342. The candidate will be beneficial for treatment of patients suffering from multiple myeloma.

Orphan Drugs Market, By Therapeutic Area, 2014-2025 (USD Million)
Autoimmune Diseases
Blood-related Diseases
Cancer
Cardiovascular Diseases
Ophthalmic Diseases
Genetic Disorders
Infectious Diseases
Neurological Disorders
Respiratory Disorders
Others
Orphan Drugs Market, By Drug Components, 2014-2025 (USD Million)
Orphan Drugs Market, By Route of Administration, 2014-2025 (USD Million)
Orphan Drugs Market, By Distribution Channel, 2014-2025 (USD Million)
Hospital pharmacy
Retail pharmacy
Specialty pharmacy
The above information is provided for the following regions and countries:
North America
Europe

Germany
UK
France
Italy
Spain
Russia

Asia Pacific

Japan
China
India
Australia

Latin America
Middle East and Africa

South Africa
Saudi Arabia
UAE
Company Profiles:
AbbVie
Amgen
Baxter
Bayer AG
Biogen International
Celgene
Eli Lilly
F. Hoffmann-La Roche AG
GlaxoSmithKline plc
Glenmark Pharmaceuticals
Johnson and Johnson
Merck
Novartis AG
Novo Nordisk A/S
Pfizer Inc
Takeda Pharmaceutical Company
Vertex Pharmaceuticals Incorporated

What Information does this report contain?
Historical data coverage: 2016 to 2020; Growth Projections: 2021 to 2027.
Expert analysis: industry, governing, innovation and technological trends; factors impacting development; drawbacks, SWOT.
6-7 year performance forecasts: major segments covering applications, top products and geographies.
Competitive landscape reporting: market leaders and important players, competencies and capacities of these companies in terms of production as well as sustainability and prospects.
Customize this Report
Our Market Research Reports Include:
Market snapshot

Market Segmentation

Value Chain Analysis

Growth Dynamics

Potential Market Opportunities

Regulatory Overview

Technology Evolution

Innovation & Sustainability
Connect with our sales team