N95 Protective Masks Market size is projected to experience significant growth from 2020 to 2026. N95 protective masks are protective respiratory gear used for filtration of airborne particles. The mask has a pore size of 0.3 micron that helps to block small particles and facilitates respiration. Additionally, these masks have FDA approvals for hospital, general use and H1N1 virus. Rising prevalence of respiratory infections and pollution will increase the demand of N95 protective masks in the future.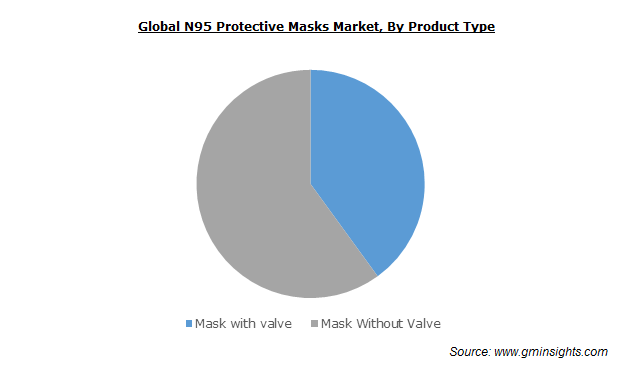 Get more details on this report - Request Free Sample PDF

The rising prevalence of respiratory infections and airborne viruses will drive the market growth for the N95 protective masks market. According to the Global Burden of Diseases (GBD) study, more than 2 million deaths occurred globally due to lower respiratory infections in 2016. The N95 protective masks are useful for protection against airborne viruses and particulate matter that lowers the risk of viral infections and allergies. Initially, the N95 mask was manufactured for usage at industrial sites for workers that are exposed to dust and small particles. Recently, deteriorating environmental conditions and the prevalence of respiratory infections have resulted in increasing usage of the N95 protective masks. The aforementioned factors will propel the industry growth in the forthcoming years.

Increasing pollution due to industrial and vehicular exhaust will drive the demand for N95 masks in the future. As per the World Health Organization statistics, in November 2017, more than 10 Indian cities topped the list with poor air quality. High level of air pollution is due to burning of coal and wood for cooking and industrial exhaust. With increasing level of air pollution, the risk of acquiring pulmonary disorders will grow. This will significantly drive the market growth.

Based on product, the N95 protective masks market is bifurcated into a mask with valve and mask without valve. The mask with valve segment will witness rapid growth owing to the rising incidence of respiratory infections across the globe. The mask with valve facilitates positive pressure and ensures unobstructed respiration by the user. The use of a mask with valve has reduced risk of rebreathing and enable fresh air intake. The increasing demand for these masks with valves will further spur the market growth in the future.

Based on application, the market is segmented as respiratory infections, pollution and others. The respiratory infection segment will witness substantial growth during the forecast years due to increasing pollution in the atmosphere. The N95 mask provides better protection against droplet?transmitted infections and ensures the safety of consumer. Additionally, low prices of these N95 masks render them accessible to low income patients, thereby leading to segmental growth.

The distribution channel of the N95 protective mask consists of hospital pharmacies, online stores, and pharmacies. The hospital pharmacies will witness lucrative growth during the analysis time period. The availability and accessibility of these masks at hospital pharmacies have increased the reach of customers and patients. The mask is used by patients without any prescription for reducing the risk of airborne infections and therefore will enhance the N95 protective masks market growth.

The end-users of N95 protective mask are hospitals, individuals and industrial sites. The increasing demand for N95 protective masks in hospital setting will witness lucrative growth in the forthcoming years. These masks prevent the transfer of particulate & airborne matter and microorganism and reduce infection risks. Moreover, its single-use ensures safety and hence will witness segmental growth in forthcoming years.

U.S. N95 protective masks industry is estimated to grow substantially across the forecast period due to the rising pollution and high pervasiveness of respiratory infections. As per the American Lung Association estimates, more than 141 million Americans are exposed to unhealthy air. Increasing emission of greenhouse gases and pollutants from vehicular and industrial exhaust further deteriorates the air quality. As N95 masks reduces the risk of respiratory diseases due to exposure to air pollutants, the demand for N95 masks is expected to increase, thereby propelling regional growth.

Honeywell International, The Gerson Company, Nukepills Inc, Makrite, Moldex-Metric and Prestige Ameritech are some of the major key market players involved in the global N95 protective masks market share. These players are focused on inorganic strategies such as collaborations, mergers and acquisitions for maintaining their market position and development of product. For instance, in March 2020, 3M and The BrandLab announced their partnership to expand their diversity in design sector. This partnership will help the company to introduce new products with innovative usage and designs and hence increase customer reach.

N95 Protective Masks Market By Product Type, 2015 - 2026 (USD Million)
Mask with valve
Mask without valve
N95 Protective Masks Market By Application, 2015 - 2026 (USD Million)
Respiratory infections
Pollution
Others
By Distribution Channel, 2015 - 2026 (USD Million)
Hospital pharmacies
Online stores
Pharmacies
By End-use, 2015 - 2026 (USD Million)
Hospital
Individuals
Industrial site
The above information is provided for the following regions and countries:
North America
Europe

Germany
UK
France
Italy
Spain
Russia

Asia Pacific

Japan
China
India
Australia

Latin America
Middle East and Africa

South Africa
Saudi Arabia
UAE
What Information does this report contain?
Historical data coverage: 2017 to 2021; Growth Projections: 2022 to 2028.
Expert analysis: industry, governing, innovation and technological trends; factors impacting development; drawbacks, SWOT.
6-7 year performance forecasts: major segments covering applications, top products and geographies.
Competitive landscape reporting: market leaders and important players, competencies and capacities of these companies in terms of production as well as sustainability and prospects.