Medical Devices Market size is projected to experience substantial progress from 2020 to 2026. Medical devices consist of instruments, apparatus, machine, implants, invitro reagents among others that is intended for use in the diagnosis or other conditions. These devices are also used in the process of cure, treatment or prevention of disease in man or other animals. Large- and small-scale medical device companies play a role in the development of new medical devices. Start-up companies that develop promising new products are often acquired by one of the large medical device companies. Thus, owing to these developments medical device industry is projected to witness a significant growth in the upcoming years.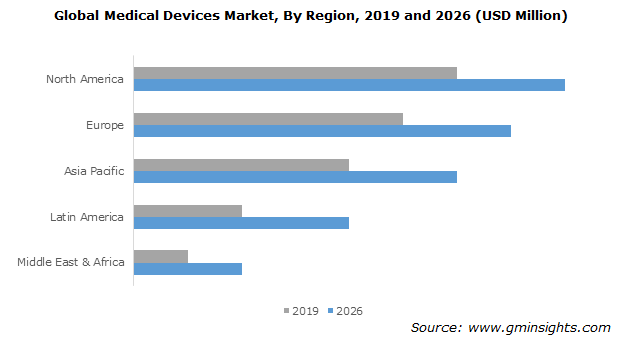 Get more details on this report - Request Free Sample PDF

Growing technological advancements and rising interest of medical technology companies in the research & development activities of new generation medical devices are propelling the market growth. Furthermore, receiving a regulatory approval for the new product will further enhance the medical device industry in the coming years. The recently launched technologies in 2019 that has spurred the growth of the industry are smart inhalers, wireless brain sensors, robotic surgeries, 3-D printing, precision medicine, health wearables, artificial organs telehealth, virtual reality and CRISPR technology. Hence, owing to these newly launched technologies medical device market is projected to witness a lucrative growth in the upcoming years.

Medical devices offer several advantages to patients in improving diagnosis and treatment, support remote monitoring of chronic diseases, enhance patient safety and drug management, facilitate better long-term disease management and assist in reducing the costs while improving patient care outcomes. The growing prevalence of chronic diseases coupled with growing geriatric population with rise in surgical procedures are anticipated to bolster the market growth over the forecast period.

On the basis of product, the medical devices market is segmented into orthopedic devices, cardiovascular devices, ophthalmic devices, neurology devices, diagnostic imaging devices, neonatal infant care and others. Cardiovascular devices are anticipated to witness the substantial growth in the upcoming years. This is owing to the growing prevalence of cardiovascular devices and technological advancements that are fostering the market growth. The growing demand for cardiac implants is further enhancing the cardiovascular devices industry size.

On the basis of device type, the market is bifurcated into reusable device and disposable devices. Disposable devices are expected to witness a lucrative growth in the upcoming years. The high share is attributed to the fact that it does not go under reprocessing and assist in preventing transmission of diseases. Furthermore, disposable devices save time and enhance efficiency, by certifying that procedures are not rescheduled owing to missing or unsatisfactory devices.

Based on end-use, the market is segmented as hospitals, ambulatory surgical centers, diagnostic centers, research laboratories, academic institutes and clinics. The medical devices market from hospitals segment is expected to witness a lucrative growth in the upcoming years. The high market share is attributed to the several reasons including growing healthcare expenditures, developing healthcare infrastructure, and lucrative reimbursement policies.

U.S. medical devices market is estimated to hold a majority market share in the upcoming years owing to the favourable reimbursement scenario that led to higher adoption of medical devices among patients in the country. Growing incidences of chronic diseases such as diabetes, cardiovascular diseases, stroke among others are increasing across the globe that has further led to the adoption of the imaging equipment medical devices. Rising number of trauma and sports injuries is further propelling the demand for orthopedic devices market. Hence, owing to these factors the medical devices industry in the country is expected to witness a substantial growth in the upcoming years.

Some of the major market players involved in the medical devices market share are 3M, Abbott, Alcon, B.Braun, Baxter, Becton, Dickinson and Company, Boston Scientific, Cardinal Health, Danaher, ESSILOR, Fresenius Medical Care, GE Healthcare, Johnson & Johnson, Medtronic, Olympus, Philips Healthcare, Siemens Healthineers, Stryker, Terumo, and Zimmer Biomet. The key players are emphasizing on major industry strategies such as mergers & acquisitions, collaborations & partnerships, product launches and are also taking a few initiatives to maintain a competitive edge in the market. For instance, in January 2020, Abbott announced the CE Mark approval of its product Tendyne (Transcatheter Mitral Valve Implantation) in Europe.

Medical Devices Market, By product, 2015-2026 (USD Million)
Orthopedic Devices
Cardiovascular Devices
Ophthalmic Devices
Neurology Devices
Dental Devices
Diagnostic Imaging Devices
Neonatal Infant Care
Others
Medical Devices Market, By device type, 2015-2026 (USD Million)
Reusable Devices
Disposable Devices
Medical Device Market, By end-use, 2015-2026 (USD Million & Units)
Hospitals
Ambulatory surgical centers
Diagnostic centers
Research laboratories
Academic institutes
Clinics
Others
The above information is provided for the following regions and countries:
North America
Europe

Germany
UK
France
Spain,
Italy
Netherlands
Switzerland
Belgium
Sweden
Austria
Ireland
Poland
Denmark
Finland

Asia Pacific

Japan
China
India
Australia
South Korea
Taiwan
Malaysia
Singapore

Latin America

Argentina
Mexico
Brazil
Columbia
Chile

Middle East and Africa

South Africa
Saudi Arabia
UAE
Israel
Qatar
Kuwait
Oman
Egypt
Iran
Iraq
What Information does this report contain?
Historical data coverage: 2017 to 2021; Growth Projections: 2022 to 2028.
Expert analysis: industry, governing, innovation and technological trends; factors impacting development; drawbacks, SWOT.
6-7 year performance forecasts: major segments covering applications, top products and geographies.
Competitive landscape reporting: market leaders and important players, competencies and capacities of these companies in terms of production as well as sustainability and prospects.