Flu vaccine market size is expected to grow significantly from 2019 to 2025.

Flu is a contagious viral infection that primarily affects the respiratory system. It is normally spread through cough and sneezes of an infected individual. The general symptoms of flu include sore throat, cough, congestion, runny nose, headache, chills and nausea. Flu can cause mild to severe illness; however, serious outcomes of flu infection may lead to hospitalization or death. Flu vaccination has been proven to offer several benefits including reduction in the risk of flu illnesses, hospitalizations as well as the risk of flu-related mortality among the children. The vaccine causes development of antibodies in the body after around two weeks of vaccination and provide protection against the infection caused by the viruses.

Flu Vaccine Market, By Type, 2018 & 2025 (USD Million)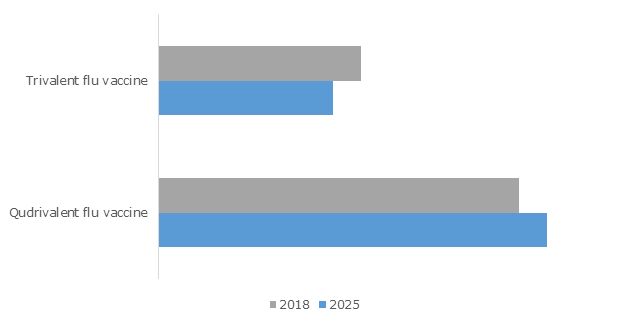 Get more details on this report - Request Free Sample PDF

Flu vaccine market is primarily driven by growing prevalence of flu in developed as well as developing countries. As per the International Federation of Pharmaceutical Manufacturers & Association (IFPMA) estimates, the influenza accounts for around one billion cases globally, resulting in more than 300,000 deaths each year. Thus, accessibility to safe and effective vaccines to combat virus transmutations will surge the adoption of flu vaccine, thereby accelerating market progress.

Moreover, ageing population prone to various diseases due to structural and functional changes in the body are at a higher risk of acquiring the infection. The elderly patient pool along with young children and pregnant women, susceptible to flu and related disease conditions will further prove beneficial for the industry growth. However, side effects associated with the flu vaccine such as swelling or severe allergic reaction may impede business growth to a certain extent over the analysis timeframe.

Trivalent vaccine provides protection against three viruses including an influenza A (H3N2) virus, an influenza A (H1N1) virus and one influenza B virus; whereas, quadrivalent flu vaccines protects 4 viruses that includes an additional influenza B virus. Quadrivalent flu vaccine segment will witness significant growth owing to its adoption in children as young as 6 months of age. Moreover, quadrivalent vaccines are made using attenuated (weakened) or inactivated (killed) viruses, and hence have a reduced risk of causing infection unlike trivalent vaccines.

Inactivated virus, live attenuated virus, recombinant virus and other virus types are being used widely for the production of flu vaccines. Usage of inactivated or killed version of viruses that cause disease is increasing over the recent years owing to its benefits such as strong immunity against infection. Theses vaccines are redeveloped each year to contain specific strains of killed or inactivated flu virus that are recommended by public health officials for each year.

Age group segment included patients below 18 years, 18 – 65 years and patients above 65 years of age. Children aged 5 years and below are at a high risk of developing severe flu-related complications. Thus, CDC recommends flu vaccination for children aged 6 months and above to provide protection against flu complications such as pneumonia, dehydration and brain dysfunction among others.

Flu vaccines have various modes of administration such as intramuscular, intradermal, nasal and others. The flu shots that are commonly administered intradermally accounted for substantial market share in 2018 and will witness similar trend during the forthcoming years. The intradermal flu shots are injected into the top layer of the skin using a smaller needle, unlike intramuscular shots that are injected in the muscle. Increasing demand for intradermal flu shots in adults between 18-64 years of age as well as people with egg allergies will spur segment size over the forecast period.

End-use segment of the flu vaccine market covers hospitals & clinics, research laboratories, academic institutes and others. Hospitals & clinics segment held considerable revenue in 2018 owing to increasing prevalence of flu and associated complication worldwide. Growing awareness among people regarding benefits of flu vaccination and availability of skilled healthcare professionals in hospitals will increase the footfall in hospital settings, thereby augmenting the business growth.

North America flu vaccine market is poised to show lucrative growth over the forecast period owing to rising incidence of flu in the region. According to the U.S. Centers for Disease Control and Prevention, surge in number of flu cases has resulted in around 12,000 hospitalizations and over 30 deaths in January 2018. Awareness among individuals regarding flu vaccination and increasing healthcare expenditure will foster North America flu vaccine industry expansion.

Few notable players operating in flu vaccine market include Sanofi, AstraZeneca, GlaxoSmithKline, Serum Institute of India, Abbott, Zydus Cadila, Bharat Biotech and Panacea Biotec. Industry players are focusing their efforts on strategic alliances such as acquisitions, mergers and partnerships to gain more revenue and maintain market position.

Flu Vaccine Market, By Type, 2014-2025 (USD Million)
Flu Vaccine Market, By Virus Type, 2014-2025 (USD Million)
Inactivated virus
Live attenuated virus
Recombinant virus
Others
Flu Vaccine Market, By Age Group, 2014-2025 (USD Million)
Below 18 years
18 – 65 years
Above 65 years
Flu Vaccine Market, By Mode of Administration, 2014-2025 (USD Million)
Intramuscular
Intradermal
Nasal
Others
Flu Vaccine Market, By End-use, 2014-2025 (USD Million)
Hospitals & clinics
Research laboratories
Academic institutes
Others
The above information is provided for the following regions and countries:
North America
Europe

Germany
UK
France
Italy
Spain

Asia Pacific

Japan
China
India
Australia
South Korea

Latin America
Middle East and Africa

Saudi Arabia
South Africa
UAE
Company Profiles:
Sanofi
AstraZeneca
GlaxoSmithKline
Serum Institute of India
Abbott
Zydus Cadila
Bharat Biotech
Panacea Biotec
Mylan
Seqirus
Sinovac Biotech
Mitsubishi Tanabe Pharma
What Information does this report contain?
Historical data coverage: 2016 to 2020; Growth Projections: 2021 to 2027.
Expert analysis: industry, governing, innovation and technological trends; factors impacting development; drawbacks, SWOT.
6-7 year performance forecasts: major segments covering applications, top products and geographies.
Competitive landscape reporting: market leaders and important players, competencies and capacities of these companies in terms of production as well as sustainability and prospects.