Antipsychotic Drugs Market Size, Industry Analysis Report, Regional Outlook (U.S., Canada, Germany, UK, France, Spain, Italy, Russia, Japan, China, India, Australia, Argentina, Brazil, Mexico, South Africa, Saudi Arabia, UAE), Application Potential, Price Trends, Competitive Market Share & Forecast, 2021 – 2027
Report ID: GMI4448
Antipsychotic Drugs Market size is projected to experience substantial progress from 2019 to 2025.

Antipsychotic drugs are class of medicines that are primarily used in order to treat psychosis, bipolar disorder, severe depression, schizoaffective disorder and schizophrenia. Sometimes these drugs can also be used to treat severe anxiety, persistent hiccups, nausea ang agitation. The antipsychotic drugs are effectively used in treating the symptoms of psychosis in the short term. However, the long-term use of antipsychotics results in adverse effects such as metabolic syndrome, weight gain, impotence, gynecomastia and involuntary movement disorders.

Global Antipsychotic Drugs Market, By Region, 2018 and 2025 (USD Million)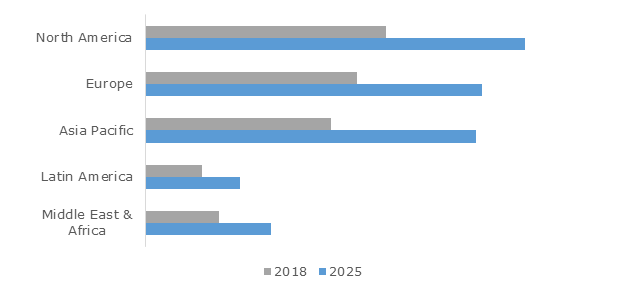 Get more details on this report - Request Free Sample PDF

Growing initiatives by the government and several healthcare organizations on mental health issues will propel the growth of antipsychotic drugs market in the forthcoming years. According to the stats from SAMHSA's National Survey on Drug Use and Health, around 4% of the adult American population suffer from serious mental illness such as depressive disorders, schizophrenia, bipolar disorders and others. Government initiative such as SAMHSA's Center for Mental Health Services (CMHS) has helped improve the lives of people suffering from mental illness and also has assisted in strengthening and expanding its support with respect to mental health treatment and recovery.

Rising in number of people suffering from psychosis and associated disorders will result in substantial market growth in the upcoming years. Schizophrenia is a chronic and severe mental illness that involves high global disease burden and was ranked in the top 15 leading causes of disability across the world in the year 2016. According to The Centre for Addiction and Mental Health (CAMH), mental illness is the leading cause of mental disability in Canada. Hence, increase in demand for antipsychotic drugs will boost the industry growth in the forthcoming years.

Continuous investment in research and development activities with respect to mental health will augment the industry growth in the near future. Rise in need and demand for more effective and target oriented treatment to make progress in treating mental disorder treatment will generate immense opportunities for the growth of antipsychotic drugs market.

Increase in cases of addiction associated with the consumption of antipsychotic drugs will be one of the major reason hampering the market growth in the future. The patients with schizophrenia are at a very high risk of drug abuse and addiction. The chronic exposure to consumption of antipsychotic drugs can induce super sensitivity with the dopamine system of patient's brain, resulting in addition to the drugs.

First generation antipsychotic drugs are expected to witness lucrative growth in the forecast timeframe. These drugs are mainly used for the treatment of schizophrenia and other related psychotic disorders. Since the first-generation antipsychotic drugs are less expensive than the new generation drugs, they remain as a very valuable option in the treatment of mental disorders. Hence, the aforementioned factors will enhance the demand and adoption rate, boosting the segment growth in the near future.

Application of antipsychotic drugs in schizophrenia will witness substantial amount of growth over the forecast period. According to National Institute of Mental Health, schizophrenia is considered to be one of the leading cause of mental disability across the world. Co-occurring chronic diseases such as diabetes, cardiovascular and liver diseases contribute to increase in mortality rate among the individuals with schizophrenia. Aforementioned factors will be responsible for the industry growth in the upcoming years.

Distribution channel segment is bifurcated mainly into e-commerce and pharmacy stores. E-commerce distribution channel is projected to grow at a rapid rate in the forthcoming years. Growing number of people with internet access and smart phones along with easy availability of the drugs on the shopping platform will boost the market growth over the projection period.

U.S. is estimated to dominate the North America antipsychotic drugs in the year 2018 and show similar trend over the forecast period. According to the National Alliance on Mental Illness (NAMI), around 1 in 5 American adults experience mental lines annually and about 1 in 25 American adults experiment serious mental disorders in a particular year. Presence of enhanced technology, favorable reimbursement policies, proper insurance coverage and high prevalence of people suffering from mental disorders will lead to market expansion in the country.

China antipsychotic drugs market will experience considerable growth in the near future owing to rise in geriatric population suffering from mental disorders. According to a recent research study, the prevalence of mental illness and disorders was estimated to be quite in the old age people in China. Increasing healthcare expenditure along with growing awareness regarding the provision of healthcare service and innovations in manufacturing of antipsychotic will propel the industry growth in the country.

Some of the key industry AstraZeneca, Bristol-Myers Squibb, Eli Lily, GlaxoSmithKline, Johnson & Johnson and Pfizer. The major players are focusing on strategic collaborations and partnerships government, innovative product launches and increasing research and development activities to expand their business product portfolio.

Antipsychotic Drugs Market, by Drugs, 2014-2025 (USD Million)
First Generation
Second Generation
Third Generation
Antipsychotic Drugs Market, by Application, 2014-2025 (USD Million)
Dementia
Unipolar disorder
Bipolar disorder
Schizophrenia
Others
Antipsychotic Drugs Market, by Distribution Channel, 2014-2025 (USD Million)
E-commerce
Pharmacy stores
The above information is provided for the following regions and countries:
North America
Europe

Germany
UK
France
Italy
Spain
Russia

Asia Pacific

Japan
China
India
Australia

Latin America
Middle East and Africa

South Africa
Saudi Arabia
UAE

What Information does this report contain?
Historical data coverage: 2016 to 2020; Growth Projections: 2021 to 2027.
Expert analysis: industry, governing, innovation and technological trends; factors impacting development; drawbacks, SWOT.
6-7 year performance forecasts: major segments covering applications, top products and geographies.
Competitive landscape reporting: market leaders and important players, competencies and capacities of these companies in terms of production as well as sustainability and prospects.
Customize this Report
Our Market Research Reports Include:
Market snapshot

Market Segmentation

Value Chain Analysis

Growth Dynamics

Potential Market Opportunities

Regulatory Overview

Technology Evolution

Innovation & Sustainability
Connect with our sales team