Robotic process automation industry to drastically disrupt traditional business operational models
Published Date: October 13, 2017 Author: Ojaswita Kutepatil
The relentless quest for operational efficiency in today's digitized era has unmistakably left a mark on robotic process automation industry. This comes as no surprise, given that virtually every industry vertical revolves around the growing desire for numerous operations to be carried out efficiently, adhering to the determinants of cost and time effectiveness. In order to sustain and grow in today's complex data handling markets, major conglomerates have been seeking a high level of accuracy, speed, cost efficiency, and precision beyond the level of human workforce. In consequence, an increasing number of firms have been adopting RPA tools to transform their probability quotient amidst their tenacious expedition to look out for technological channels for accelerating profits, augmenting revenue, and slashing costs, which would have a proportional impact on RPA market share. As more and more organizations join the marathon for enabling RPA to handle and streamline their workflows, robotic process automation industry will continue its march toward an escalated growth map.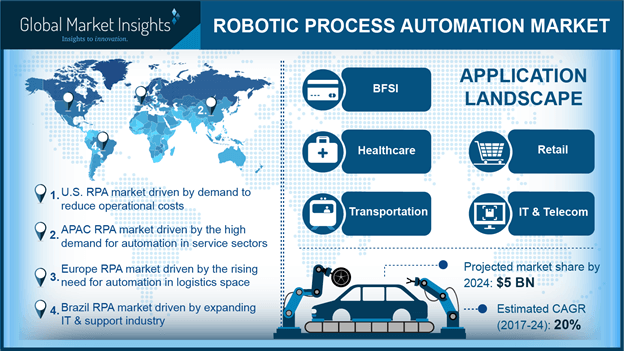 Robots have already proven their worth in the industrial and manufacturing sectors since a while now. However, with the increasing complexity in data handling and synchronization, the IT industry has also been embracing robotics for process handling. Basically, robotic process automation (RPA) comprises a procedure wherein computer software impersonates human actions to perform specific tasks for addressing redundant manual work. Technically, RPA is a technological application that configures computer software to automate a rule-based, repeated, and non-subjective process. The implementation of RPA technology is thus solving critical business issues that have been on the priority lists of many organizations to achieve better operational efficiency. The rapid rise in the number of firms adopting RPA will most certainly have a profound effect on RPA industry size.

Below mentioned are some of the most compelling figures responsible for the rise and proliferation of robotic process automation industry. The statistics mentioned provide some key insights on the impact of RPA technology in organizations that has fortified robotic process automation market growth.

The National Association of Software & Services Companies states the implementation of robotic process automation in an organization is likely to provide a cost reduction of 10-30% in offshore delivery and a whopping 35-65% for onshore process operations.
When it comes to managing overall business goals relative to budgets, ROI, and resource allocation, the aforementioned figures are quite staggering is terms of saving costs. A report by a leading consulting firm throws light on this fact, stating that almost 45% of the activities that individuals are paid to perform can be now automated by implementing RPA technologies. The RPA technology offers an investment recovery period between six to nine months, which has proved to be a major driver for RPA market. It would not exactly be a consternation if the overall RPA industry will witness lucrative gains in the forthcoming years, as the technology offers a valuable proposition for organizations that are looking forward to operating as efficiently as possible.

Experts Speak: An RPA software robot can execute a list of over 600 actions in a given sequence.
Robots have already begun to have a profound effect on today's businesses. Leslie Willcocks, a professor at the London School of Economics' department has aptly quoted "RPA is a technology that takes robots out of humans." With the implementation of RPA software, a lot of routine, repetitive, and dreary tasks can be carried out in a highly effective and accurate manner through the implementation of this software. Robotic process automation market thus stands to gain huge acceptance in the IT industry where the software needs to be configured to mimic human actions such as issuing an invoice or even something as simple as just a single click, to more than 600 actions in a given sequence. Sources claim that the labor productivity of RPA is expected to be equivalent to the output of 110 million to 140 million workers. This technology is expected to have a massive economic impact between a mammoth range of USD 5.2 billion and USD 6.7 trillion by 2025, according to experts. Based on these figures, it is quite evident that robotic process automation industry is poised to remain one of the most profitable businesses that will have a favorable impact on the economy through the product's escalating adoption rates. Moreover, on account of this technology's capacity to minimize the complexity and repetitiveness of human actions, robotic process automation market is set to generate remarkable growth avenues in the forthcoming years.

A recent report compiled by Global Market Insights, Inc., claims robotic process automation industry to exceed a valuation of USD 5 billion at an annual growth rate of 20% worldwide from 2017-2024
The above-mentioned statistics reveal that the worldwide robotic process automation industry indeed has immense potential to bring about an extraordinary transformation over the forthcoming seven years. The rising prevalence of RPA adoption to improve the organization's operational efficiency, performance, and capabilities are providing a major boost to the global robotic process automation industry share. As per reports, RPA market size, in 2016, was pegged at over USD 600 million. Furthermore, the growing demand for customer support across several industry verticals such as IT & telecommunication, BFSI, BPO, insurance, and the government is considered to be one of the biggest contributing factors driving the growth of robotic process automation industry. The report, in addition, also identifies Asia Pacific to emerge as one of the most lucrative growth grounds for robotic process automation market in the ensuing years. The rapidly increasing rate of RPA deployment to eliminate manual interference in BPOs and IT applications is further estimated to garner profits for the regional RPA industry.

Will the robust growth of RPA industry undermine the value of human resources?
While RPA is speculated to take over rote tasks and eventually snatch jobs from the human workforce, it is to be remembered that they cannot be applied effectively in areas where decision-making requires intellectual thinking, human intervention, and a change of processing rules. In fact, industry experts opinionate that merely certain segments of a job profile that come under the monotonous category are deemed to be taken over by RPA, as opposed to whole-and-sole job responsibility. In addition, many companies have been considering the RPA technology too lucrative to let go off – an undeniable fact that can be gauged from the growth rate of robotic process automation market.

This technology is on its way to becoming the next frontier for businesses that often seek to extricate people from performing mundane tasks so that they can focus on more complex business challenges. In effect, it can thus be inferred that RPA market is poised to exhibit unprecedented growth potential in the forthcoming years, driven by the escalating requirement for superlative operational efficiency and ease of functionality.

Global Market Insights, Inc. has a report titled "Robotic Process Automation (RPA) Market Size By Tools (Model-Based Application Tools, Process-Based Application Tools), By Operation (Rules-Based, Knowledge-Based), By Service (Training, Professional), By Solution (Automated, Decision & Management Support, Interaction), By Organization Size (Large Enterprises, SMBs), By Application (BFSI, Healthcare, Retail, IT & Telecom, Manufacturing, Transportation), Industry Analysis Report, Regional Outlook (U.S., Canada, Germany, UK, France, Italy, Russia, China, India, Japan, Australia, Singapore, Malaysia, Brazil, Mexico, UAE, Saudi Arabia, South Africa), Application Potential, Price Trends, Competitive Market Share & Forecast, 2017 – 2024" available at https://www.gminsights.com/industry-analysis/robotic-process-automation-market