A synopsis of PoC molecular diagnostics industry in terms of drivers, opportunities and challenges, Global valuation to surpass USD 2.5 billion by 2024
Published Date: March 26, 2018 Author: Satarupa De
The potential of point of care diagnostics market has been a subject of much discussion and hype over the last decade. In vitro diagnostics has been playing an increasingly significant role in the provision of healthcare. In fact, as per authentic estimates, nearly 80% of the data grounding on which physicians take clinical decisions are produced by medical laboratories, which is why diagnostics now is considered as a critical input in the overall patient care. While clinical assay output, even a few decades back, had only reiterated around infection test and blood chemistry, modern clinical laboratories are capable of offering a wide array of diagnostics ranging from immunological, chromosomal, cardiovascular to even oncology and pharmacogenetics. In this regard, analysts believe recent advancements in molecular biology to be one of the pivotal factors driving the growth of point of care diagnostics market. In the year 2016, this fraternity held a market share of USD 1 billion and is further forecast to surpass a global valuation of USD 2.5 billion by 2024.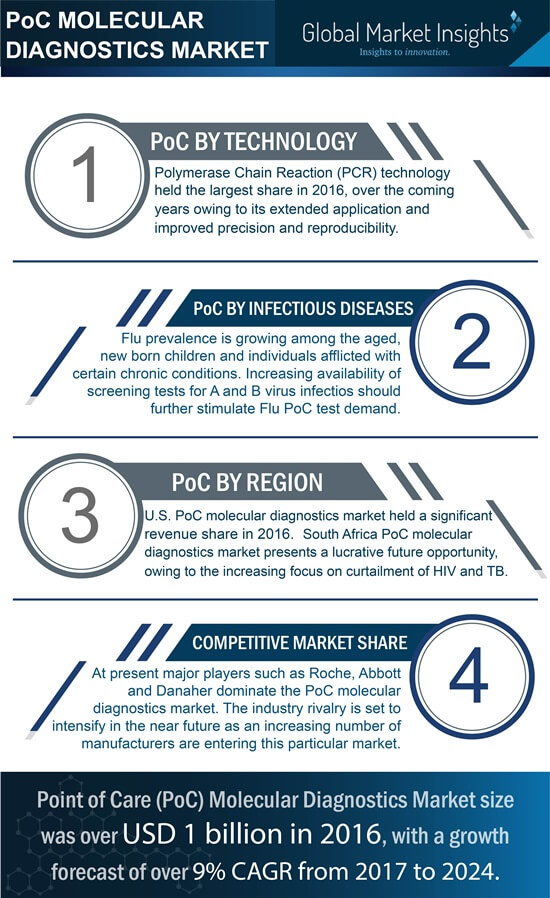 Two forces majorly shaping PoC diagnostics Market:

Increasing incidence of infectious diseases
The rising percentage of infectious diseases across major economies is bound to create a considerably massive demand for PoC molecular testing, claim experts. As per a report by World Health Organization, around 17 million casualties result from infectious diseases per annum, which is deemed to be a serious global crisis. Close to 30 new communicable diseases have emerged over the past twenty years that have been marred as a threat to human health, cite WHO. While observing the recent trends with regards to the prevalence of infectious diseases, it is being noted that adult population is more prone to these disorders. According to Statista, around 12% of Russia's adult population has been diagnosed with infectious diseases in 2017, followed by China and U.S. each pegging a share of 8%. The astoundingly mammoth prevalence is indeed having an implication on point of care molecular diagnostics industry, as it demands a transition from conventional clinical practices.

For instance, sudden outbreak of infectious diseases like MERS, influenza A (H7N9), and Ebola pose immense challenge for optimal patient care amidst limited resource settings. The primary concern in this context is high cost associated with advanced diagnostics technologies. Subject to the economic constraints, these cost-intensive practices cannot be effectuated smoothly in RLS, the primary factor that has opened a plethora of new avenues for PoC diagnostics market. In a bid to respond to the need of the hour, clinicians and healthcare giants have been scrupulously banking on cost-effective PoC molecular diagnostics systems that rely less on environmental context and operator training.


New wave of groundbreaking technologies
Increasing access to miniaturization, nanotechnology, and microfluids are pushing the frontiers of point of care molecular diagnostics systems toward enhanced sensitivity, user friendliness, and cost effectiveness. Speaking of the technological proliferations, it is imperative to mention that isothermal amplification technique is making a strong headway in this business space. Pertaining to the fact that utilization of this technology does not require thermocycling machineries, it is claimed to perform with reduced time, greater efficiency, and high throughput. In tandem, increased reliability and constant temperature of amplification would also allow isothermal amplification to seamlessly integrate in a variety of PoC technologies, a factor that has further aided its penetration in point of care molecular diagnostics industry.

Recently, Orion Diagnostica, has updated its latest innovation on its patent point of care isothermal amplification based molecular diagnostics platform, GenRead. In a news snippet last year, the 100% owned subsidiary of Finland's Orion Group has apparently unveiled an absolutely new PoC respiratory test platform based on Strand invasion-based amplification (SIBA). Sources state, the company is presently working on developing a PoC respiratory test that would be able to distinguish and detect influenza A and B and respiratory syncytial virus. The recent developments on the platform comes on the heels of its efforts to bring PoC molecular testing at the forefront for Americans.

Opportunities from recent developments| PoC diagnostics market
The move toward minimally invasive treatments along with advances in technologies have enabled a more nuanced understanding of point of care molecular diagnostics industry. This is quite vividly conspicuous from the increasing number of initiatives undertaken by the healthcare giants in proliferating the business trends. Below mentioned are some of the latest developments in the marketplace.

Sekisui Diagnostics, one of the most acclaimed player in U.S. point of care molecular diagnostics industry, has recently announced the launch of Silaris™ Influenza A&B Test. Brainstormed by Mesa Biotech, the Silaris™ test, allegedly utilizes an economical PCR (polymerase chain reaction) testing platform. In this regard, it is important to mention that the United States has been victimized with severe flu over the recent years, with the widespread outbreak of influenza-like illness across the country. Having recognized the need, Sekisui Diagnostics may have taken the decision of integrating it in its business structure.

Another symptomatic precedent depicting how point of care diagnostics companies are breaking the conventional mold and inclining toward smart PoC molecular diagnostics systems is Anitoa's launch of an ultra-portable qPCR system at Molecular Med Tri-con 2018. Dubbed as Maverick, this handheld molecular diagnostics system, reportedly has been created to facilitate PoC molecular testing for both non-medical and medical applications.

In the recent turn of events across PoC diagnostics market, U.S World Health Organization's green signal to OraSure Technologies for its OraQuick HIV Self- Test is certainly a breakthrough of sorts. As per authentic reports, this OraQuick HIV Self-Test

is a simple PoC molecular test aimed to detect antibodies for HIV 1 and HIV 2 with just an oral swab.
Along the similar lines, Quidel Corporation, one of the global providers of PoC molecular solutions, has recently received FDA clearance for its Sofia® Lyme FIA (Fluorescent Immunoassay Analyzer). An absolute state-of-the-art version of its predecessor, Sofia instrumented system, this next generation Immunoassay Analyzer is reportedly capable of detecting IgG antibodies and human IgM from the plasma specimen of patients affected with B. burgdorferi infection. Given the increasing prevalence of Lyme disease across Europe and North America, the instrument is likely to gain an appreciable popularity in the regional PoC diagnostics market.

Challenges in POC molecular diagnostics industry growth
The parade of new technologies also brings with it an array of challenges that must be fundamentally addressed to exploit the fullest potential of point of care diagnostics market. One of the key restraints in the business proliferation has been unspecific governmental regulation with regard to molecular diagnostics assays. While it is not an unheard fact that healthcare fraternity is strongly regulatory driven, what may come as a stumbling block for PoC diagnostics market is that these regulatory norms are not specifically designed for molecular diagnostics. Rather, as per experts' opinion, these standardizations encompass a broad range of products and molecular diagnostics systems are being tried to fit into the existing framework. As a result, sometimes, newer technology based molecular diagnostics do not smoothly fall under the established structure. Additional complexity arises from the prolonged molecular diagnostics process time. Perhaps due to the fact that the development process involves various stages like research, testing, prototype designing, and finally pre- and post-market procedures, PoC molecular testing is claimed to be a little time-consuming than the conventional one. Despite these challenges, potential contenders are betting big on R&D initiatives with a more progressive and expansive approach.

All in all, it can be inferred that PoC diagnostics market would be one of the most fascinating business spaces to watch unfold with the cutting-edge innovations in the years to come. Indeed, regulatory bodies would play a central role in charting the profitable way ahead.

Global Market Insights, Inc. has a report titled, "Point of Care (PoC) Molecular Diagnostics Market Size By Technology [Polymerase Chain Reaction (Real Time PCR, DNA/RNA Purification), In Situ Hybridization, Chips and Microarrays, Mass Spectrometry, Sequencing, Isothermal Amplification, Others], By Infectious Diseases (MRSA, Clostridium difficile, Vancomycin-resistant Enterococci, Carbapenem-Resistant Bacteria Testing, Flu, Respiratory Syncytial Virus, Candida, Tuberculosis and Drug-resistant TB, Meningitis, Gastro-intestinal Panel Testing, Chlamydia, Gonorrhea, HIV , Hepatitis C, Hepatitis B, HPV, Syphilis, Others), Industry Analysis Report, Regional Outlook (U.S., Canada, Germany, UK, France, Spain, Italy, Russia, Japan, China, India, South Korea, Malaysia, Thailand, Vietnam, Philippines, Australia, Brazil, Argentina, Mexico, South Africa, Nigeria, Egypt, Morocco, Saudi Arabia, UAE), Application Potential, Price Trends, Competitive Market Share & Forecast, 2017 – 2024" available at
https://www.gminsights.com/industry-analysis/point-of-care-poc-molecular-diagnostics-market