A synopsis of orthopedic devices industry dynamics: Industry to be characterized by strategic collaborations and an ironclad regulatory landscape
Published Date: August 10, 2017 Author: Satarupa De
The past decade has brought in unprecedented advancements in the medical devices business space, orthopedic devices market being no exception. A transformational shift with respect to the value chain has been observed lately in global orthopedic devices industry, from a volume-based approach to one that is outcome-based, centered around patient care and wellness. The presence of a strong regulatory framework, the advent of highly-advanced technologies, and the subsequent emergence of a fierce competitive arena have combinedly brought forth a slew of complexities and challenges for orthopedic devices market giants. Faced with relentless government pressure to reduce the cost burden across the overall healthcare spectrum, orthopedic devices market investors are banking on growth via breakthroughs in product innovation and engineering. Recently, Mitek Sports Medicine, a subsidiary of DePuy Synthes, launched a new range of knee arthroscopy solutions to simplify ACL and Meniscal Repair surgeries. Undoubtedly, this comprehensive solution set will further strengthen DePuy's leadership in orthopedic devices industry, pertaining to the fact this new offering is reported to combine the performance parameter with improved operating room efficiency and reproducibility.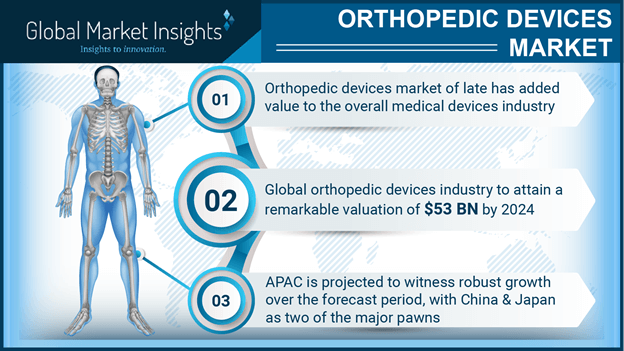 The latest trends in the orthopedic devices market are extensively driven by commoditization, given the growing emphasis on cost-reduced implants and delivery systems across the healthcare fraternity. Cost control has become even more important with the expanding pool of regulatory approval. On these grounds, orthopedic device manufacturing companies have been increasingly focusing on eliminating non-value-added cost drivers to curtail unnecessary middlemen expenses across the supply chain in addition to the regulatory spending. Analysts claim that the delivery value in the current healthcare space will require the implementation of strategies such as M&As, partnerships, and joint ventures. A recent report put forward by Global Market Insights, Inc reports orthopedic devices industry size to exceed USD 53 billion by the end of 2024.
How the rising number of osteoarthritis, osteoporosis, and obesity incidences are impacting orthopedic devices market growth:
Osteoporosis has been recognized as a major concern since long, however, the recent attention it has claimed can be majorly credited to the numerous occurrences of osteoporosis, complemented by the increasing penetration of obesity and osteoarthritis. Subject to these healthcare considerations, orthopedic devices market commercialization has gained a renewed traction. Enlisted below are some essential statistics by the International Osteoporosis Foundation related to the severity of osteoporosis and the necessity of treatment for patients with low bone mass density.

As per estimates, worldwide, at least one in five men and one in three women above 50 suffer fractures caused by weak bones.

The risks from forearm, hip, and vertebral fractures collectively account for almost 40% of the equivalent risk from CVD (cardiovascular diseases)

By 2050, global prevalence of hip fracture in men and women is forecast to increase by 310% and 240% respectively from that what recorded in 1990.

Expanding aging population
Osteoarthritis is a classic age-related disorder, though it is often labeled a chronic degenerative disease that mainly occurs due to the maturing of the musculoskeletal system with age. As per WHO's 2015 report, global population above and equal to 60 years will reach 2 billion by 2050, a massive surge from 900 million that was recorded in 2015. This estimate is a sure-shot evidence of the growth potential of orthopedic devices industry in the coming years.

Demand for minimally invasive surgeries
Orthopedic devices market giants have been increasingly investing in research activities, shifting their focus from run-of-the-mill product development to noteworthy innovative breakthroughs. This stretch of investment and distinct drive for innovation have significantly upscaled the demand for minimally invasive surgeries across the extended orthopedic space. With technological proliferation, minimally invasive surgical procedures for knee and hip replacement have come to being regarded as the state-of-the-art approaches, subject to their shorter recovery time, lesser bleeding, low infection risk, and shorter scar length.

| | | |
| --- | --- | --- |
| Product | Minimally invasive surgeries | Companies involved |
| Joint reconstruction | Arthroscopy, Osteotomy, Arthrodesis, Resurfacing Surgeries | DePuy Synthes Spine, Medtronic, Global Medical Co, NuVasive |
| Spinal devices | Lumber Discectomy, Laminectomy, Foraminotomy, Laminotomy | DePuy Synthes, Stryker, Zimmer Biomet, WrIght Medical |
3D printing penetrating in orthopedic devices market
Another disruptive trend underlining the massive transformation in the orthopedic devices industry is the proliferation of 3D printing in the business space. Though still at a nascent stage, orthopedic devices market has already experienced a profound potential for volume-based and patient-centric applications from the deployment of 3D printing. As per market experts, one of the myriad benefits of 3D printing incorporation in orthopedic implants is the intrinsic geometric freedom of this technology. This feature not only allows manufacturers to develop more natural anatomical shapes, but also incorporates the capability of designing bone replacement scaffolds, which can be effortlessly integrated to implant design. Standardization of 3D printing is still an ongoing process. Since 3D printing equipped orthopedic implants are highly customized, the cost factor is one issue that market investors are focusing on. Nonetheless, realizing the potentiality of this technology across certain healthcare domains, investors are highly optimistic that 3D printing in near future will represent a significant portion of orthopedic devices industry.

Regulatory environment impacting orthopedic devices industry dynamics
As the industry landscape continues to evolve, regulatory schemes are becoming much more stringent and obligatory. While the aspect of regulatory scrutiny is not specific to orthopedic devices industry alone, the effect of these mandatory roll outs on this sector is quite undisputable, given the fact that orthopedic devices market procures a major chunk of the overall medical devices industry space. Among the few regulatory organizations that have undertaken notable measures, FDA tops the list.

In 2016, the FDA released a modified draft guidance for Class II and Class III orthopedic device developers, pertaining to the information that should be included in the devices prior to submission.

To that end, the GHTF (the Global Harmonization Task Force), involving five countries including U.S., Japan, Canada, European Union, and Australia, has formed a voluntary organization with the core objective of harmonizing and streamlining regulatory standards. In this regard, it is prudent to note that this organization currently does not exist and its pursuing work has been taken over by International Medical Device Regulators Forum.

An insight into the competitive landscape of orthopedic devices market:
With leading companies having set their sights on capitalizing the growth opportunities of the orthopedic devices market via breakthrough innovation, a major portion of the industry participants believe that the future of innovation lies in partnerships rather than inhouse efforts. In fact, many orthopedic devices manufactures are entering strategic collaborations for expanding their business portfolio to strengthen their geographical presence.

Here are some of the recent M&As and agreements that took place across the orthopedic devices industry:
Zimmer Biomet has been chalking out a crafty growth strategy through acquisitions. Focusing on its expansion in musculoskeletal portfolio, the firm acquired LDR Holdings in 2016 to strengthen the company profile in the spinal segment. Other notable acquisitions that have proved to be profitable for the company include those of Medtech and CD diagnostics.

Bone Therapeutics, the bone cell therapy company, in the same year, extended a strategic alliance with the synthetic bone substitute specialist, Kasios for developing next-generation spinal fusion integrated products.

Medtronic PLC has complemented an additional investment of USD 20 million in Israeli med-tech firm, Mazor Robotics, an announcement that came through post Mazor Robotics introduced their robotically assisted advanced spine-surgery system, Mazor X.

Depicting the high growth potential of APAC orthopedic devices industry:
Market experts claim the growth of orthopedic devices market in the coming years to be substantially high across the countries falling under the Asia Pacific umbrella. With intense pressure on cost optimization and stringent regulatory compliances, orthopedic devices market players, of late, have been facing challenges in experiencing a profound growth in mature markets. Along with providing new opportunities and establishing a better customer reach, developing markets also complement the business landscape in terms of research activities with lower input cost, fewer entrance barriers, and comparatively lesser regulatory hurdles. In fact, China and Japan are forecast to stand out in the Asia Pacific orthopedic devices market over 2017-2024. Procuring almost 40% of the industry share, Japan market is slated to surpass USD 2 billion by 2024. China orthopedic devices industry will also exhibit a lucrative double-digit y-o-y growth of 12% over the coming seven years.

Takeaways
While market giants seek growth in the years ahead, an array of daunting challenges is expected to hinder orthopedic devices industry expansion to some extent, pricing pressure and intense competition being at the pinnacle. With profit margin being squeezed, efficiency improvement in R&D activities is considered as the next biggest challenge. At the helm of the top challenges of orthopedic devices manufacturers stands the threat from increased regulatory policies. Despite these challenges, investors are making big bets on research initiatives with a more expansive and progressive approach. This can be evidenced by the ongoing strategic collaborations, acquisitions, and agreements that are quite common in orthopedic devices industry ground.
Driven by the pace of innovation that will continue to accelerate with technological proliferation, orthopedic devices industry landscape is forecast to witness a renewed dynamism with regard to business models, product differentiation, and manufacturing processes.

Global Market Insights, Inc. has a report titled "Orthopedic Devices Market Size By Product (Joint Reconstruction, Spinal Devices, Trauma Fixation Devices, Orthobiologics, Arthroscopic Devices), Industry Analysis Report, Regional Outlook (U.S., Canada, Germany, UK, Italy, France, Spain, Poland, Russia, China, India, Japan, Australia, South Korea, Taiwan, Argentina, Brazil, Mexico, South Africa, Saudi Arabia, Qatar, Egypt, UAE), Application Potential, Competitive Market Share & Forecast, 2017 – 2024" available at https://www.gminsights.com/industry-analysis/orthopedic-devices-market