Neurovascular Devices industry driving a breakthrough in the medical devices sector
Published Date: September 4, 2017 Author: Satarupa De
Neurovascular devices industry, one of the most integral domains of the medical equipment business landscape, of late, has been combating with pricing pressure in an ambiance where hospital systems and payers yield greater influence. As health insurers and governments of developing & developed nations take measures to limit surgical cost, public hospitals are operating at tighter budgets, while private clinics are getting lower reimbursements. On a broader prospect, these initiations are expected to trigger a consequential transformation in the merchandising process pertaining to the product landscape of neurovascular devices market. With the amalgamation of three major disruptive factors which include paradigm shift in the health care business model from volume to patient centric approach, strong regulatory driven business structure, and lastly proliferation in healthcare IT, it is quite certain that neurovascular devices industry would experience a renewed dynamism within next few years.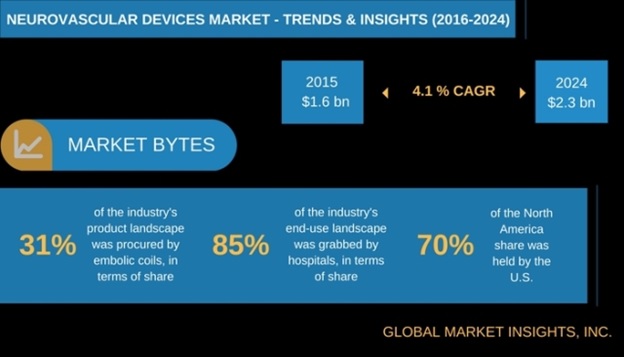 Origin of neurovascular devices industry
NeuroIntervention, the endovascular treatment of neurological disorders, has of late emerged as a profound ground for neurological expertise, offering highly advanced clinical services to patients, who a couple of years back were beyond therapeutic approaches. Such advancements in endovascular treatments by extension have upscaled neurovascular devices market. The inception of neurovascular surgical dates back to 1904, when Dawbarn demonstrated open access to carotid artery for the embolization of malignant tumors in neck and head with liquid paraffin injection. Authentic catheterization of intracranial vessels was launched in the year 1964 by Luessenhop and Velasquez, which indeed added a new dynamism to neurovascular devices market outlook.

Prevalence of stroke | Proportional Influence on neurovascular devices industry demand
The disruptive trends in healthcare sector which is witnessing a paradigm shift in its approach model is one of the profound factors influencing neurovascular devices industry trends. Another major driver fueling the application portfolio of this business is the exponentially increasing rate of stroke, at a global scale. In fact, statistics related to stroke pervasiveness are alarming, especially in the United States. A survey by the American Heart Association (AHA) depicts that almost 795,000 people get attacked by stroke every year. Data further claims the disease to be one of the top 5 causes of death in the U.S., registering casualties of 129,000 people/years. A major factor that comes as a stumbling obstacle in the disease treatment is the lump sum cost associated with it and the lengthy surgical procedure. The total cost associated with cardiovascular diseases and stroke is recorded to be more than USD 320 billion annually. Expanding geriatric population base is expected to further upscale neurovascular devices market commercialization, given the fact that people aged more than 60 are more prone to stroke. The Centers for Disease Control and Prevention claims in their recent report that almost 87% of total strokes fall under the category of ischemic strokes, which occur due to blockage of blood flow to the brain. The disease has been found to being successfully addressed using endovascular vascular surgical techniques, which by extension, is fueling neurovascular devices industry demand.

Boasting a diversified product palate including carotid stents, neurovascular thrombectomy, embolic coils, embolic protection devices, intracranial stents, balloons, liquid embolic coils, stent retrievers, flow diverters, carotid stents, and intrasaccular devices, neurovascular devices industry recorded a revenue of USD 1.6 billion in 2015. As per a recent speculation by Global Market Insights, Inc., the overall neurovascular devices market valuation is slated to surpass USD 2.3 billion by the end of 2024, with a projected CAGR of almost 4.1% over 2016-2024.
With the advent of technology, transluminal treatment of ischemic stroke continues to evolve, with leading players operating in the neurovascular devices industry focusing on product diversification and inorganic growth. Having an extensive product portfolio, the fierce competition in the competitive landscape is quite perceivable. Biggies in the business space include Stryker, Medtronic, Terumo, and Johnson & Johnson. In the years ahead, neurovascular devices market is expected to make room for new entrants to exploit the potential opportunities of the business space.

Neurovascular devices industry | Competitive Profiling

Stryker Corporation
This medical device maker is one of the most renowned names in the neurovascular devices industry. Trevo Retriever, a groundbreaking innovation by the Michigan based firm received green signal in the year 2016 by the Food and Drug Administration as a front-line treatment which has the potential of reducing disability in Ischemic Stroke patients. Trevo is the only thrombectomy device which has received the go ahead signal from FDA. Considering the depth of clinical evidences, Trevo Retriever has also been included in the American Heart Association stroke care guideline update in 2015 where stent retrievers are being recommended as a standard treatment for stroke patients suffering from large artery blockage.
Stryker continued to drive clinical developments in the field of stroke, marking a strong footprint in the neurovascular devices industry. In this year, the multinational firm sponsored a randomized controlled survey, DAWN Trial, designed to evaluate the functional outcomes of 206 stroke patients treated with Trevo Retriever or ninety days with those receiving conventional medical therapy. The results from the trial demonstrated that treatment with Trevo Retriever prominently decreased post stroke disability to almost 73% when compared to conventional therapies. Such strong factual evidences further strengthen Stryker's position in the neurovascular devices market.
Medtronic
Mergers & Acquisitions have been the key strategy adopted by Medtronic to establish its ground in the neurovascular devices industry. The plethora of acquisition activities undertaken by the medical tech giant in the year 2015 can be placed as substantiations to the aforesaid fact. The year began with Medtronic's tie up with Covidien in a cash & stock transaction valued at USD 49.9 billion. Following this acquisition, Medtronic acquired Aneurysm device developer Medina Medical. The culmination of these collaborations strengthened Medtronic's product portfolio in the neurovascular devices industry, with a leading market position in areas like clot removal and flow diversion sectors.
In fact, Medtronic's flow diversion devices can be aptly considered as a major breakthrough in the neurovascular devices market. Their latest flow diversion equipment, the Pipeline Flex Embolization device has been claimed to be an unparalleled innovation in the flow diversion sector deployed for the treatment of giant brain aneurysm. Reportedly, this next generation flow diversion device received FDA approval in the year 2015.

Terumo Corporation
Another leading name in the neurovascular devices industry is Terumo. This Japan based medical devices firm was established in 1921. Back then, their product profile was restricted to cardiovascular devices. Whereas outside Japan, Terumo commercializes a full pipeline of medical devices for neuroendovascular procedures which include transradial vascular access and embolization. The breadth and depth of the company's product landscape place them as a strong contender in the global neurovascular devices market.

The company further crafted major breakthroughs in the neurovascular devices market by the diversifation of its devices spectrum ranging from FRED, ERIC, LVIS, and Casper Rx.

Though the fierce pressure with regards to the pricing strategies have created an environment of reducing the costing parameters in the medical devices business space, neurovascular devices industry remains an exception to the aforementioned trend. Having said that, it is justified to mention that high device cost and inadequacy of skilled neurosurgeons are two of the prime hindrances in the neurovascular devices market growth path. However, once a niche domain centering around medical academia and premium medical centers has now appreciably penetrated small to medium sized medical centers including both neurologists and neurosurgeons. With improved patient outcome, economic impact, and value based reimbursement policies, neurovascular devices industry is poised to be one of the most captivating markets to watch unfold.
Global Market Insights, Inc. has a report titled "Neurovascular Devices Market Size By Product (Embolic Coils, Carotid Stents, Intracranial Stents, Neurovascular Thrombectomy, Embolic Protection Devices, Flow Diverters, Intrasaccular Devices, Liquid Embolic Coils, Balloons, Stent Retrievers), By Process (Neurothrombectomy, Cerebral Angiography, Stenting, Coiling, Flow Disruption), By Therapeutic Application (Brain Aneurysm, Stenosis, Ischemic Strokes), By End Use (Hospitals, Clinics, Ambulatory Surgical Units), Industry Analysis Report, Regional Outlook (U.S., Canada, UK, Germany, France, Spain, Italy, Russia, Japan, China, India, Australia, Korea, Brazil, Mexico, Argentina, Saudi Arabia, UAE, South Africa), Growth Potential, Competitive Market Share & Forecast, 2016 – 2024" available at
https://www.gminsights.com/industry-analysis/neurovascular-devices-market