A concise insight into leather chemicals industry in terms of the application landscape, with the footwear sector being a prominent growth avenue
Published Date: August 30, 2017 Author: Dhananjay Punekar
Leather chemicals industry, collectively alleged by experts to be one of the fastest growing businesses across the globe, is highly consumer-driven. The usage of leather dates back to the Neolithic era, with the rise of the animal husbandry sector, where animal hides had been scrapped off and utilized for a variety of commercial purposes. Today, centuries later, leather is still used massively across the garments, furniture, automotive, and footwear sectors, thereby creating a favorable scope for the development of leather chemicals industry. Footwear, among these, has particularly accrued a proportional share of the overall business – as per a leather chemicals market report put together by Global Market Insights, Inc., the footwear sector dominated the overall industry in 2016, possibly driven by the escalating demand for high-quality leather footwear. Having recorded a valuation of USD 6 billion in 2016, leather chemicals industry is likely to carve out a commendable roadmap over the forthcoming years.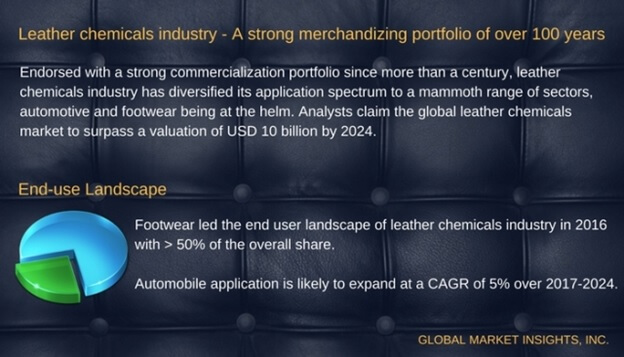 Leather chemicals Industry outlook across the automotive sector
Leather chemicals find extensive utilization across the automotive sector, owing to the rising popularity of personal cars, which is evident from the statistics – a reliable research report states that global passenger car sales were registered at around 69 million units in 2016, which will undeniably create a favorable growth avenue for leather chemicals market players. The automotive industry, of late, has been functioning on the premise of changing consumer preferences – in effect, consumers are now the new monarchs, given their disposable incomes and subsequently rising purchasing parity. Extensive research in the field of biotechnology has led to the introduction of new types of leather chemicals such as bio-based aqueous polyurethanes that offer exceptional film performance, owing to which they find usage in car seats, dashboards, steering wheels, and consoles.

Strict legislations pertaining to use of VOCs (Volatile organic Compounds) along with the growing urge for robust coatings across the automobile sector have created a high demand for water-based polyurethanes as a high-performing leather finishing chemical across the automobile sector. Its exceptional ability to protect the leather from stains is expected to create a profitable growth map for leather chemicals industry from automotive applications, which has been forecast to register a CAGR of 5% over 2017-2024.
Leather chemicals Industry outlook across the footwear sector
Footwear is one of the most prominent, lucrative application arenas of leather chemicals market. An eminent research report claims that global footwear industry will record a valuation of more than 38 billion pairs by 2025, a major sizable portion of which may construe leather products. Leather chemicals are heavily used in the transfer coating process to develop a breathable micro-porous membrane on a carrier substance, that will seemingly make the shoes more comfortable to wear. The footwear sector has been experiencing a massive change in terms of consumer preferences, given their changing lifestyles and rising spending power.

Another major factor driving leather chemicals industry from footwear applications is the changing fashion trends across developed economies such as the United States and Europe. Leading footwear firms such as Trumpler, AI Color, Sanovaa International, PielColor, Saba Group, and Heba Chemi, have been striving to manufacture high-grade products that will match up to the current trends thriving in the fashion footwear domain. An increased preference toward eco footwear are likely to dictate the trends in footwear sector, which may cause considerable disruption in leather chemicals market.
How mergers & acquisitions have influenced leather chemicals industry
Business strategies such as mergers & acquisitions and joint ventures have had a rather proportional impact on leather chemicals market. In the first quarter of 2017, BASF SE, a leading German manufacturer of chemicals, acquired Rolic AG, a leading industry player in photoalignment materials technology. The acquisition is predicted to help the former expand its product portfolio and explore new growth avenues across the electronics sector.

In April 2017, Lanxess AG, a German based specialty chemicals firm, completely acquired Chemtura Corporation, one of the leading flame retardant & lubricant additive suppliers located in Germany. The acquisition agreement will help Lanxess to enter organometallics & urethanes business. It will also help the firm to expand its operations across North America along with the creation of more jobs for the locals, thereby stimulating the growth of leather chemicals industry.
In March 2017, Stahl, a leading manufacturer of performance coatings and process chemicals based in the Netherlands, has signed a pact with BASF SE to acquire its leather chemicals business by end of 2017. The latter is forecast to provide large quantities of leather chemicals to the former as a part of its supply deal. As per the agreement, Stahl will also be purchasing its leather chemicals manufacturing business in Spain.

The aforementioned acquisitions will serve to facilitate novel product innovations across the leather chemicals industry, in addition to curbing the global greenhouse emissions.

The impact of novel product launches to accelerate leather chemicals industry expansion
BASF SE, an industry leader in leather chemicals production, is expected to display its newly created integrated solutions scheduled at All China Leather Exhibition (ACLE) in Shanghai during the last week of August and the first week of September 2017. The firm will demonstrate how a varying kind of tanning leather chemical that will help in maintaining a green environment and reduce power & water consumption. These measures will not only help major industry players raise their profits, but will also contribute notably towards the growth of leather chemicals market.

Leather Chemicals industry – Present and Future
Leather chemicals market growth may be hindered due to the release of pollutants which can adversely impact the environment. On these grounds, many key industry players have introduced new products that comply with the global leather sustainability standards set by regulatory authorities to maintain occupational health & safety and ecological balance, thereby providing an impetus to the leather chemicals industry.

The presence of large as well as small & medium sized enterprises across the globe has brought about an intense competitiveness in leather chemicals industry. To combat the new entrants and consolidate their position in the business, key industry participants are adopting successful strategies such as mergers & acquisitions to gain a competitive edge. According to Global Market Insights, Inc., leather chemicals industry is slated to hit a revenue of over USD 10 billion by 2024, owing to its substantially mammoth application spectrum.

Global Market Insights, Inc. has a report titled "Leather Chemicals Market Size By Product (Tanning & Dyeing, Beamhouse Chemicals, Finishing Chemicals), By End-user (Footwear, Furniture, Automobile, Garments, Gloves), Industry Analysis Report, Regional Outlook (U.S., Canada, Germany, UK, France, Spain, Italy, China, India, Japan, Australia, Indonesia, Malaysia, Brazil, Mexico, South Africa, GCC), Growth Potential, Price Trends, Competitive Market Share & Forecast, 2017 – 2024" available at https://www.gminsights.com/industry-analysis/leather-chemicals-market