Top two megatrends defining industrial floor coatings market: 'Go-green' notion to stimulate the industry dynamics over 2017-2024
Published Date: August 30, 2017 Author: Satarupa De
The profitability quotient of industrial floor coatings industry is forecast to escalate in the ensuing years, augmented by the expanding construction sector. As per a research report by Global Market Insights, Inc. the overall construction spending was approximately around USD 7 trillion in 2015, and is foreseen to cross USD 13 trillion by the end of 2023. Flooring being an integral part of any construction project, it is quite evitable that the construction domain will have a key role to play in the development of industrial floor coatings market, which of late, seems to be perpetually dependent on the demand for aesthetic flooring. Market players are heavily engaging in diversifying the product portfolio in sync with the environmental viability and sustainability trends. The escalating number of property renovation projects coupled with a lucrative pipeline of infrastructural projects especially across the APAC belt are expected to enlarge the business scope in the coming years.

Industrial floor coatings industry outlook is expected to shift toward waterborne epoxy technology in the future, considering the exponential deployment of artificial resins for flooring in recent years. Competitive pricing, easy maintenance, and aesthetic appearance are some of the factors that are driving industrial floor coatings industry size from epoxy cementitious products. In addition, regulatory norms imposed by the USDA and FDA with regards to a variety of epoxy flooring systems is further stimulating the product penetration in myriad professional domains, thereby influencing industrial floor coatings industry share. A recent report compiled by Global Market Insights, Inc., claimed industrial floor coatings industry to witness a y-o-y growth of 6.5% from epoxy cementitious products over 2017-2024. The report also affirms epoxy cementitious products to have covered around 25% of the overall industrial floor coatings industry share in 2016, which was valued at USD 3.5 billion.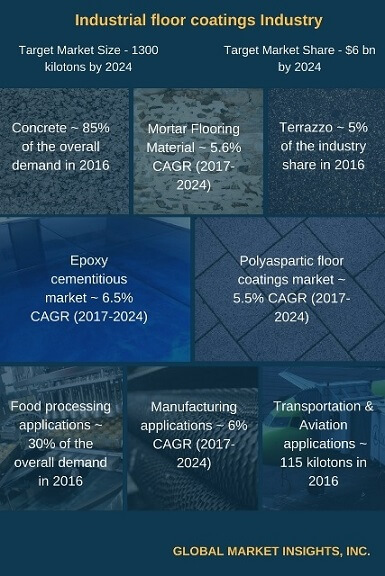 In a bid to respond to the environmental degradation call, many of the industries across the globe have been increasingly leaning toward sustainable development, industrial floor coatings market being no exception. On that note, enlisted below are the major two mega trends that are expected to enhance the business landscape in the forthcoming years.

Green technology
A plethora of governmental regulations, green certifications, and growing consumer consciousness regarding environmentally viable coatings are collectively indicating 'green technology' to be the next disruptive trend influencing industrial floor coatings industry growth. Leading giants like BASF are continuously investing in R&D activities to bring forth energy efficient processes that would offer their customers a more sustainable product portfolio. The company's Green Sense Concrete program is one such breakthrough in the global industrial floor coatings industry. This eco-friendly service package from BASF optimizes the concrete mixture in terms of raw materials that enhance the improved functionalities of concrete like workability, resilience, durability, and above all, environmental feasibility. In fact, statistics depict that deployment of Green Sense Concrete Technology in the construction of the new One World Trade Center has led to energy savings of around 25400-megawatt hours with the curtailment of approximately 15,800 tons of CO2 equivalents when compared with the traditional concrete mixtures.

Stringent regulatory compliances, both at the state and national level characterize the industrial floor coatings market landscape. The United States EPA (Environmental Protection Agency) and the Architectural and Industrial Maintenance (AIM) are some of the renowned organizations enforcing mandatory roll outs that the product manufacturers need to comply with. Concurrently, several third party green certifications initiated by international organizations like LEED (Leadership in Energy and Environmental Design), National Association of Home Builders, and U.S. GREENGUARD are also promoting green technology penetration in the industrial floor coatings industry. Each of these third-party certifications enlist their own sets of criteria and standards, which are recurrently updated or revised.

While the regulatory framework of the government will continue to play a pivotal role, consumer preferences for eco- friendly products and self-accountability have of late become the driving force for renewed dynamism in industrial floor coatings industry. In fact, as per expert analysis, conscious consumers of today are leaning toward companies that have provided sufficient evidence that they undertake social responsibility in their business practices.
Regional Regulatory framework
A strict regulatory landscape speaks volumes and has contributed significantly toward industrial floor coatings market. Though certain regulations are not strictly imposed on industrial floor coating market giant, this business space is closely linked to diversified utility domains like construction, food processing, and automotive, the players of which strictly adhere to regulatory compliances. This will leave a subsequent impact on the entire value chain of industrial floor coatings industry. Some standardized safety procedures and mandated norms are enlisted below:

In China, growing concerns over outdoor air quality and smog are driving the implementation of more strong regulations in the industrial floor coatings market, with regards to VOC content and harmful gas emissions in the coatings. The increasing adoption of these regulations has profitably driven the regional industrial floor coatings industry growth. These obligatory protocols have led to a consequential transformation in the product trend from solvent based technologies to epoxy based waterborne coatings, substantially opening numerous innovation opportunities for industrial floor coatings industry biggies.

The enactment of EC directives in compliance with the HACCP (Regulation 852/2004 of the European Parliament) deals with the regulation and monitoring of environmental safety in the workplace. This has resulted in the introduction of severe hygiene norms with respect to high-performance levels of the floor coatings applied in the industrial environments, especially across the food sector. Food processing industry is one such domain which is directly linked with the government standards related to health and hygiene. Coatings selected for the food processing facility floor application must be durable and resistant enough to prevent contaminants from permeating through the concrete surface, thereby ensuring a hygienic surface. Food processing sector thus, proves to be significant contributor to the industrial floor coatings industry share, speaking of which, it is prudent to note that in 2016, food processing applications covered 30% of the overall industrial floor coatings market.

Revised VOC regulations brought forth by international organizations like CARB (California Air Resources Board), OTC (Northeast Ozone Transport Commission), SCAQMD (South Coast Air Quality Management District), and U.S. EPA (Environmental Protection Act) have become more restrictive with regards to lowering the VOC content of coatings. For industrial floor coatings market players, this is certainly an important consideration as per which they need to devise new growth strategies.

Leading industry players, in a way, are set to exploit the numerous opportunities and challenges offered by industrial floor coatings market, by investing in advanced technologies that enable coatings with improved functionality. For instance, the recent trend in the coatings sector is that of developing products that can reduce heat transfer during the coating process. This is quite an evidence of the renewed dynamics of industrial floor coatings industry. Another instance is that of Lifeshield industrial wood coatings, a byproduct of Axalta Coating Systems, offering scratch proof and scuff resistance wood floors. The unique blend of flexibility, toughness, and clarity has resulted in an unmatched durability and aesthetic appearance. It has also been claimed that these coatings also comply with all regulatory guidelines of low VOC content and exhibit superior moisture resistance characteristics. Another giant in the industrial floor coatings industry, AkzoNobel has also been consistently investing in engineered floor coatings ranging from solid wood plank flooring to vinyl floor covering. With established giants leading the way, with unprecedented investments for product diversification, industrial floor coatings market is certain to grow at a tremendous pace, with an estimated target valuation of more than USD 6 billion by the end of 2024.

Global Market Insights, Inc. has a report titled "Industrial Floor Coatings Market Size By Product (Epoxy, Polyaspartic, Polyurethane, Acrylic, Epoxy Cementitious, Methyl Methacrylate), By Component (Single Component, Double Component, Three Component, Four Component), By Flooring Material (Concrete, Mortar, Terrazzo), By Application (Manufacturing, Food Processing, Aviation & Transportation, Warehousing), Industry Analysis Report, Regional Outlook (U.S, Canada, Germany, UK, France, Italy, Spain, Poland, Russia, China, India, Japan, South Korea, Malaysia, Indonesia, Thailand, Brazil, Mexico, Argentina, Saudi Arabia, UAE, Qatar, South Africa), Growth Potential, Price Trends, Competitive Market Share & Forecast, 2017 – 2024" available at https://www.gminsights.com/industry-analysis/industrial-floor-coating-market