Five major trends in digital health industry to watch out for in 2017 and beyond
Published Date: August 11, 2017 Author: Ojaswita KutepatilShare
Digital health market has rightly proved to be an optimal neutral territory seamlessly blending in genomic and digital technologies to enhance healthcare delivery and improve personalized care. The inherent evolution of digital health industry is evident from a recent news snippet that created waves of acclaim across this business space - Australia's initiative to mandate e-health records for all citizens. The news made it to the headlines when the digital health services ecosystem received the official "go ahead" signal by the government. This accomplishment pinpoints to the fact that health digitization and value based care will continue to depict an upward trend, thereby creating ample opportunities for investors in digital health market. The tremendous potential of digital health solutions to reshape the healthcare landscape, has enthralled the stakeholders to adapt and innovate digital technologies for value. Statistics claim that digital health market generated revenue over USD 51.3 billion for the year of 2015 and is further predicted to record a remarkable valuation of over USD 379 billion by 2024, growing at a robust rate of 25.9% over 2016-2024.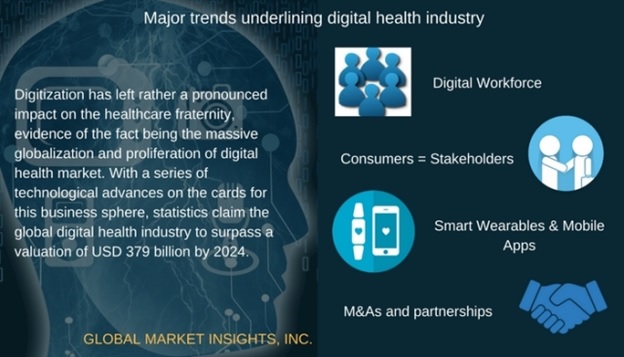 Healthcare being one of most dynamically evolving sectors of recent times, when aided by transformative digital technologies, is likely to give rise to a multitude of trends that may have a rather metamorphic effect on the growth of digital health market.

The growth of the Digital Workforce
Advances in artificial intelligence (AI), natural language processing, machine learning, data analytics, and neural networks have changed the paradigm of operational excellence. These digital workforces have immense strength to reduce the high cost of medical treatments by almost half. AI is among the most excerpted technologies in digital health industry, which is set to improve disease diagnosis and treatments. As per estimates, the market valuation of artificial intelligence systems is expected to cross approximately USD 6 billion by 2021, from a mere amount of nearly USD 600 million in 2014. Furthermore, the digital workforce is likely to integrate with everything from mass health management to digital objects, which are capable of answering patient queries.

Traditional health care organizations adopt digital health: Consumers become new stakeholders
An increasing number of established healthcare players will be willing to incorporate advance technologies and replace their redundant infrastructure to stay in competition. These consumers prefer highly advanced technology and not traditional outdated solutions. This trend is most likely to elevate digital health market share by generating colossal product demand.

Digital health industry is also set to witness an increased involvement of consumers, not only as end-users, but as investors. The emergence of equity crowdfunding platform has made it even easier for consumers to invest in this business sphere, which has created opportunities for digital health startups. In fact, crowdfunding platforms like Indiegogo and Kickstarter are directly interfacing the startups with the investors, which will help them to commercialize their healthcare solutions. For the record, in 2015, more than 1000 entities have provided funding and made investments in at least one company in digital health industry.

Rise of Smart Wearables
The wearables segment in digital health industry has witnessed a flood of investments. Growing use of smart clothing across various industrial verticals, have provided huge opportunities for the fabric & sensor manufacturers, application developers, and other players operating across the value chain to generate lucrative revenues by fulfilling customer requirements. Wearable technologies will play an important role in digital health industry, by delivering enhanced services through real time. Smart wearables including wristbands, chest straps, watches, and healthcare monitoring devices that are able to share key data, will allow for 24x7 health monitoring.

Nokia's 2016 acquisition of Withings, a French digital health company, bears testimony to the fact that prominent digital health companies are trying to boost their portfolio of wearables and fitness devices.

Embracing mobile application
With the increasing use of mobile devices, the demand for healthcare apps has observed a burgeoning rise. mHealth market has crossed an inflection point as mobility solutions advance and consumer adoption increases. As per Global Market Insights, Inc., worldwide mHealth segment within digital health market is expected to surpass gains over USD 205 billion by 2024, growing at an annual growth rate of 36.5% over 2016-2024.

Many companies in digital health industry are turning to telehealth and mHealth wearables to help patients with health, diet and lifestyle. Baltimore's Mount Washington Pediatric Hospital is the latest in the pipeline to use mHealth devices and telehealth platform such as Fitbit and Fitbit-connected scales to monitor health and connect with patients. This platform is designed by Fruit Street, which has also integrated its technologies with the Apple Watch, Fitbit and Validic.

The Rare Collaborations
Healthcare technologies are currently at the pinnacle of success, owing to which major investors have their eyes set on digital health market. In 2016, Novartis collaborated with Qualcomm and launched their USD 1 billion partnership to bring digital innovation through products, technologies, and services. Similarly, many tech giants and major corporations are making inroads into the healthcare industry. Enlisted below is a set of unconventional collaborations witnessed by digital health market, including biggies such as Google with Novartis, Apple with Epic, and IBM with CVS.

Prominent collaborations in the digital health market
Collaborations between feature companies and digital health industry leading giants underline a greater impact that is likely to redefine patient experience. Philips Healthcare, Qualcomm, McKesson Corporation, AT&T, iHealth Lab, and LifeWatch AG are some of the top-notch companies operating in digital health industry and are foreseen to hold a major chunk because of their strong financial base, service, and brand value. However, there is a range of niche companies that have joined forces with other firms to innovate and take digital health market to new heights.

| | |
| --- | --- |
| Companies | Contribution toward expansion of digital health market |
| Insurance company Oscar Health & Fitbit | The two companies collaborated to promote fitness and digital health, rewarding insured people with USD 1 on reaching their fitness goal. |
| Patient community site Patientslikeme.com & AstraZeneca | The alliance aimed to support patient-driven research initiatives and improve outcomes in several therapeutic areas. |
| Novartis & Google | Novartis planned to develop the digital contact lens that Google patented in 2014, which is most probable to measure blood glucose levels from tears. |
| Pfizer & Bar-Ilan University lab in Israel | The organizations aimed to develop DNA robots that could efficiently target diseases and also deliver the drug to the desired location. |
| Boehringer Ingelheim & Sutter Health | The firms planned to bring in new technologies to patients, in addition to testing mobile technologies, digital health solutions, & data analytics. |
| Human Longevity Inc. & Cleveland Clinic | The firms will analyze and run the whole genome, cancer, and microbiome sequencing. |
Digital health industry has significantly progressed from its first wave of simple wellness applications and devices to now emphasizing on understanding advanced technology and how can it be used to make healthcare more efficient and effective. The above table gives a clear idea that consumer companies such as Apple, Fitbit, Google, and Samsung intend to continue partnering with major pharmaceutical companies to bring about a change of dynamics in digital health market.

Analytics and big data hold a tremendous unlocked potential for tracking one's health and supporting the commercialization of precision medicine market. The growing cost of healthcare, operational inefficiencies, and lost opportunities have offered ample room for entrepreneurs to disrupt digital health industry. With the ongoing research activities and execution of cost-effective business models, digital health market is likely to witness an upward trajectory in the years to come.

Global Market Insights, Inc. has a report titled "Digital Health Market Size By Technology [Telehealthcare {Telecare (Activity Monitoring, Remote Medication Management), Telehealth (LTC Monitoring, Video Consultation)}, mHealth {Wearables (BP Monitor, Glucose Meter, Pulse Oximeter, Sleep Apnea Monitor, Neurological Monitor), Apps (Medical, Fitness)}, Digital Health System (EHR, e-prescribing System)], Industry Analysis Report, Regional Outlook (U.S., Canada, Germany, UK, Spain, Italy, Russia, Poland, Japan, China, India, Australia, Brazil, Mexico, South Africa), Application Potential, Price Trends, Competitive Market Share & Forecast, 2016 – 2024" available at
https://www.gminsights.com/industry-analysis/digital-health-market