How car sharing market will change the face of mobility in the future
Published Date: May 3, 2017 Author: Saipriya Iyer
Car sharing has emerged as a lucrative, cost-effective, convenient automotive trend in the last few years. Car sharing industry has been on a definite upsurge ever since the concept had been commercially pursued, somewhere in the 1990s. Nearly three decades later, car sharing has transpired to be one of the most reliable means of shared transportation, owing to the myriad benefits it offers.

Car sharing apparently was first introduced somewhere in the late 1940s, in Zurich, Switzerland. What began as a convenient arrangement bloomed into something more substantial in the 1970s and 1980s. The 1990s saw the car sharing market come up again on the scene, witnessing a moderate growth in the countries of Germany and the U.S. However, as of 2016, Germany has a fleet of more than 16,000 shared cars operated by more than 120 companies, which has propelled regional car sharing industry.

Reliable statistics state that in the 1990s, more than 55% of casual travel trips and more than 85% of business-related travel trips included solely one passenger, which led an obvious waste of land, time, money, and resources. The fact that automobiles remained unused for more than 20 hours of the day for the average car owner is a major reason why the U.S. began to seriously consider expanding car sharing market. Australia soon followed suit, and today, the major regions of the world are engaged in increasing the frequency for shared mobility, providing a positive impetus to global car sharing industry.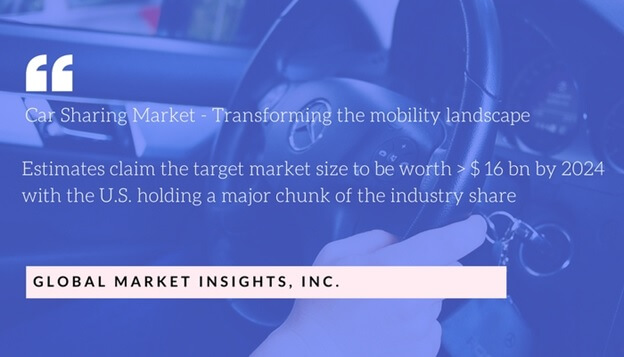 As of 2016, more than more than 50% of the world's population occupies the urban landscape. This number is likely to increase to more than 65% by 2050. With the extensive rise in the urban populace, more and more people will require the convenience of shared mobility for affordability, convenience, and social outlook, which is bound to spur global car sharing market value. A report by Global Market Insights, Inc., states that car sharing industry share is likely to exceed USD 16.5 billion by 2024. Carpooling has been a well-established social trend already, especially across the United States. The trend is now catching on further, with the subsequent hue and cry about carpooling benefits.

Vehicle pooling advantages that will stimulate car sharing market:
The ever-growing urban car-driving population and the presence of pollutant-emitting vehicles contribute to increased pollution levels in the atmosphere. Car sharing industry, on the other hand, provides round trip and one-way trip business models that minimize the necessity of a one person using a single car. The subsequent decrease in the number of cars on the road will abate the pollution levels, thereby stimulating the demand for shared cars. Statistics suggest that shared cars are likely to reduce more than 1.5% of carbon emissions from vehicles. In addition, stringent government rules regarding vehicle emissions will also drive car sharing market over the years to come.

Car sharing significantly reduces the expenditure on gas and fuel, which otherwise causes a dent in the pocket. In addition to financial savings, carpooling reduces the utilization of gas and fuel, which is a grave necessity considering the depleting pool of fossil fuels. Shared cars may probably result in saving more than 35 million gallons of fuel per year, thus impelling car sharing industry.

Other economic advantages of car sharing include saving money on car ownership and maintenance. The expenses saved can be cumulatively utilized to purchase sustainable products for the shared car.

One shared car is likely to replace at least 4-8 privately-owned cars, which will help eradicate traffic congestion significantly. Statistics predict that shared mobility is likely to reduce traffic jams by more than 15% in the United Kingdom alone.

Additionally, this will save a space of at least 36 to 84 square meters, which will heavily contribute to the development of urban infrastructure. Shared cars will reduce parking spaces, contributing to a greener, wider urban space. An instance of corporate car sharing reducing parking hassles would be how the Great Western Hospital in England has managed to free up more than 200 parking spaces daily by means of shared cars. When implemented on a wider scale, saving up on parking infrastructure will lucratively contribute to the expansion of urban spaces, thereby contributing to a pollution-free, less congested, green environment.

The incredible advantages of sharing vehicles, especially electric vehicles, which functionally contribute to reducing pollution, will surely have a positive impact on global car sharing market. The cost-effectiveness and travel convenience offered by shared cars is providing a boost to the geographical landscape of car sharing industry. For instance, a research report claims that the rising demand for shared cars across corporate applications will remarkably fuel China car sharing market, set to grow at a rate of 40% over 2016-2024.

Automakers will also collaborate with car rental companies to enhance the frequency of car sharing. In fact, such partnerships have already seen the light of the day – General Motors recently acquired a share of USD 500 million from Lyft, one of the major leaders in global car sharing industry. Post the deal, GM partnered with Uber to provide its vehicles to Uber's drivers in San Francisco.

Global car sharing market stake is divided among companies such as Zipcar, DriveNow, Uber, Zoomcar, Lyft, and Car2go. These giants will continue investing in high-grade technology and R&S operations to increase the prevalence of carpooling, thereby boosting car sharing industry.

Car sharing market trends affecting the future of mobility
At present, more than 10,000 cars are being collectively driven and shared among more than 340,000 people globally, who are registered members of car sharing organizations. These numbers are subject to change every minute. Over the coming seven years, car sharing industry will observe an exponential increase in its growth graph – it is expected to grow at a CAGR of 34.8% over 2016-2024. This growth is subject to myriad drivers such as rapid urbanization, a stringent regulatory framework, and the economic advantages offered by shared cars.

Major car companies will join hand in the future for providing all the benefits of car travel in one package. They will concentrate on providing the vehicle, shared mobility solutions for private and corporate ventures, and insurance in one seamless assortment of services. The convergence of automakers and technology giants is also expected to remain on the cards, considering the remarkable popularity of autonomous cars market. The future sees car sharing market witnessing a phenomenon of sorts, with electric cars replacing fuel-fired ones. Additionally, the predominance of the smart era will lead to connected vehicles being used as shared cars, which will simultaneously propel smart car market as well as car sharing industry. In fact, statistics suggest that more than 1.1 billion vehicles are expected to be connected to their surroundings by 2025.

The progressive growth of car sharing market will also lead to a dramatic shift in the dynamics of the auto finance market. Since automakers themselves plan to provide insurance, loans, and financing solutions as an integrated package, finance and insurance companies will change their strategy from B2C to B2B. A leading source reports that more than 90% of auto finance market players are currently following the B2C business model, however, the end of the next decade or so will observe more than 30% of auto finance market participants following the B2B business model.

Car sharing is set to revolutionize the automotive industry within the span of the next few years, as per experts. With the numerous technological advancements, rising utilization of mobile applications, and the incredible environmental, social, and economic benefits offered by carpooling services, one can only hope that car sharing industry gains the expected traction in the future.

Global Market Insights, Inc. has a report titled "Car Sharing Market Size By Business Model (Round Trip, One Way), By Application (Business, Private), Industry Analysis Report, Regional Outlook (U.S., Canada, Germany, UK, France, Turkey, Russia, China, India, Japan, South Korea, Brazil, Mexico), Growth Potential, Price Trends, Competitive Market Share & Forecast, 2016 – 2024" available at https://www.gminsights.com/industry-analysis/carsharing-market .