A detailed abstract of cancer diagnostics industry in terms of competitive landscape, global industry valuation to exceed USD 156 billion by 2024
Published Date: May 18, 2018 Author: Saif Ali Bepari
With the increased emphasis of healthcare fraternity on deepening the understanding of genomics and bioinformatics, cancer diagnostics industry has certainly emerged as one of the most enterprising verticals of medical space. The rapid advances being made in diagnostics technology have led to overwhelming expectations about the future of early cancer detection, precise diagnosis, targeted therapy, and surveillance after treatment. Owing to the increased deployment of these technological innovations across healthcare institutions world over, cancer diagnostics industry has been gaining massive momentum in the recent years. In fact, according to a study undertaken by Global Market Insights, Inc., the overall remuneration portfolio of cancer diagnostics market stood at over USD 84 billion in 2016.

Amidst such a backdrop of technology leap being observed across cancer diagnostics industry, it would be imperative to mention that the statistics published by the World Health Organization, pertaining to the global epidemiology of cancer, further aggravate the rising prevalence of the disease. The renowned public health monitoring agency has reported that cancer accounts for over 8.8 million deaths each year with nearly 14 million new cases registered annually. Apparently, these figures go on to demonstrate the vitality of cancer diagnostics industry stakeholders in comprehending the complexities of the disease and providing cures for all its forms.

A glimpse into the vibrant competitive landscape of cancer diagnostics industry
One of the chief factors to have hindered the growth prospects of cancer diagnostics market space is the ever-escalating costs associated with diagnosing the disease and its myriad treatments. As per the estimates of WHO, the total expenditure incurred for cancer treatment in the United States alone stood at approximately USD 125 billion in 2010. This number has been forecast to surpass USD 150 billion by 2020. Apparently, these figures are a succinct reflection of how the costs for diagnosing and treating cancer have accentuated significantly in the country over the past few years. In fact, the United States dominated the global cancer diagnostics market space in 2016 and is anticipated to record a CAGR of 8% over 2017-2024.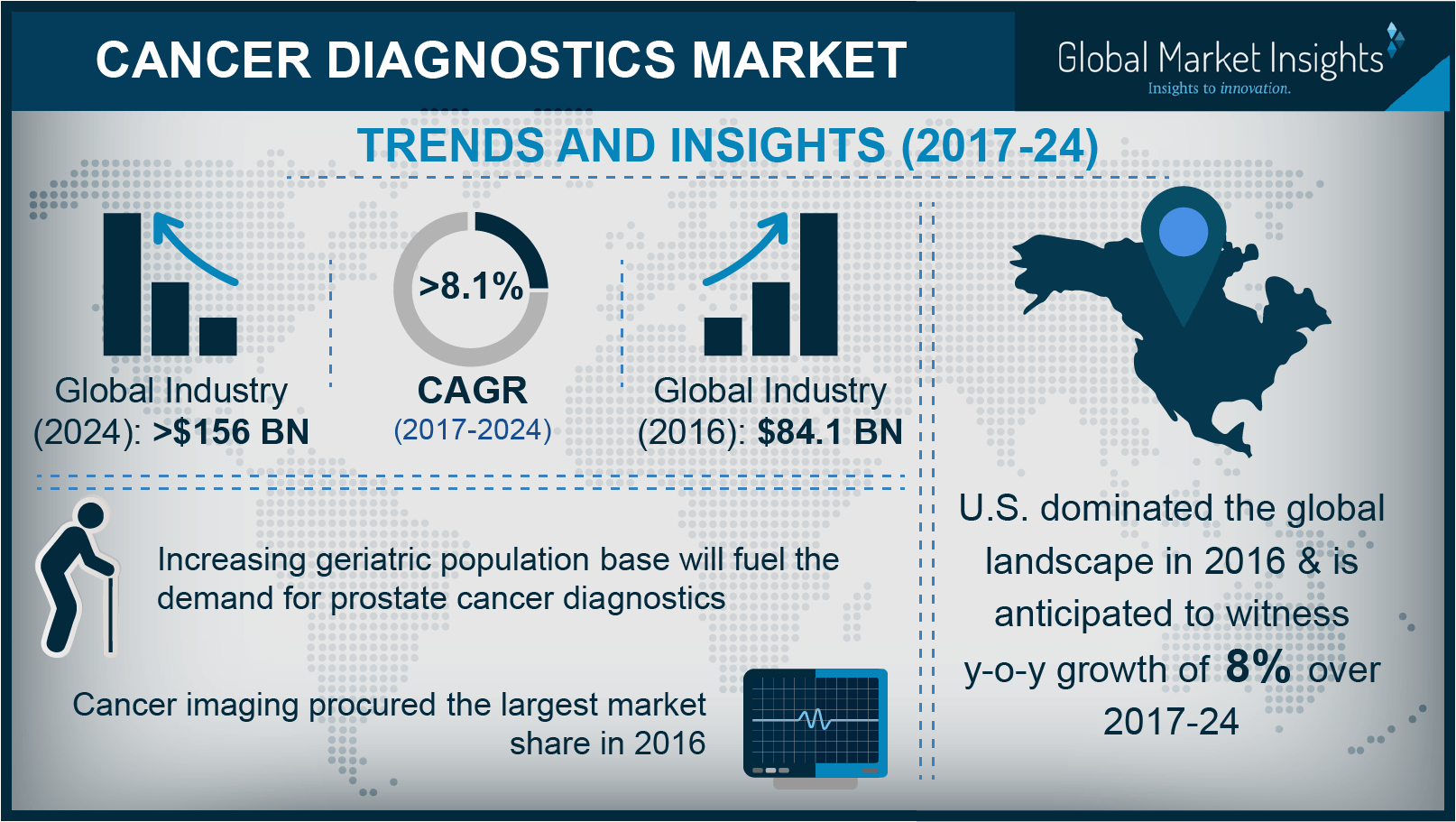 Looking at these trends, numerous cancer diagnostics industry participants appear to have shifted their focus on brushing up their product portfolio to provide cost-effective and efficient diagnostic technology, eliminate unnecessary procedures and make healthcare spending more sustainable. Some of the prominent firms which have made a remarkable contribution to the cancer diagnostics industry include Roche, Siemens Healthcare, Becton, Dickinson and Company (BD), GE Healthcare, Canon Medical Systems Corporation, Janssen Diagnostics, and Abbott.

Enumerated below is a summary of the contributions being made by these firms to cancer diagnostics industry space:
Roche – Making rapid headways in breast cancer diagnostics market, this Switzerland based healthcare giant has been garnering immense appreciation, of late, to significantly alter the diagnostic testing process in Turkey. Even though breast cancer patients in Turkey have access to targeted therapeutic treatments, Roche has introduced a multidisciplinary approach toward disease management and optimal treatment. In alliance with the National Surgeon Society, National Pathology Federation, and National Breast Cancer Federation in Turkey, Roche has initiated 'EXPANDHER' project. Apparently, the initiative intends to enhance the quality of testing process in breast cancer diagnostics market of the nation by providing specialized training to healthcare professionals and encourage a multidisciplinary approach to patient care.

With this first of its kind project in breast cancer diagnostic industry, Roche has reportedly succeeded in re-testing around 10% of the patients that were registered in the Turkish breast cancer data bank. Moreover, these patients were given an opportunity to receive targeted therapies to effectively treat their type of breast cancer. The most remarkable contribution of 'EXPANDHER' project has been that around 99% of new breast cancer cases in Turkey are now diagnosed for specific markers with a standardized assessment. This has, in consequence, led to a drastic increase in the experience and understanding of cancer among the surgeons and pathologists in breast cancer diagnostics market of Turkey.

Siemens Healthcare – Regarded as one of the foremost firms operating in cancer diagnostics industry, the US based Siemens Healthcare has recently acquired Neo New Oncology to strengthen its stance in molecular diagnostics market. Reportedly, the deal would enable Siemens to provide high-quality oncology tests and associated services for physicians, laboratories, and hospitals across the US. Powered by a genomic diagnostic platform that assists oncologists to choose the most appropriate cancer therapies, Neo New Oncology has further included assays for both bodily and tissue fluids. The German startup partaking in cancer diagnostics industry has equipped the innovative platform with a liquid biopsy test to generate detailed profiles of solid tumors – something which industry experts cite is a significant breakthrough in molecular diagnostics market.

Concurrently, apart from expanding its services in molecular diagnostics industry, Siemens Healthcare has also teamed up with Toronto headquartered Profound Medical Corporation to establish a novel Magnetic Resonance Imaging (MRI) based therapy for prostate cancer patients. Reportedly, as per the terms of the strategic contract, the cancer diagnostics industry behemoth would utilize its innovative portfolio for real-time thermometry with Profound's TULSA-PRO system to review thermal ablation of tissues through the MR scanner. Apparently, this technique has been said to enhance the patient's quality of life and lower the side effects of cancer treatment.

Canon Medical Systems Corporation – The firm entered the healthcare and medical devices industry in 1940 with the launch of indirect X-ray camera which was manufactured in Japan. The company now provides diagnostic imaging systems to around 140 countries and regions. This Japan headquartered cancer diagnostics industry leader, previously known as Toshiba Medical Systems Corporation, has in true sense altered the oncology market trends in the recent times. Reportedly, the healthcare behemoth has tied up with the United State's leading cancer hospitals Moffitt Cancer Center to provide the services of its Infinix-i 4D CT system. Apparently, the Florida based hospital would now have access to advanced diagnostic imaging and oncology procedures that would enable it to assist physicians in improving workflow, visualization, and enhance the prevailing patient safety standards in cancer diagnostics market.

It would be prudent to affirm that the latest diagnostic system has brought a paradigm shift of sorts in oncology market trends in the past few years. The system has apparently merged AquilionTM PRIME CT device and Infinix-i angiography to enhance oncology treatment and interventional radiology (IR). As a consequence of this seamless integration, the need to transfer patients between departments has been eliminated, transforming the overall conventional workflow.

GE Healthcare –Responding to the growing need for incorporating cloud based technology, GE Healthcare has recently rolled out a digital pathology software that aims to assist clinicians in diagnosing cancer more swiftly. The US headquartered cancer diagnostics market giant had previously introduced its flagship Health Cloud platform with four radiology apps. Apparently, the launch of a brand-new pathology software in tandem with cloud-based apps, GE Healthcare has substantially enhanced its stance in the cancer diagnostics industry space. It would be prudent to mention that the cloud platform includes various apps which would aid in analyzing and storing patient's imaging data and help in image postprocessing as well.

With the increased utilization of big data platforms to store and analyze electronic health records, the cancer diagnostics industry player has further established a joint venture with University of Pittsburgh Medical Center to develop an advanced software, named as Dynamyx, which would facilitate real-time interactions between physicians to find out exact diagnosis. If industry experts are to be relied on, the deployment of Dynamyx would revolutionize the growth dynamics of the overall cancer diagnosis market in the forthcoming years.

Considering the aforementioned factors, it is quite precise to state that cancer diagnostics market stands to gain immense growth opportunities on a global scale. Bearing in mind the fact that clinicians are unable to effectively screen and diagnose cancer without reliable diagnostic testing equipment, almost every major industry participant has been concentrating on manufacturing high-grade diagnostic systems.

Not to mention, the rapid progressions in precision medicine market will also have a synonymous impact on the oncology market trends. With prominent industry players aiming to develop advanced diagnostic technologies for more accurate and faster cancer detection, the overall commercialization matrix of this business sphere is bound to proliferate significantly in the ensuing years. The worldwide cancer diagnostics industry share is claimed to surpass USD 156 billion by 2024.

Global Market Insights, Inc. has a report titled "Cancer Diagnostics Market Size By Application (Tumor Biomarkers Tests, Imaging, Biopsy, Liquid Biopsy, Immunohistochemistry, In Situ Hybridization), By Cancer Type (Bladder Cancer, Breast Cancer, Colon and Rectal Cancer, Endometrial Cancer, Kidney Cancer, Leukemia, Liver-Lung Cancer, Melanoma, Non-Hodgkin Lymphoma, Pancreatic Cancer, Prostate Cancer, Thyroid Cancer, Others), By End Use (Hospitals, Diagnostic Laboratories, Diagnostic Imaging Centers, Cancer Research Institutes) Industry Analysis Report, Regional Outlook (U.S., Canada, Germany, UK, France, Italy, Russia, Japan, China, India, Australia, Brazil, Mexico, Argentina, South Africa, KSA, UAE), Application Potential, Price Trend, Competitive Market Share & Forecast, 2017 - 2024" available at
https://www.gminsights.com/industry-analysis/cancer-diagnostics-market