Animal feed enzymes industry profitability portraying a win-win vista for producers and consumers
Published Date: August 16, 2017 Author: Shikha Sinha
Animal feed enzymes industry has persistently been in a flux. Feed nutritional profile, consumer demand, animal production profitability, and environmental indexes are the principle rationales influencing the commercialization matrix of this business space. It was in mid-1980s to mid-1990s when the animal feed enzymes market enrolled in the commercialized sectors after validating the benefits of enzymes with regards to enhancing the profitability of animal production. Since then, this industry has seen quite some maturity in terms of the scope, size, and application spectrum of enzymes. In 2016, animal feed enzymes market catalogued its name in the billion-dollar fraternity with a recorded valuation of USD 1.1 billion.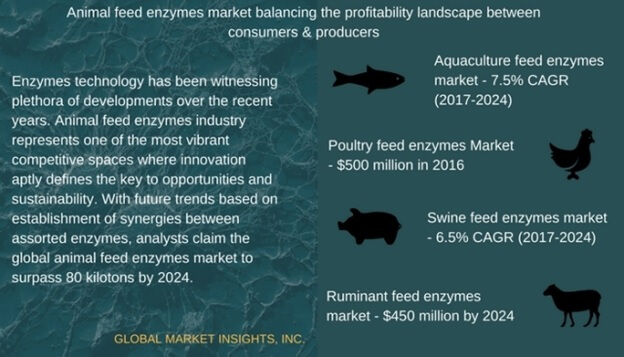 Global meat industry growth leaving a proportional impact on animal feed enzymes industry demand
Speaking of the potential opportunities of animal feed enzymes market, it is quite justified to address it as nothing but humongous. The exponentially increasing global meat industry indeed bears a testimony to this fact. The meat consumption in the developing countries of Asia has recorded a growth of 3% p.a., over the last decade. As cited by the Food and Agriculture Organization (FAO), the global meat production is expected to be 16% higher in 2025 from that recorded between 2013-2015. Driving this growth will be the demand for poultry meat, which can be rightly referred to as 'meat of choice' owing to its low production and affordable product costs. As per the estimates, the global annual meat consumption per capita is projected to cross 35 kg r.w.e (retail weight equivalent) by 2025, which will again be chiefly driven by poultry demand. The consumption trends in the developed countries will be relatively slower than that in the developing economies, fueled by the population growth and the apace urbanization. Reportedly, Sub-Saharan Africa will be one of the pronounced regions witnessing a heavy growth in meat consumption driven by both poultry as well as beef demand.

Animal feed enzymes market | Environmental Impacts and Trends
The increasing meat production and consumption further carries with itself a plethora of risk factors with regards to the health and the environment, which is in turn opening up doors of opportunities for animal feed enzymes industry. Adding enzymes to animal feeds enhances its nutritional and digestibility quotient, making it more sustainable as well as economical. In case the feed protein is not completely utilized and digested by the animals, the remainder ends up in manure which is a conversion of protein into ammonia and nitrate, which pose a great threat to the water bodies and environment on the whole. Usage of feed enzymes improves the digestibility of these nutrients and proteins thereby preventing release of effluents in the environment.

The digestibility challenge has thus been one of the most pronounced drivers for animal feed enzymes industry. Reportedly, livestock excrete approximately 70% of phosphorous in manure, which causes a threat to the scarce water supplies by causing eutrophication. Back in 1970s, U.S. introduced a series of environmental norms regulating the excretion of indigestible substances in the fresh water supplies. Following this, in late 1980s Holland imposed penalties to limit the disposed amount of phosphorous on the land. For the records, this regulation marked the entry of Phytase, when Dutch producers payed the so called phosphorous tax.

Animal Feed Enzymes Market | Product Landscape | Future Trends
Since then, Phytase has seen a commendable growth in animal feed enzymes industry owing to its vital role in enhancing the absorption of phosphorous and nutritional content of the feed. In 2016, Phytase accounted for approximately 40% of the overall animal feed enzymes market share and is projected to register a CAGR of 6.5% over 2017-2024.

However, the ongoing developments in the animal feed enzymes industry clearly portrays the amalgamation of various enzymes to address the rising commercial application demands. Indeed, it is a rational and strategic approach to deliver enzymes with higher catalytic, stability, and nutritional quotients. Driven by this approach, the industry players are vigorously focusing on establishing synergies between the different classes of enzymes including carbohydrase, non-starch polysaccharides, protease, to bet big on the profitability landscape of animal feed enzymes industry. As per the estimates, Protease animal feed enzymes industry recorded a valuation of USD 150 million in 2016.

Animal Feed Enzymes Market | Regulatory Compliances
Animal feed enzymes industry has a set of regulatory approval procedure in place which is a mandate for the enzymes producers to abide by. An authorization needs to be taken by the market participants before placing the enzyme for marketing or merchandizing process. Under this, the product undergoes a demonstration phase where it is tested if the product is efficient and safe for the animals, consumers, and the environment.

Over the past few years, the regulatory landscape of animal feed enzymes market has become considerably stringent. The European Union is amongst the most highly regulated markets governing the efficacy and safety of these enzymes. A categorical EU authorization is a mandate for the enzymes to be placed in the market. For this, an inclusive dossier demonstrating the product efficacy and safety with regards to the intended animals, consumers, and environment needs to be submitted to the EU and EFSA (European Food Safety Authority). Post the review of the dossier by EFSA, the final authorization is issued by Commission Regulation. A list of authorized feed enzymes is then published in the feed additive register, on the European Commission's website. This entire process in the EU takes approximately a couple of years to be through, which defines its strictness quite vividly.

The other regions such as Mexico are comparatively under less severe regulatory compliances, where the entire process takes 6-9 months to be complete.

Animal Feed Enzymes Market | Regional Portfolio | Future Trends
The World population is estimated to cross 9 billion by 2050, with a major chunk procured by the developing countries. According to the UN FAO, 70% of more food need to be produced to meet the food demands of the increasing population. The global meat production should reach approximately 470 million tons to address the food needs. Out of this, 72% of the meat will be consumed in developing regions, again driven by the rapid population growth.

With regards to this scenario, developing economies such as India, China, Brazil, and Russia are likely to offer a significant potential for animal feed enzymes market. In India and China, the economic development and population rise are the major factors that will be driving the regional business trends. The overall Asia Pacific animal feed enzymes industry recorded a valuation of USD 220 million in 2016 and is projected to grow at a CAGR of 7.5% over 2016-2024.

Brazil is expected to boast off a large poultry meat production at an affordable cost range making it an attractive market in the EU. As per the estimates, Eastern European nations, primarily driven by Russia animal feed enzymes market, is projected to be in excess of USD 160 million by 2024.

The developed economies will also establish a strong foothold in animal feed enzymes industry space over the coming years. Europe, driven by its large and strong end-use market and a commendable distribution network is projected to record a CAGR of 6% over 2017-2024.

Animal Feed Enzymes Market | Application Portfolio | Future Trends
Coming to the application profile of animal feed enzymes market, the niche segments such as aquaculture and dairy are set to offer a plethora of business opportunities for this fraternity. Aquaculture is one of the major sectors suffering from the burgeoning costs of fishmeal, a major component of aqua diets. This is in turn creating a lucrative prospect for the animal feed enzymes industry to exploit this space by replacing this expensive fishmeal with plant-derived protein sources, which would radically reduce the overall feed costs. As per the estimates, animal feed enzymes industry share from aquaculture applications is estimated to register a CAGR of 7.5% over 2017-2024. Poultry will remain an attractive segment of animal feed enzymes market application landscape with a recorded valuation of USD 500 million in 2016.

Ruminants will also offer ample opportunities to the animal feed enzymes industry in the coming years. The cost of feed grains and forages has increased sharply over the recent years which is prompting beef and dairy producers to seek ways of improving feed conversion efficiency and animal performance. Enzymes are widely being adopted in ruminants to reduce the production cost of milk and meat. Statistics claim animal feed enzymes industry share from ruminants to surpass USD 450 million by 2024.

Animal Feed Enzymes Market | Competitive Landscape
Animal feed enzymes market represents a major constituent of the humongous animal feed additives industry, which is slated to surpass a valuation of USD 22 billion by 2022. This sector has gained a lot of traction from the manufacturers with a multitude of local players partaking in the revenue battle. In this competitive scenario, mergers & acquisitions have become one of the most profound growth strategies witnessed by the animal feed industry. This strategy was very well initiated by the pioneers of animal feed enzymes industry including - Danisco Animal Nutrition, BASF, Novozymes/DSM, and Adisseo. In 2001, Novozymes and DSM formed a strategic alliance revolving around the development, R&D, sales, and marketing of Novozymes' feed enzymes. In 2011, Dupont acquired Danisco, a Danish bio-based company and became a global leader in nutrition & health and industrial biosciences.

Reportedly, 2016 was marked as a rather revolutionary era for this sector with a series of M&As reported as under:
| | | |
| --- | --- | --- |
| Company | Acquisition | Strategy |
| ForFarmers B.V. | VleutenSteijnVoeders B.V., a Netherlands based swine feed company | With this acquisition, ForFarmers remarkably strengthened its position in the Dutch swine sector |
| Nutreco | Advit, a South African Premix and Feed additive company | The was remarked as one of the major investment strategies by Nutreco to expand in Africa. |
| Nutreco | Micronutrients, a renowned player in hydroxy-based trace minerals | The takeover benefited Trouw Nutrition, Nutreco's animal nutrition business in terms of strengthening its feed additives product portfolio. |
| AB Agri | AgroKorn, a leading player in animal nutritional products, milk replacers, premix, and alternative proteins | The deal helped AB Agri to aptly address the consumer demand for high quality protein ingredients by bringing next gen proteins to animal feed market. |
| InVivo NSA | Popular Feedmill Corporation, a Philippines based animal feed company | The merger enabled InVivo NSA with commercial, technical, and industrial means to enhance its product and service portfolios in South East Asia. |
The aforementioned activities phenomenally portray the high level of participation by both the international as well as the regional players to exploit animal feed enzymes industry space.

This year is further continuing the trend with certain deals reported as under:
In March 2017, Novozymes and Boehringer Ingelheim Animal Health declared a strategic partnership to develop and commercialize probiotics for global poultry production.

Recently, Cargill Inc., announced its plan to buy Southern States Cooperative Inc.'s animal feed business, to expand its reach in the southern and eastern United States.

In July this year, Agrifirm proclaimed to acquire Bacutil, a Poland-based compound feed company, targeting its service expansion in Eastern and Central Europe.

Aboitiz Equity Ventures Inc. has reportedly expanded its animal feed business in Vietnam by acquiring a controlling stake of 70% in Eurofeed (Europe Nutrition Joint Stock Co.)
Animal Feed Enzymes Market | What the future holds?
Animal feed enzymes industry is strongly characterized by R&D developments to enhance and expand the product and solution ranges. Establishing synergies between the various classification of enzymes to further penetrate the application spectrum is one of the prime focus areas of the manufacturers. Further developments pertaining to the enzyme technology is poised to create ample scope for non-conventional and cheaper feed raw materials. These advancements in enzymes development and applications are slated to significantly reduce the price fluctuations that have plagued the animal feed enzymes market over the recent years. It is rather evident that the sustainability trends with regards to the agriculture, feed, and animal feed industry will undeniably leave a proportional impact on animal feed enzymes industry trends in the years ahead. As per Global Market Insights, Inc. Global animal feed enzymes industry is set to surpass a valuation of USD 2 billion by 2024.

Global Market Insights, Inc. has a report titled "Animal Feed Enzymes Market Size By Form (Dry, Liquid), By Product (Phytase, Carbohydrase, Protease, Non-starch polysaccharides), By Livestock (Poultry, Swine, Aquaculture, Ruminant) Regional Outlook (U.S., Canada, Spain, Germany, UK, France, Russia, China, India, Japan, Indonesia, Malaysia, Thailand, Australia, Brazil, Mexico, Argentina, Saudi Arabia, UAE, South Africa), Growth Potential, Price Trend, Competitive Market Share & Forecast, 2017 – 2024" available at
https://www.gminsights.com/industry-analysis/animal-feed-enzymes-market