Advent of 3D technology & application proliferation to drive global digital signage market
Published Date: May 10, 2016 Author: Global Market Insights, Inc.
The global digital signage market is rising at a fast pace owing to the escalating demand for commercial displays, growing company investments for the advancement of digital signage solutions, energy saving, zero paper wastage and acceptance from government.

The new research by Global Market Insights announces the report on the global digital signage market. The report evaluates market trends and market dynamics such as restraints, drivers, opportunities and the challenges in the industry.

Digital signage technology is used across numerous industries for various applications. Depending on the type industry can be classified as software, hardware and services; whereas on the basis of applications, it is categorized into industrial, commercial, infrastructure and institutional. It can be further categorized on the basis of Geography and solution type.
Advantages like cost effectiveness, zero paper waste, dynamic content control, audience engagement, etc. make this a reliable alternative to other advertising media. Significant cost reduction due to innovation in display panel manufacturing methods is forecast to drive the market.

3D digital signage is now a viable marketing tool in pharmaceutical marketing due to increasing regulations abolishing the use of notepad and pen distribution. Faster and comparatively less expensive products are now being utilized for branding.
U.S. digital signage market size, by application, 2015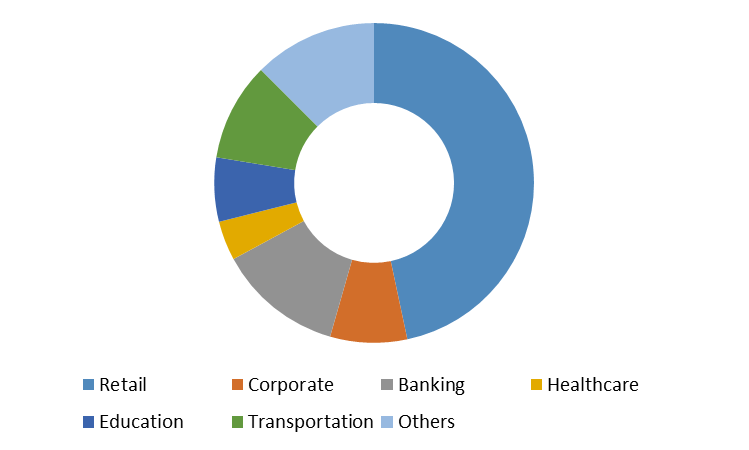 The retail sector is expected to lead global industry size in the predicted period. Healthcare digital signage market size is poised to grow at 7% CAGR in coming years. The banking sector is also increasingly adopting this technology. Projected competition between new entrants and specialized vendors, is expected to lead to product innovation.

The development in the display technologies also adds to the benefits. LED displays is the most attractive product sector, and is forecast to grow 6% CAGR in expected time frame; whereas LCD displays are projected to have slower growth than the global average. Expansion in screen sizes which need sharper images has resulted in rising demand for digital displays featuring 4K resolution.

Increasing demand across application areas is forecast to positively impact the regional industry. Regional demand across the transportation sector is poised to grow at 7% CAGR in the coming six years. Some of the top companies accounted for significant LCD panel market share in the report are Samsung, LG, AUO, Panasonic, and Innolux .