How have the dynamics of video conferencing industry been transformed on account of the rising popularity of the cloud & the escalating demand from corporate enterprises?
Published Date: December 14, 2018 Author: Sunil HebbalkarShare
In an era characterized by escalating globalization and advanced technology fads, video conferencing market has emerged as a highly remunerative vertical, the technique being one of the effective modes of communication for executing prompt decision-making. The use of this mode of communication not only increases work efficiency but also brings about a reduction in the overall costs associated with non-virtual meetings, making it one of the most doted technologies of the last decade.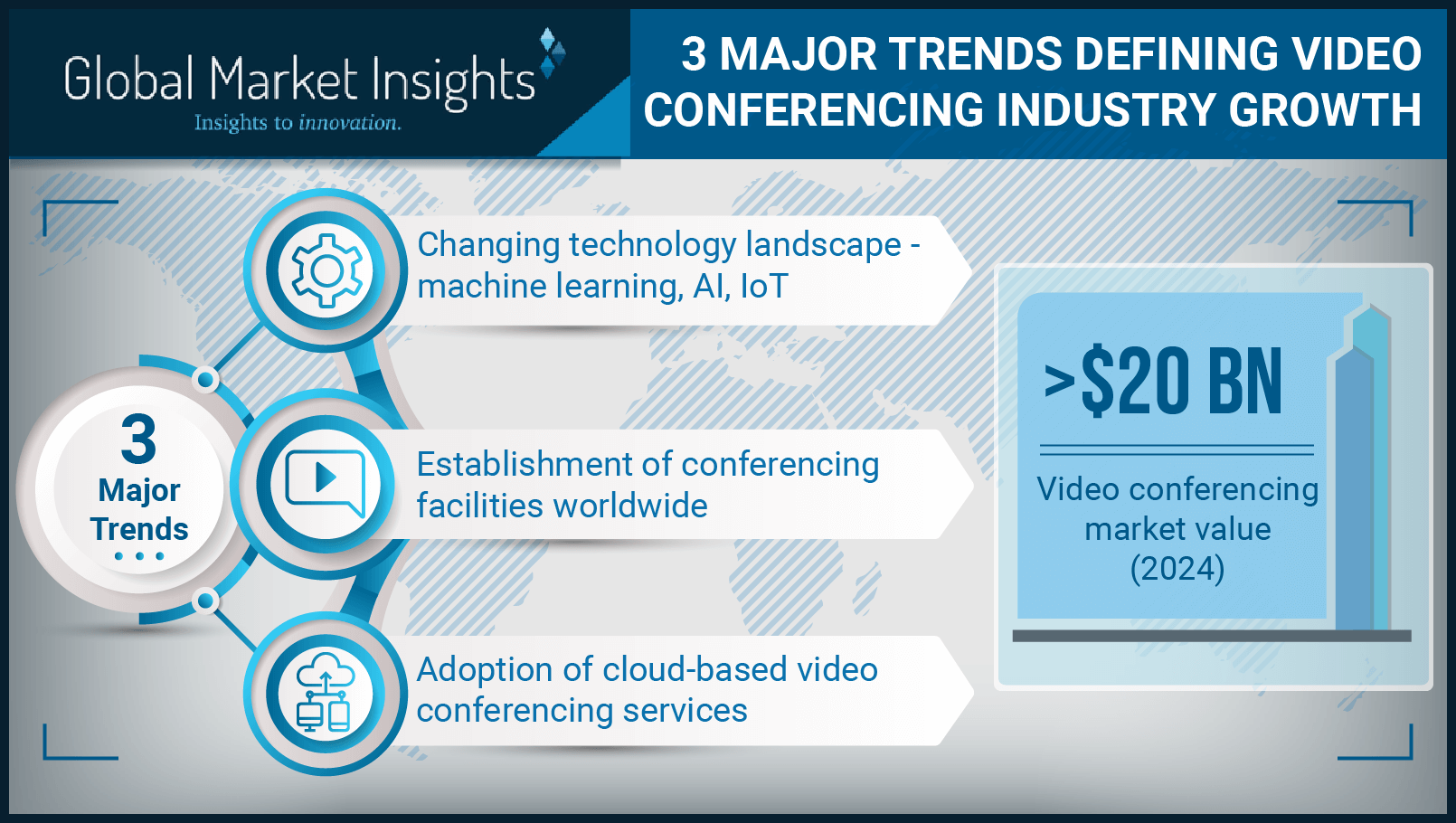 Presently, it has been observed that the rising cacophony of globalization and industrialization has left most enterprises with little choice other than to develop and use modern conference rooms equipped with the facilities of reliable and flexible web conferencing solutions. As the deployment of a virtual mode of communication is streamlined for empowering convenient employee communication, the global video conferencing industry trends are likely to depict an uproar.

It is rather overt that the deployment of video conferencing solutions has been offering tangible as well as non-tangible benefits to businesses. Tangible benefits include lesser travel costs especially during employee training while non-tangible benefits include more efficient non-verbal communication. Taking into account the reliability, security, and stability associated with the use of video conferencing solutions and their capability to accelerate decision-making outcomes to enhance productivity with low investments, technology companies, corporate offices, and other business personnel have been depicting increasing interest in tapping teleconferencing trends.

Technology companies like Google, Huawei, Apple, and Microsoft have also been striving hard to bring forth a plethora of new advancements in the video conferencing facilities. The changing approach of tech magnates toward the advancement of modern communication systems has been proving to be rather profitable for video meetings, group webinars, and enterprise-level discussions in the corporate cosmos. With the robust proliferation of the latest technologies such as IoT and artificial intelligence, core tech companies have been fiercely working toward launching innovative communication software, pushing teleconferencing trends. Say for instance, the launch of Google's hangout, Apple's FaceTime, and Microsoft's Skype are a few video conferencing aids that have been embedded with patented gesture recognition features.

Considering the increasing scope of the video conferencing aids, tech magnates have been emptying their coffers to miniaturize the devices equipped with video conferencing support for ease of handling and portability. The latest smartphones, tablets, and handy-lightweight laptops are some of the many devices that are integrated with full-fledged teleconferencing software. The recent launch of Google's Pixel is an example of a device validating the integration of video conferencing aids and miniaturization of web conferencing devices. The device is also incorporated with a high-quality front camera and 1080p video capturing quality which can be acceptable for video conferencing.

The cost and time-saving benefits associated with the use of video conferencing have been encouraging most of the countries to establish teleconferencing facilities. Apart from corporate workspaces, another avenue where this technology would gain momentum is the research community across the globe. Say for instance, in case a specific research project requires inputs from scientists residing far away from the actual working site, he/she would be able to provide insights even without actually being present at the site, thereby avoiding any delay in the project, leading consistent efficiency. On these grounds, in order to accelerate R&D programs and steer the nation on the path of scientific and economic progress, regional governments have also been upping their ante to develop video conferencing facilities and propel teleconferencing trends over the years ahead.

Validating the aforementioned fact, recently, the Chief Minister of one of the Indian provincial states, Himachal Pradesh, inaugurated a newly developed video conferencing facility through state innovation funds at the local forensic science laboratory. Experts claim that the deployment of such a video conferencing facility would save the time spent on the analysis and transit of criminal cases. Numerous enterprises and research institutes have also been working to utilize innovative ways of communication for myriad applications, thereby generating novel growth opportunities in the video conferencing industry.

The prevalence of the cloud has brought forth a sea of change in the way teleconferencing trends are being perceived. Recently, the video conferencing and collaboration vendor, Videxio initiated a merger agreement with the software-assisted meeting platform, Pexip, in order to upsurge the adoption of cloud-based video conferencing services. The rising popularity of the cloud is thus one of the most prominent factors that has encouraged companies to adopt partnership tactics and deliver top notch services in video conferencing industry.

It has been observed in fact, that most IT companies have now adopted cloud-based visual communication tools, owing to their flexibility and scalability. The integration of video conferencing technologies in the IT network has also had a lucrative impact on the web conferencing market size. Elaborating on the aforesaid, the duo, Pexip and Vidxio are even planning to introduce innovative and broader ranges of their products to attract more consumers. Having recognized that a diversified customer base is the key to industry expansion, technology companies have been working to develop robust and sustainable conferencing facilities, thereby pushing teleconferencing trends globally.

Speaking of yet another instance of the cloud proliferating video conferencing industry, a leading cloud-based service video & voice provider, 8x8, acquired the open source video communications technology provider, Jitsi Technology. With the strategic acquisition of this open source technology platform, 8x8 has successfully strengthened its video communication technology platform pertaining to the role that Jitsi's team played in the development of WebRTC and conferencing applications. In order to attract more customers who are looking forward to speeding up business operations while tapping smart teleconferencing trends, 8x8 is planning to integrate new technologies in its already popular video conferencing platform, 8x8 meetings. This innovative and advanced conferencing platform is certain to help the firm fulfill the expectations of its customers better than before.

Lately, the growing popularity of two-way interactive communication facilities based on the internet and telephone have been encouraging not only technology developers but also various corporate enterprises to bend toward advanced video conferencing trends that are set to characterize the future of the communication industry. A recent video conferencing industry analysis reveals that the continuous development of novel teleconferencing aids, extensive use of new technology trends, frequent M&As, along with the widespread scope of web conferencing for reliable, flexible, and cost-effective business practices are certain to transform the video conferencing market dynamics.

In a nutshell, the profound deployment of web conferencing across global enterprises for cost-effective business operations is certain to have an impact on the remuneration scale of video conferencing industry. Not to mention, the business space, in the years to come, will be characterized by the advancements in the application landscape, particularly in terms of technology interventions. Global Market Insights, Inc., projects the overall video conferencing industry size to be pegged at a valuation of USD 20 billion by 2024.

Global Market Insights, Inc. has a report titled, "Video Conferencing Market Size By Component (Hardware [Multipoint Control Unit (MCU), Codecs, Peripheral Devices], Software [On-premise, Cloud], Service [Professional, Managed]), By Type (Room-Based, Telepresence, Desktop), By Application (Corporate Enterprise, Education, Government, Healthcare), Regional Outlook (U.S., Canada, UK, Germany, France, Netherlands, Italy, Spain, China, India, Japan, South Korea, Australia & New Zealand, Brazil, Mexico, UAE, Saudi Arabia, South Africa), Growth Potential, Competitive Market Share & Forecast, 2018 – 2024" available at,
https://www.gminsights.com/industry-analysis/video-conferencing-market