PPE market trends: An overview of top 5 industries sharing the application landscape
Published Date: May 19, 2017 Author: Satarupa DeShare
Personal protective equipment(PPE) industry is likely to gain remarkable traction over the next few years, subject to the fact that companies are focusing on designing unique protective wear with a view to ensure optimum safety for workers. PPE represents a firm line of defense against serious injuries at work place, as per a recent personal protective equipment market analysis report. Having said that, it would be prudent to mention that it is absolutely essential to check the credibility of these equipment for maintaining the safety standards. Subject to the growing technological advancements, companies operating in PPE market are experimenting with the integration of smart and connected equipment, which has proven to improve the safety performance percentage of varied end-use industries. The latest PPE market trends revolve around workers' increasing demand for products that not only provide maximum protection but also maintain the optimal level of productivity at the worksite. The emergence of new sales outlets, technological upgradations, and a dynamic supply value chain are turning out to be some of the crucial growth enhancers of PPE industry.

Below is the in-depth analysis of the myriad industries contributing to a major chunk of personal protective equipment market size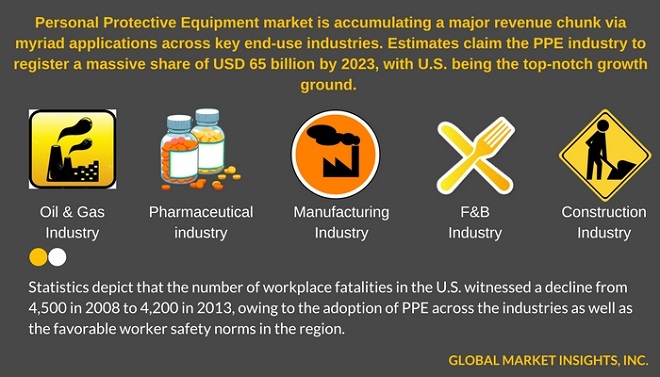 PPE Market trends from the oil and gas industry
Frontline professionals in oil and gas industry have been facing a large number of lethal chemical hazards since a long time. While drillers and chain hands fall under the banner of protection guidelines systems and are liable for protective wearables, tool hands and other contractors also require to be legally protected from workplace hazards. Subject to this factor, the demand for PPE has subsequently risen in the last few years, thereby fueling PPE industry from the O&G sector. Flame resistant clothing, hard hats, steel toe boots, and safety glasses are some of the most vital products of personal protection equipment industry used in oil rig locations. The hydrogen sulfide gas monitoring system is the latest addition in the offshore drilling personal protective equipment safety program. This equipment is worn by all workers to monitor and detect the dangerous hydrogen sulphide gas level in the working environment. In this regard, OSHA has also mandated a PPE protocol on all U.S. based oil and gas companies, that will suitably impel U.S. PPE industry.

PPE Market trends from the construction industry
The ever-growing construction sector has also witnessed a plethora of changing trends pertaining to personal protective equipment market. The latest survey by International Safety Equipment Association depicts that thousands of workers involved in dangerous constructional areas are still unprotected. Responses to the survey also indicated that majority of the investigated PPE types, which include hard hats, safety boots, protective coveralls, eyewear protection, and face shields are widely used by construction workers. High visibility apparel, hard hats, and safety footwear cover a major chunk of the product segment with almost 75% of the workers wearing them regularly at work. On the other hand, face shields, air supplied or air purifying respirators, and protective coveralls have observed a downturn in terms of market demand. Statistics thus depict that the construction industry will offer the most lucrative growth prospects for personal protective equipment market.

PPE Market trends from the pharmaceutical industry
The pharmaceutical industry is one of the most dynamically developed businesses that contributes heavily to world economy. Employees working in pharma industries often encounter life-threatening risks as they continuously have to deal with harmful chemical substances and drugs. This is especially true in case of cytotoxic drugs that are highly effective to treat diseases, but are toxic enough to pose a dangerous health risk to health care professionals, pharmacists, nurses, and manufacturers who handle them. Protective equipment thus, helps provide security to workers from harmful biological and chemical substances including infective agents, which will impel PPE industry from the chemical and pharma sectors. In addition, a stringent regulatory framework by organizations like WHO and FDA in terms of directives and guidelines related to sterile product manufacturing and packing is providing personal protective equipment market a significant impetus to widen its business horizon in the pharmaceutical domain. It should be remembered that while selecting the right protective clothing (in general), factors such as the contamination type and application type need to be considered. However, while donning and choosing the correct PPE for the pharmaceutical unit, the key aspects to be taken into consideration include comfort, quality, microbiological protection, regulatory compliance with norms &standards, and product cost.

PPE Market trends from the manufacturing industry
The manufacturing sector is one of the most critical business arenas that requires a heavy deployment of personal protective gear. A safety equipment industry analysis conducted by Bureau of Labor Statistics revealed that 84% of the head injuries that happen in work sites are due to the improper usage of protective equipment. Given that the manufacturing sector involves several primary and auxiliary processes for welding and metal manufacturing, workers are often exposed to an environment where they need to switch from hard hats to face shields and welding helmets as per the work profile. However, PPE market size from manufacturing units is expected to witness a slump in terms of revenue share in the coming time frame. This revenue projection is grounded on the misconception by some of the top personnel of the manufacturing sector that the usage of PPE can hamper the production efficiency. It has also been observed that a noticeably high noncompliance of personal protective equipment protocol is harming a specific section of the manufacturing industry workforce. Whether worksite accidents are a result of economic downturn, a flawed approach, or the deep-seated attitude of some of the high-profile production managers, PPE market players must bring out solutions that would bridge the gap of health and safety without impeding the productivity.

PPE Market trends from the F&B industry
The entire foundation of the F&B industry is based on hygiene and quality control, which is a key factor driving the growth of PPE market from the F&B sector. Product contamination does not merely affect shelf life and food quality, but also severely affects the business in terms of finance and reputation. For instance, even a small strand of hair floating in a bowl of soup will have the customer in hysterics, and is a sufficient ground for a legal complaint. In addition, workers employed in the packaging, processed food, and beverage sectors will also require protective equipment. This industry will thus provide enormous growth opportunities for PPE market players to expand their business base.

Personal protective equipment is an all-inclusive term by itself – it encompasses everything, right from safety gear worn by soldiers and firefighters to chemists and even police officers. The proactive response to the changing work environment has led to the assimilation of safety gear and protective wearables, which have served to increase the overall productivity factor, thereby giving personal protective equipment market a significant push. Amidst the myriad end use industries of PPE industry, the primary ones including construction, manufacturing, food, pharmaceutical, and oil and gas sectors form the backbone of the global economy. The rapid growth in terms of revenue in each of these businesses will also lead to personal protective equipment market establishing a strong foothold across the globe.

Global Market Insights, Inc. has a report titled "Personal Protective Equipment (PPE) Market Size By Product (Head [Safety Helmets & Hard Hats, Bump Caps], Eye & Face Protection [Face Protection, Eye Protection – Plano], Hearing Protection [Cap Mounted, Over the Head Type, Disposable], Protective Clothing, Respiratory Protection [SCBA – Fire Service, SCBA – Industrial, APR – Disposable, Emergency Escape Devices], Protective Footwear, Fall Protection [Personal Systems, Engineered Systems], Hand Protection), By Application (Construction, Oil & Gas, Manufacturing, Chemicals, Pharmaceutical, Food, Transportation), Industry Analysis Report, Regional Outlook (U.S., Germany, UK, France, Russia, China, India, Japan, Brazil), Application Potential, Price Trends, Competitive Market Share & Forecast, 2016 – 2023" available at https://www.gminsights.com/industry-analysis/personal-protective-equipment-PPE-market .